Blu-ray Round-up: Classic Oscar winners debut on Blu
'Grand Hotel,' 'Mrs. Miniver,' and 'Driving Miss Daisy' arrive this week
"The Jazz Singer" (Warner), a hybrid silent film with synchronized sound sequences, is an absurdly maudlin melodrama, but the film (and the dynamic performance by Al Jolson) turned sound film from a gimmick to the industry standard. Videodrone's review is here.
"Two-Lane Blacktop" (Criterion) is, to my mind, the great American existential road movie. Monte Hellman presents a modern western without frontiers, only paved trails that go everywhere and lead nowhere. Reviewed on Videodrone here.
"Grand Hotel" (Warner), winner of the 1931/32 Academy Award for Best Picture, is one of the most star-studded productions in the glamorous catalog of MGM's golden years. Greta Garbo is the lonely ballerina, John Barrymore the classy thief, Joan Crawford the scheming stenographer, Lionel Barrymore the tubercular clerk on a final fling, and Wallace Beery the ruthless industrialist. Their stories cross at the famous Berlin hotel, where resident commentators Lewis Stone and Jean Hersholt take stock of the comings, goings, and behind-closed-door doings. Elegantly directed by Edmund Goulding, this is soap opera with the kind of class that old Hollywood specialized in.
Features new commentary by Jeffrey Vance and Mark A. Viera, the documentary "Checking Out: Grand Hotel," newsreel footage of the film's premiere, vintage musical short "Nothing Ever Happens," the "Just a Word of Warning" theatre announcement, and trailers of the film and the 1945 remake "Week-End at the Waldorf."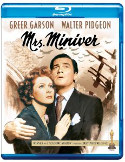 "Mrs. Miniver" (Warner) from 1942, a rousing, rather idealized wartime drama of life in rural England during Hitler's siege, won six Academy Awards, including Best Picture, Best Director (William Wyler), and Best Actress (Greer Garson), and remains a real time capsule of the era. Garson plays a smart, comfortable, middle class mother determined to hold her family together and film charts the strength and courage she summons, pulling the community together and breaking down class barriers (okay, it isn't that revolutionary – in fact it's hardly daring, though it does at least acknowledge their existence). Walter Pigeon is the sensible, pipe-smoking father, Richard Ney the idealistic son won over to patriotism, and Theresa Wright the adorable daughter of snooty Dame May Whitty, a veritable town Duchess who rediscovers her common humanity under Mrs. Miniver's gentle prodding. More telling is the way everyone becomes accustomed to air raids, damaged houses, and even the loss of family with resolve and a stiff upper lip. A fantasy perhaps, but a tempting one during wartime. Features two WWII-era shorts ("Mr. Blabbermouth" and "For the Common Defense"), the 1942 cartoon "Blitz Wolf" from director Tex Avery, newsreel footage of Greer Garson at the Academy Awards, and the trailer.
"Driving Miss Daisy" (Warner), Bruce Beresford's 1989 adaptation of the Pulitzer Prize winning play, is sweet, safe, and very gently done, which was enough to win four Academy Awards, including Best Picture, Best Actress (Jessica Tandy), and Best Adapted Screenplay (for playwright Alfred Uhry's script). Tandy is a proud, strong-willed Southern matriarch with liberal leanings and Morgan Freeman her easy-going, affable, and winningly stubborn chauffeur in a relationship that lasts 25 years. Features commentary by director Bruce Beresford with writer Alfred Uhry and producer Lili Fini Zanuck, the new featurette "Things are Changing: The Worlds of Hoke & Miss Daisy," and three vintage featurettes from the original DVD release ("Miss Daisy's Journey: From Stage to Screen," "Jessica Tandy: Theatre Legend to Screen Star," and the original 1989 promotional featurette) in a Blu-ray book with 32-pages of stills and notes.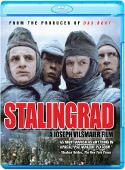 "Stalingrad" (Hen's Tooth) is Joseph Vilsmaier's 1993 epic war drama of the battle of Stalingrad as seen from the point of view of the German soldier. The characters are thinly drawn but Vilsmaier paints the ordeal as a genuine hell on earth: brutal conditions and unrelenting misery followed by miserable, painful deaths on the frozen Russian front in the winter of 1943. Original German and English dub soundtracks with optional English subtitles, plus a making-of featurette.
For more releases, see Hot Tips and Top Picks: DVDs, Blu-rays and streaming video for week of January 8