The Classic, the Cool and the Collectible
Thai fighters, a rabble-rousing deejay and a repo chick hit DVD this week
By 
SeanAx
 Feb 10, 2011 10:33AM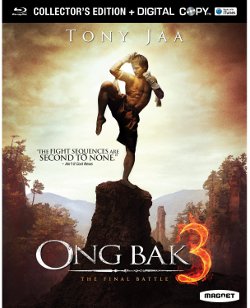 "Ong Bak 3" (Magnolia) - Thailand's Tony Jaa may be no actor but he is a force of nature when he unleashes his martial arts prowess on screen. The third film in his trademark series begins where the second ends and sends the beefy young martyr on a vision quest to rediscover his grace and then return to kick epic butt in a smackdown with an ancient supervillain and his army. If there is a signature to Tony Jaa's films (apart from his distinctive fight style) it is elephants and they are a big part of this film, from the stone creatures brought to life to shrug off a castle built on their haunches to a small army that sides with our hero in the final battle. The rest is a mix of action spectacle, period detail, hero's odyssey cliché and narrative incoherence, directed with a soberly serious, mannered grandiosity: almost as many slow motion shots of our pensive hero posing with the wind gently blowing his hair as there are slow motion fight clips. Available in movie-only DVD and two-disc DVD and Blu-ray specials which feature Thai language interviews and featurettes and an American promotional short.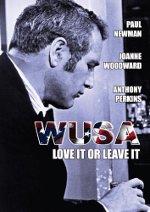 "WUSA" (Olive) - A curious artifact of social commentary on hate speech and demagoguery hiding behind the flag of patriotism and religion, "WUSA" is an odd, arch, cynical portrait of con jobs of all kind. Paul Newman arrives in New Orleans and takes a job deejay on right-wing radio station WUSA ("the sound of a decent generation"), reading (and sometimes writing) the twisted news and provocative editorials with the blasé cynicism of a man who doesn't believe in anything. He shacks up with former hooker Joanne Woodward and spars with neighbor Anthony Perkins, an idealistic social worker suspicious of the welfare survey that he's supposed to be conducting. While the current climate of partisan news channels makes this oddly timely, it is a murky drama, a grossly simplified portrait of demagoguery and an abstract conspiracy drama where almost every character ends up sold out or destroyed by the machinery of hate. But it is strangely fascinating in its complete cynicism. No supplements beyond a trailer.
Also new from Olive is the 1968 prison drama "Riot" with Jim Brown and Gene Hackman (and yes, in 1968 Jim Brown gets top billing over Hackman)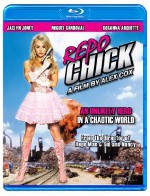 "Repo Chick" (Industrial Entertainment) - The new film from Alex Cox is not a sequel to his cult classic "Repo Man" but a thoroughly screwy social satire starring Jaclyn Jonet as a spoiled rich kid and tabloid celebrity who takes a job in a repo firm and ends up cracking a kidnapping conspiracy involving a ghost train and a plot to outlaw golf. Working on a zero budget with old friends and collaborators (including Miguel Sandoval, Del Zamora, Chloe Webb, Xander Berkeley, Rosanna Arquette and Robert Beltran) pitching in a couple of days here and there, he shoots in minimal sets with digital backgrounds dropped in, most of them cobbled together from toys and miniatures. Cox flaunts the unreality of it all (from absurd plot to caricatured cast to bizarre visual design) with such boldness and sense of fun that I ended up embracing it all. It's a slight little thing, but fun. Includes a featurette.
My review of Elia Kazan's "America, America" (Warner) is here. "Stathis Giallelis plays Stavros, a stand-in for both his uncle and himself who comes off as a Greek-American James Dean by way of Sal Mineo in an "East of Eden" where the prodigal son follows his dream and this time makes his father proud."
Anchor Bay offers not one but two horror spitballs this week. Along with the 2010 "I Spit On Your Grave" remake (unrated edition, of course) comes Meir Zarchi's original, notorious 1978 revenge splatter bomb "I Spit On Your Grave." The original coasted on its reputation for hardcore sadism and sexual violence into a kind of cult status, helped by a Roger Ebert review that calls it "A vile bag of garbage" and "an expression of the most diseased and perverted darker human natures," among other choice phrases. (Anchor Bay slaps the latter quote right on the case as a badge of honor.) He calls the 2010 version a "despicable remake of the despicable 1978 film," but chances are this one's not going to insinuate itself into the culture (emphasis on cult) quite as much. Both include commentary (Joe Bob Briggs contributes his insights to the original), a featurette and collection of trailers and TV spots.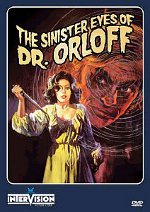 Two from Jess Franco, if not the culty-est of cult directors, then certainly the most prolific. "The Sinister Eyes Of Dr. Orloff" (Intervision) is the 1973 kind-of sequel to one of his signature films, with William Berger standing in for the sinister doc and Franco muse Lina Romay co-starring with Mona Proust and Edmund Purdom. "Paula-Paula" (Intervision) is one of Franco's new productions, a 2010 film about the murder of an exotic dancer that went straight to DVD. Both discs feature new interviews with Franco.
"
Safe… Not Sorry
" (Kino) and "
The Celluloid Salesman
" (Kino) are volumes 3 and 4 in the "Classic Educational Shorts" series curated by Skip Elsheimer from the A/V Geels Film Library, each presenting over a dozen films (spanning from the mid-1940s to the late 1970s) made for American classrooms, where they were shown on 16mm projectors.
"John Wayne: Bigger Than Life" (Synergy) presents four documentaries about and featuring John Wayne, along with the 1963 feature "McLintock!" and a collection of Wayne TV appearances, on a three-disc set.