Blu-ray: King "Conan"
The films that made Arnold Schwarzenegger an action hero debut on Blu-ray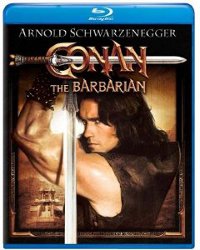 Arnold Schwarzenegger was the defining action hero of Hollywood from the mid-1980s through the 1990s, yet before he made his breakthrough, he seem the most unlikely American screen icon to lumber his way up the Hollywood ladder. The former Austrian bodybuilder turned Mr. Universe and Mr. Olympia (he retired his crown undefeated) seemed destined to be a big screen joke after a debut in the inept "Hercules In New York" and jokey supporting roles in films like "The Villain." Then John Milius cast him as the hulking mercenary lead in "Conan the Barbarian," which showed the world the potential of muscleman Schwarzenegger but also showcased his screen presence.
With a new incarnation of Robert E. Howard's barbarian hero arriving in theaters this summer, the original "Conan the Barbarian" (Universal) and the lesser sequel "Conan the Destroyer" (Universal), the films that turned the bodybuilding champion into an action hero, debut on Blu-ray.
The original "Conan the Barbarian" (1982) is both grandiose and macho, with a sprawling scale (Milius shot largely in the deserts and mountains of Spain) and a committed seriousness (this is, after all, a sword and sandal film that opens with a quote from Nietzsche: "That which does not kill you makes you stronger"). Ah-nold's rippling physique captures the impossible physical perfection of Robert E. Howard's primitive mercenary hero and his glowering expression provides a fierce drive for all that brawn. In some ways it's silly and a bit strident (Conan's philosophy: "To crush your enemies, see them driven before you, and to hear the lamentation of their women"), it's still marvelous barbarian pulp, a beefcake fantasy of myth and magic built from grandiose sets, a magnificent score (from composer Basil Poledouris) and endless he-man matches of blood and brawn. Dancer Sandahl Bergman is quite the barbarian queen and James Earl Jones is suitably intimidating as the despotic Thulsa Doom, a cult leader with a thing for snakes. Max von Sydow, Gerry Lopez and Mako co-star.
The Blu-ray is a significant improvement in color  and clarity over the earlier DVD edition and features DTS-HD 5.1 and DTS Surround 2.0 soundtracks. (Note: according to DVDTalk reviewer Randy Miller III, this features the original theatrical cut, which runs about a minute shorter than the 2002 DVD, which included some bonus footage. No details on what exactly is different.)
There's very little new material to the Blu-ray, notably a 15-minute featurette on "Art of Steel: Sword Makers and Masters" and a collection vintage promotional interviews from the set with Milius and stars Schwarzenegger, James Earl Jones, Sandahl Bergman and others. The rest is brought over from the 2002 DVD special edition. The commentary by Milius and Schwarzenegger, originally recorded for the laserdisc incarnation, is a jocular reunion of old friends and between observations and explanations of scenes, Milius fills it with appreciations of violent flourishes ("Look at him crush that helmet") and beautiful women, especially his Valkyrie ideal Sandahl Bergman, while Schwarzenegger cracks wise and points out fellow bodybuilders in the cast.
"Conan the Destroyer" (1984), directed by Richard Fleischer, leaves the operatic approach for a jokier, more comic book quality (Roy Thomas, who wrote the Marvel comics "Conan" title for years, contributes the story) and stunt casting (Wilt Chamberlain and Grace Jones). It's a pretty pale sequel and the Blu-ray features no supplements beyond the trailer.