Blu-ray: 'Lawrence of Arabia' – Restored, remastered, renewed
One of the most glorious big screen experiences of all time gets the definitive restoration for Blu-ray
By 
SeanAx
 Nov 17, 2012 11:55AM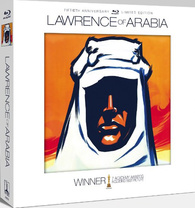 "Lawrence of Arabia" is not simply one of my favorite films, it's a treasured film experience and to my mind the most glorious big screen film ever made. It won seven Academy Awards, including Best Picture, but  the complete version was unavailable for decades, and David Lean himself never completed his definitive cut of the film before the film was premiered and subsequently edited down for wide release
In 1988, the film was famously reconstructed and restored with the close participation of Lean, who took the opportunity to finally fine-tune his definitive cut, and it was re-released in grand manner in 1989, with new 70mm prints struck for show palace presentations in addition to conventional 35mm prints. At that time, however, photochemical restoration could only repair so much of the age- and heat-related damage to the original materials.
"Lawrence of Arabia: Fiftieth Anniversary" (Sony) presents the long-awaited Blu-ray debut of the film mastered from an exhaustive 4k digital restoration of David Lean's masterpiece. This new efforts builds on the 1989 version with newly-available digital tools to repair previously irreparable footage and pull out a clarity beyond what was not possible before. Which is just what Sony was awaiting before releasing one of the most beloved film classics and most intelligent cinema epics to Blu-ray.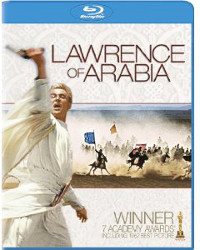 How does this look? To quote T.E. Lawrence: "It's clean." Yes, and it's clear and sharp and strong, as beautiful a Blu-ray as you've seen. The original camera negative was scanned at 8k, creating an enormous digital snapshot of every frame of film to work from, and then the finished production was "down-rezzed" to 4k for digital projection and digital mastering on Blu-ray. Home Theater Forum contributor and veteran film archivist Robert Harris, who worked on the original 1989 restoration, gives this digital restoration and the Blu-ray production the highest marks possible.
It debuts in a two-disc edition and four-disc Limited Edition box set. Both versions offer the exclusive new featurette "Peter O'Toole Revisits Lawrence of Arabia" and the picture-in-picture "Secrets of Arabia" video track along with supplements from the previous DVD special edition: the hour-long "The Making of Lawrence of Arabia" by director/producer Laurent Bouzereau, a 10-minute "conversation" with Steven Spielberg (who shares his memories and appreciation of the picture), four curious vintage documentary featurettes all under 5 minutes long ("Maan, Jordan: The Camels Are Cast," "In Search of Lawrence," "Romance of Arabia," "Wind, Sand and Star: The Making of a Classic"), and other newsreel odds and ends including footage from it New York premiere among.
The star attraction of the four-disc Limited Collector's Edition is the never-before-release​​d extended version of the "Balcony Scene" with Peter O'Toole and Jack Hawkins, a sequence that Lean was unable to put back into his reconstruction due to missing elements. The producers of the disc have not inserted it into the film -- for better or worse, the version presented here is the one that Lean signed off on in 1989 -- but this sequence is legendary among "Lawrence" fans and editor Anne V. Coates puts it in context in a video introduction. Finally seeing it is a true pleasure.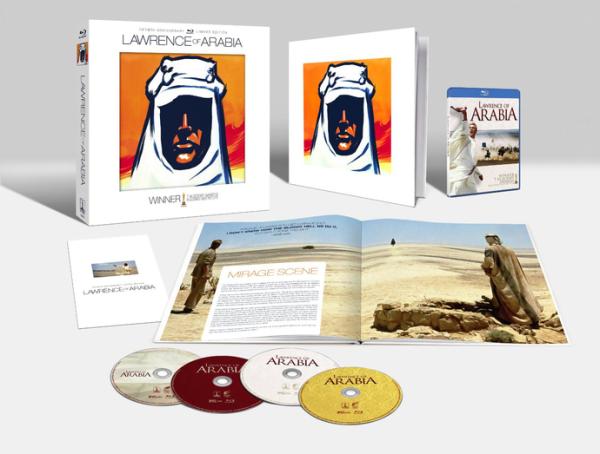 Also exclusive to the Limited Collector's Edition is a featurette on the restoration, a new interview with Martin Scorsese, archival interviews with William Friedkin, Sydney Pollack, Martin Scorsese, and Steven Spielberg, more vintage featurettes, trailers and TV spots, and a soundtrack CD with two previously unreleased tracks, plus an 88-page coffee table book and an authentic 70mm film frame (newly printed and numbered), all packaged in a substantial gift box slipsleeve.
See an MSN exclusive clip from the new set on Videodrone here.
For more releases, see Hot Tips and Top Picks: DVDs, Blu-rays and streaming video for the week of November 13