New Release: 'Frankenweenie' – It's alive! Alive! How cool is that?
Tim Burton's juvenile Frankenstein is a playful twist on monster movies with a sweet center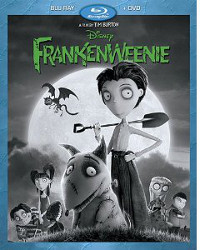 When you see a film like "Frankenweenie" (Disney), Tim Burton's feature-length animated reworking of his early live-action short, how can think of Burton as anything but a big kid working with, as Orson Welles put it, the biggest toy train set a kid ever had? In Burton's case, simply substitute a Frankenstein's laboratory of a stop-motion dollhouse for that toy train and you've got the dream movie studio of cinema's most innocent dark fantasist.
As the title suggests, "Frankenweenie" is an adolescent twist on the classic story, with bright, creative schoolboy Victor Frankenstein as a science nerd and budding filmmaker with a handmade lab / movie studio in the attic of his suburban family home. That's where he brings his devoted pet dog Sparky back to life after a devastating road accident. (The death of Sparky is an understated moment with heavy reverberations.)
Sparky is a success (apart from losing pieces of his patchwork body in his excited reanimation) but his classmates (who all seem to have come from an Addams Family reunion) aren't quite so careful with their experiments. They unleash a mash-up of rampaging creatures spawned from generations of monster movies by way of a child's imagination: a gauze-wrapped mummy, a towering Godzilla by way of Gamera stomping down main street, hopping gremlins giggling through a carnival midway, all in living black and white. Imagine a late show vision taking over a classic animated TV Christmas special.
I love stop-motion animation but the loving designs and distinctive textures of this kind of puppet animation are only as successful as the movie they make. I call this one a great success. Burton mixes in a love of horror movies with an innocently ghoulish sense of humor and harmless gross-out gags, capturing that childhood fascination with monster movies and the macabre. And he tells a story with a lot of heart and soul. For all the surgical stitches and electrical boost, this is finally all about a boy and his dog.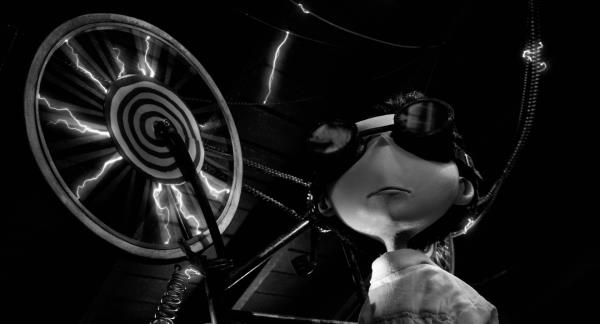 "This is a movie that deserves some commendation strictly due to the fact that it exists, and that it exists in a particular way," agrees MSN film critic Glenn Kenny, though he isn't quite so taken with the film as I am. His issue, he admits, is that he was "nagged by the feeling that the main motivating force behind the film is to convey that its makers really, really, really love old-school horror movies."
On Blu-ray, Blu-ray 3D, and DVD. All editions include a short featurette on the "Frankenweenie Touring Exhibit" (with sketches, models, and props from the film) and a music video.
The 2-Disc Blu-ray Combo Pack adds more substantial supplements. The 23-minute "Miniatures in Motion: Bringing Frankenweenie  to Life" is a respectable behind-the-scenes featurette that covers the origins of the film, the design and construction of the models, and the art and process of stop-motion animation with plenty of production footage, for adults and kids alike. "Captain Sparky vs. The Flying Saucers" is a new home movie from Victor starring Sparky, and the set includes the original 1984 live-action short that inspired the feature plus a bonus DVD copy.
The Blu-ray 3D edition comes in a four-disc set with the standard Blu-ray and DVD, plus a digital copy. And remember that the Blu-ray 3D edition requires a full HD 3D TV, compatible 3D glasses, and a Blu-ray 3D player.
Also available On Demand (in standard and 3D editions).
See a clip from the film after the jump. Just click on "more" below.
For more releases, see Hot Tips and Top Picks: DVDs, Blu-rays and streaming video for week of January 8