Coming Up: True Grit saddles up to home video
The Oscar nominee is set for a June 7 release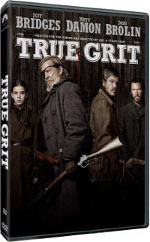 Joel and Ethan Coen's "
True Grit
," with Jeff Bridges in the role that John Wayne famous, takes off for the home video frontier on June 7. Nominated for 10 Academy Awards, the offbeat western was a surprise box-office success and the biggest hit of the Coens' career.
Hailee Steinfeld takes the lead as the determined 14-year-old girl who hires grizzled, gravel-voiced, hard-drinking U.S. Marshal Rooser Cogburn (Bridges) to track the man who killed her father and Matt Damon and Josh Brolin co-star. The film will be released on Blu-ray+DVD Combo Pack and as a standard DVD
Details on the supplements after the jump.
The Blu-ray/DVD Combo Pack contents are as follows:
Blu-ray:
o   Mattie's True Grit
o   From Bustles to Buckskin—Dressing for the 1880s
o   Colts, Winchesters & Remingtons: The Guns of a Post-Civil War Western
o   Re-Creating Fort Smith
o   The Cast
o   Charles Portis—The Greatest Writer You've Never Heard Of…
o   The Cinematography of True Grit
o   Theatrical Trailer
DVD:
o   Feature Film
o   Digital Copy