Blu-ray: More 'Looney Tunes" with Bugs, Daffy, and friends
'Looney Tunes Platinum Collection, Volume Two' present 50 more classic cartoons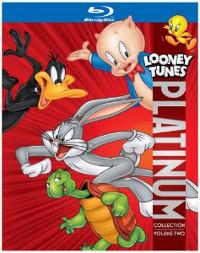 "Be vewy, vewy quiet… I'm hunting wabbits!"
"Looney Tunes Platinum Collection, Volume Two" (Warner) follows up Volume One with the HD debut some of the best Warner Bros. cartoons in a creatively curated set.
Disc One is dedicated to the Looney Tunes stars -- Bugs Bunny, Daffy Duck, Porky Pig, Road Runner, Wile E. Coyote, Pepe Le Pew, Foghorn Leghorn, Speedy Gonzales -- with some of their earliest and most memorable appearances, including the 1940 Tex Avery-directed "A Wild Hare" (the film that really established the personality of Bugs Bunny), the 1938 Fleischer-esque "Porky in Wackyland" from Bob Clampett, and the Chuck Jones classics "Long-Haired Hare" (going to war with opera tenor Giovanni Jones). "Ali Baba Bunny," and "Show Biz Bugs" (with Daffy).
Disc Two features fan favorites, off-beat co-stars, and one-shots. "Wabbit Twouble" (1941) was voted the favorite cartoon in an online poll, but my personal favorites are also included as "The Hunting Trilogy" – three cartoons with Bugs, Daffy, Elmer, verbal gymnastics, and surreal zigzags, all written by Michael Maltese (the wordplay champ of the Looney Tunes staff) and directed by Chuck Jones. The verbal byplay of these three films, combined with Jones' facility for whiplash turns and quick-change role-playing gags, make them among my all-time favorite cartoons. Also includes every appearance of western bad guy Nasty Canasta, sleepy Beaky Buzzard, and hillbilly hobo A. Flea, the complete "Bug Bunny vs. Cecil Turtle" trilogy, and five stand-out one-shots, including the celebrity caricature-stuffed "Hollywood Steps Out" and Chukc Jones' sweetly surreal "Rocket-Bye Baby" with human parents raising a miss-delivered Martian Baby.
The Blu-ray and DVD editions both feature 25 cartoons per disc. Exclusive to the Blu-ray is the collection of commentary tracks on many of the animated shorts and featurettes on the creators, characters, and genres represented in the collection, plus a third disc devoted to special content and rarities from the vault, including 11 of the best cartoons Tex Avery made for MGM after leaving Warner Bros. This collection includes the Oscar-winning "Blitz Wolf" (a wartime reworking of "The Three Little Pigs"), "Red Hot Riding Hood," "Swing Shift Cinderella" (all with Avery's magnificent, eyes-a-popping, woman-hungry Wolf), "Screwball Squirrel" and "King-Size Canary" (two of his most wild and crazy cartoons).
It's a terrific companion to "Volume One," though where the Disney animation collections are divided by character and meticulously chronological, this (like previous Looney Tunes collections) grabs shorts from across the spectrum of creators and characters, and all but a couple of the short on the first two discs have been available on the DVD releases.
The set includes an illustrated booklet with brief notes on every cartoon and featurette by animation historian Jerry Beck and a guide to the commentary tracks.
The complete line-up is listed after the jump. Click on "More" below
For more releases, see Hot Tips and Top Picks: DVDs, Blu-rays and streaming video for week of October 16
Looney Tunes Platinum Collection Volume Two - Contents
Disc 1
A Wild Hare
Buckaroo Bugs
Long-Haired Hare
Ali Baba Bunny
Show Biz Bugs
The Wise Quacking Duck
What Makes Daffy Duck?
Book Revue
Deduce, You Say
Porky In Wackyland
You Ought To Be In Pictures
Porky In Egypt
Back Alley Oproar
Little Red Rodent Hood
Canned Feud
Gift Wrapped
Birdy And The Beast
Home, Tweet Home
Going! Going! Gosh!
Zipping Along
Scent-Imental Romeo
The Foghorn Leghorn
The High And The Flighty
Tabasco Road
Mexicali Shmoes
Featurettes (Blu-ray only):
"King-Size Comedy: Tex Avery and the Looney Tunes Revolution"
"Forever Befuddled" (Elmer Fudd)
"Man from Wackyland: The Art of Bob Clampett"
"Bosko, Buddy and the Best of Black and White"
"Leon Schlesigner: The Merrie Cartoon Mogul"
Disc 2
Wabbit Twouble
Rabbit Fire
Rabbit Seasoning
Duck! Rabbit, Duck!
Drip-Along Daffy
My Little Duckaroo
Barbary-Coast Bunny
Tortoise Beats Hare
Tortoise Wins By A Hare
Rabbit Transit
Porky's Hare Hunt
Hare-Um Scare-Um
Prest-O Change-O
Elmer's Candid Camera
Bugs Bunny Gets The Boid
The Bashful Buzzard
The Lion's Busy
Strife With Father
An Itch In Time
A Horsefly Fleas
Hollywood Steps Out
Page Miss Glory
Rocket-Bye Baby
Russian Rhapsody
Dough Ray Me-Ow
Featurettes (Blu-ray only):
"A Hunting We Will Go: Chuck Jones' Wabbit Season Twilogy"
"Looney Tunes Go Hollywood"
"A Conversation with Tex Avery"
"Looney Tunes Go To War!"
Disc 3 (Blu-ray Only)
The Best of the Rest of Tex (11 cartoons made for MGM)
Blitz Wolf
Red Hot Riding Hood
Screwball Squirrel
Swingshift Cinderella
King-Size Canary
Bad Luck Blackie
Senor Droopy
Wags to Riches
Symphony in Slang
Magical Maestro
Rock-A-Bye Bear
Friz at MGM (5 cartoons)
Poultry Pirates
A Day at the Beach
The Captain's Christmas
Seal Skinners
Mama's New Hat
The World of Leon Schlesinger (4 early cartoons plus two archival clips)
Bosco, the Talk-Ink Kid
Sinkin' in the Bathtub
Crying for the Carolines
It's Got Me Again
"Haunted Gold" Title Sequence (from John Wayne western produced by Schlesinger)
Schlesinger Productions Christmas Party (home movies from Termite Terrace)
Private Snafu (8 cartoons made for the U.S. Army by Chuck Jones, Friz Freleng, and Frank Tashlin)
Coming!! SNAFU
Gripes
Spies
The Goldbrick
The Home Front
Rumors
Snafuperman
Censored
Mr. Hook (3 cartoons made for the U.S. Navy)
The Good Egg
The Return of Mr. Hook
Tokyo Woes
Featurettes:
"Tex Avery, the King of Cartoons"
"Friz on Film"
"ToonHeads: The Lost Cartoons"
"Real American Zero: The Adventures of Private Snafu"