Cult Watch: Rumors of "Renaldo and Clara" coming to DVD
Is the legendary Bob Dylan feature finally emerging from Dylan's basement?
Bob Dylan fans were virtually leaping for joy through the blogosphere last week as seemingly reliable sources announced that "
Renaldo and Clar
a
," the famously unavailable feature film directed by and starring Dylan, is coming to DVD.
Levi Asher at Literary Kicks
, citing an unnamed but "semi-reliable source," made the announcement last week, but without further details, and the new got picked up on subsequent sites, but without any further clarification or substantiation.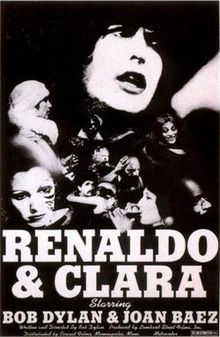 Dylan pulled together friends, lovers and collaborators for the film. Sam Shepard and Allen Ginsberg reportedly co-wrote the script, Dylan starred with his then-wife Sarah Dylan while Ronnie Hawkins played a character named "Bob Dylan" and Joan Baez appeared as "The Woman in White." Jack Elliott, Harry Dean Stanton, Arlo Guthrie, Joni Mitchell and Rubin 'Hurricane' Carter join members of the Rolling Thunder Revue who populate the film.
The 1978 film, which ran four hours in its uncut, original form, was briefly released to theaters but withdrawn by Dylan after scathing reviews. It's never been released to TV or home video but fans have been passing around bootleg copies for decades and portions are even available on YouTube.
Don't get your hopes up. Steven Gaydos, writing on
Variety's Soundcheck music blog
, says it's not happening. "When asked about Asher's report, the Dylan associate (who requested anonymity, which is of course SO Bob), said simply, "Nope,"" wrote Gaydos on Saturday. But he also noted that the original footage is being worked on for something (perhaps a Rolling Thunder Bootleg Series project?). Which is enough to keep speculation buzzing and hopes alive for Dylan fans everywhere.