The New Release Rack: 'Silent House' is a Haunted House Head Trip
Plus the thriller 'Brake,' 'Footnote' from Israel, 'Jiro Dreams of Sushi' and more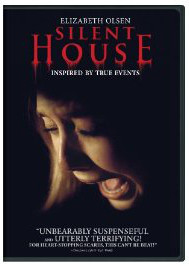 "The Deep Blue Sea" (Music Box), adapted from Terence Rattigan's play by Terence Davies, is a ravishing and devastating romantic drama of impossible love starring Rachel Weisz and Tom Hiddleston. Blu-ray, DVD, and On Demand. Videodrone's review is here.
"Silent House" (Universal), a remake of the Oscar-nominated "La Casa Muda" from Uruguay, is more than simply a haunted house movie. The film, which is presented in one long, fluid, uninterrupted shot, "surpasses its source thanks to Elizabeth Olsen's powerful performance and Igor Martinovic's strikingly imaginative camerawork," writes MSN film critic Kat Murphy.
"This is head-trip territory: a mutable and hallucinatory "House," with boarded-up windows, locked doors, punctured basement walls, maze-like interior, menacing sounds and shadows. In her theater in the round, Sarah's beleaguered imagination both stages and stars in a Greek tragedy of childhood violation and adult vengeance. "Silent House" is best watched as Sarah's "movie" -- filmed partly from memory, partly in a Now struggling to come into focus." Directed by Chris Kentis and Laura Lau (whose "Open Water" similarly took on a defining filming challenge), it co-stars Adam Trese and Eric Sheffer Stevens.
On Blu-ray and DVD, with director commentary. Also available On Demand.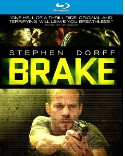 "Brake" (IFC) is another claustrophobic thriller, this one starring Stephen Dorff as a Secret Service agent trapped in a Plexiglass box in the trunk of car. "With Dorff squirming in the confines of the case, lit by brake lights and the occasional piece of technology, it's a credit to director Gabe Torres (a TV veteran making his first feature since 1991) that there's as much tension in the piece as there is," writes MSN film critic James Rocchi. "He isn't a superb actor, but he's a likable enough one as he flails and freaks out and tries to stay frosty, and there are few things that'll make someone as likeable as seeing him put in a glass coffin for mysterious reasons." Blu-ray and DVD, with director commentary and a featurette.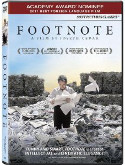 Foreign Affairs:
"Footnote" (Sony), from Israel, was one of five Academy Award nominees for Best Foreign Language Film. Directed by Joseph Cedar, it's a satire of rival Talmudic scholars who just happen to be father and son, and the complications that arise when one man is mistakenly informed of winning a high honor actually meant for the other. "It's one of the smartest and most merciless comedies to come along in a while," praises Chicago Sun-Times film critic Roger Ebert. "It centers on an area of fairly narrow interest, but in its study of human nature, it is deep and takes no prisoners."
Blu-ray and DVD, in Hebrew and Portuguese with subtitles, with a behind-the-scenes featurette and a Q&A with writer / director Joseph Cedar. Also available On Demand.
"My Way" (Well Go), from South Korea, follows the story of two athletes -- one Japanese, the other Korean -- whose dreams of Olympic gold are destroyed when they are pressed into service in the Japanese army in World War II. In Korean with optional English soundtrack and subtitles, with interviews and a featurette. Blu-ray and DVD. Reviews here.
"The Monitor" (Lionsgate), originally titled "Babycall," is a thriller from Norway starring Swedish actress Noomi Rapace as woman who takes her son and flees her abusive husband, and hides out in a building where another child may be at risk. In Norwegian with optional English dub soundtrack and English subtitles. DVD only. Reviews here.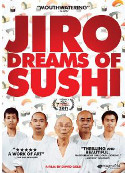 True Stories:
"Jiro Dreams of Sushi" (Magnolia) is a documentary portrait of the most celebrated sushi chef in the world, whose restaurant seats only 10. "Michelin has awarded the joint three stars, making it one of fewer than 100 restaurants in the world," writes MSN film critic Glenn Kenny. "That has got to be some good sushi. And if you have any kind of affinity for the food at all, you will very much want to dine at Sukiyabashi Jiro, regardless of the distance or cost, after seeing "Jiro Dreams of Sushi," a cinematic portrait of Jiro and his art directed and shot by David Gelb." Blu-ray and DVD, with commentary and deleted scenes among the supplements. Also available On Demand.
Plus:
"Meeting Evil" (Sony) – Samuel L. Jackson is a homicidal stranger who forces a mild-mannered husband and father forced to violence to protect his family. Lesli Bibb co-stars. DVD only, no supplements. Reviews here.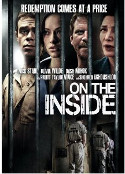 "On The Inside" (Anchor Bay) is a kind of prison drama, set in psychiatric hospital for the criminally insane, with a cast that includes Nick Stahl, Olivia Wilde, and Shohreh Aghdashloo. Blu-ray and DVD, with commentary. Reviews here.
"Deadline" (Freestyle), a real-life murder mystery inspired by the true story of an unsolved crime from twenty years before, stars Eric Roberts. DVD only. Reviews here.
"The Tested" (Virgil) is a drama of the reverberations of crime and street violence on the survivors, starring Aujanue Ellis and Frank Vincent. DVD only, no supplements.
"Redemption" (Monterey) is "based on a true frontier story" of a lawman protecting a grave robber from a lynch mob. DVD only, with interviews.
"Bathory" (Screen Media) stars Anna Friel as the notorious Countess Elizabeth Bathory, infamous for bathing in the blood of virgins, and "Raspberry Magic" (Osiris) is a coming of age story.
For more releases, see Hot Tips and Top Picks: DVDs, Blu-rays and streaming video for the week of July 24