MOD Movies: 20th Century Fox Cinema Archive Debuts
20th Century Fox begins its own manufacture on demand program with mixed results in the first wave
By 
SeanAx
 Jul 29, 2012 10:26AM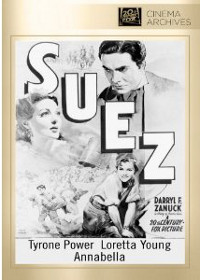 20th Century Fox is finally following the leads of Warner, Sony, and MGM with their own  manufacture-on-deman​d program aimed at releasing some of the older titles from the vaults.
The first wave of releases -- 35 titles in all -- is now available and the results are… mixed, to say the least. 
"Suez" (1938), directed by Allan Dwan and starring Tyrone Power, is one of the better of the big, "respectable" historical dramas that Power made in the thirties and early forties, this one about the construction of the Suez Canal in the face of challenges both physical (Dwan delivers a spectacular sandstorm sequence) and political (Napoleon III's coup, which is as much a personal betrayal as a national one in this story). This is the best looking disc of the initial batch I received, a fine mastering of a clean, strong print, with good contrasts and sound and no apparent digital artifacts: a solid presentation of a handsome Hollywood classic. This is the standard that the label should be maintaining.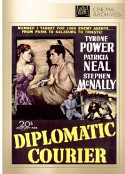 Tyrone Power also stars in "Diplomatic Courier" (1952), but here he's older and more mortal playing as state department courier tossed into the Cold War culture of Europe in the fifties. The sensibility is somewhere between post-war noir and pre-John Le Carre, with Power tossed into the middle of a scramble for secret documents and Karl Malden as the scrappy American MP playing two-fisted protector. Patricia Neal all but steals the film as a lively, witty American widow who keeps crossing paths with our hero, and Lee Marvin shows his promise in a small role. This transfer is rather noisy, with an overly pixilated look on many of the gray areas of the image, and periodic pools of pale color arising from some of the busier areas of the screen. The effect, which was in a lot of early Blu-ray editions of black-and-white movies, is like a sandstorm whipping across the faces of the characters. Other labels have put this issue to rest. Fox should look to them for a solution.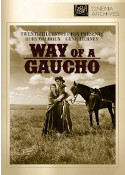 "Way of a Gaucho" (1952), a South American western set on the pampa, stars Rory Calhoun as the "gaucho's gaucho" in 19th century Argentina who declares war on encroaching civilization and technology while Gene Tierney falls for his romantic rebellion. Calhoun is a poor excuse for a firebrand revolutionary and Richard Boone, playing the military Captain sent to hunt him down, is so much more compelling you wish the film was about him instead. Jacques Tourneur directs on location and makes good use of the landscape, but he can't compensate for the cliché-ridden script or Calhoun's lack of screen charisma. This is the only color film I viewed and it looks incorrect to me. The hues are muted and soft, more like old two-strip Technicolor than the strong, bold, sharp Technicolor of the forties and fifties. Mostly the transfer has fine (though hardly stand-out) clarity, but many shots have a slight but noticeable blur, as if the lens was dotted with random smears. I can't say with any authority that this is a transfer issue rather than a print problem, but the way it comes and goes suggests an inattentive digital transfer.
(More detailed reviews of the films are at Parallax View)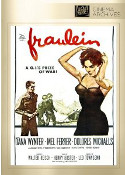 A film I did not receive, but has been reviewed elsewhere (including by Lou Lumenick at the New York Post), is "Fraulein" (1958), a CinemaScope picture that Fox has released in an unforgiveable pan-&-scan print, cropping the 2.35:1 widescreen image to 1.33:1 (the dimensions of a standard, pre-widescreen TV set) and losing more than a third of the picture in the process. Surely this was dubbed from an old TV master: "the best available master source was 4:3 pan & scan 1.33, and not the original aspect ratio," explained a Fox rep to Lumenick. If that is true, then why release it in the first wave rather than another, properly formatted widescreen film?
Now a reality check here. There are problems here that need to be addressed but this is only a first effort. The initial discs from Warner Archive and MGM Limited Edition Collection faced their own issues before the companies found their footing and established their own quality control standards.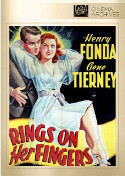 So Fox has room to improve. It's up to them to acknowledge the shortcomings, take the criticisms to heart, and rise to the standards that have been established by those who came before in the MOD market. There's every reason to give them a chance to do so.
More from Lou Lumenick at New York Post on the first wave of 20th Century Fox Cinema Archives, and announcements of the second wave of upcoming releases.
Available by order only from 20th Century Fox Cinema Archives, from Amazon, Oldies.com and other web retailers.
Here's a complete list of the first wave titles currently available, copied from the press release. Just click on "More" below.
For more releases, see Hot Tips and Top Picks: DVDs, Blu-rays and streaming video for the week of July 24
ALWAYS GOODBYE  1938    Barbara Stanwyck inspired performance as a woman who struggles with giving up her son, searching for love, and keeping a promise that may break her heart. Barbara Stanwyck, Cesar Romero

THE BARONESS AND THE BUTLER 1938    Set in Hungary, the daughter of the prime minister begins to have feelings for the butler, who secretly opposes the current regime. William Powell, Annabella
CAREER WOMAN   1936 This courtroom drama sees law school graduate Carroll Aiken (Claire Trevor) desperately trying to save a case from her overly confident and cynical colleague.  The life of a poor woman and her murdered father add fuel to this unbelievable legal tale of justice. Claire Trevor, Michael Whalen, Isabel Jewell
 
CHICKEN EVERY SUNDAY 1949 Based on the play by Julius J. Epstein, Emily Heffernan (Eleste Holm) struggles to keep the household running by renting out rooms to boarders, while her husbands spends all their earnings on get-rich-quick schemes. Dan Dailey, Alan Young, Celeste Holm
 
CLAUDIA 1943 Dorothy McGuire shines in her stage role adaptation of the Broadway hit "Claudia."  The title character's young bride ways lead to an array of life lessons including babies, the passing of loved ones,   and compromises with a stubborn husband. Dorothy McGuire, Robert Young, Ina Claire
 
DANGEROUS YEARS 1948 A new edition to the town's boys club goes awry when a young hood convinces his fellow teenagers to commit a small crime... that ends in murder. William Halop, Marilyn Monroe, Scotty Beckett
 
DIPLOMATIC COURIER  1952 This spy thriller finds a Department of State courier pulled into high stakes espionage after a U.S. agent's contact is killed by Soviets and he must help the agent finish the job. Tyrone Power, Patricia Neal, Stephen McNally
 
DO YOU LOVE ME 1946 Swing music takes center stage in this comedy that has the dean of the music school fighting with her husband (the symphony conductor) and the administration to let this new sound find a home on campus.  - Songs include: "As If I Didn't Have Enough on My Mind," "I Didn't Mean a Word I Said," "Moonlight Propaganda," and "Do You Love Me?" Maureen O'Hara, Dick Haymes, Harry James
THE FOXES OF HARROW 1947 An Irish gambler manages to buy his way into high society New Orleans and marry a beautiful Southern Belle.  But, will his wandering eye and gambling compulsion lead him to lose everything he's ever wanted? Rex Harrison, Maureen O'Hara, Richard Haydn
 
FRAULEIN 1958 A German girl helps an American officer escape the Gestapo when her family is killed in a WW2 air raid. After eluding the Russian Army she ends up having to do the unthinkable to survive while officers from different armies set their sights on her. Dana Wynter, Dolores Michaels, Mel Ferrer
 
FRONTIER MARSHAL 1939 Wild West icon Wyatt Earp of Tombstone has his hands full enforcing the law alongside his brothers with occasional run-ins with his occasional "friend" Doc Halliday.  A wicked outlaw comes to town and kills Doc which sets off the infamous gunfight at the O.K. Corral.   Randolph Scott, Cesar Romero, Nancy Kelly
 
HUDSON'S BAY 1940 This drama chronicles the foundation of the real life Hudson's Bay Trading Company of Canada, and the fur trapper that somehow convinced King Charles to finance the entire operation.  There were many obstacles for the trapper to overcome including impending war with the natives and treachery on the part of a deceitful aristocratic .Paul Muni, Gene Tierney, Vincent Price
 
INTENT TO KILL 1958 A Montreal doctor's love triangle with his assistant and wife is the least of his problems when he must perform delicate brain surgery on a hated South American president.  With an assassin waiting in the wings,  the good doctor must rely on a police detective to help keep him alive.Richard Todd, Betsy Drake, Herbert Lom, Jackie Collins
 
JUNIOR MISS 1945 A New York teenager gets involved in everyone's lives by playing cupid.  She especially turns the household upside-down when she plays matchmaker with the daughter of her dad's boss! Peggy Ann Garner, Stephen Dunne, Allyn Joslyn
KIDNAPPED 1938 An evil uncle arranges for his nephew to be kidnapped, only to have him seek revenge with the help of a Scottish rebel leader in this late eighteenth century drama.Warner Baxter, Freddie Bartholomew, Arleen Whelan, John Carradine
 
LIFE BEGINS AT EIGHT-THIRTY 1942 A young disabled girl spends her days trying to help her alcoholic father return to his glory days as a famous thespian, until a handsome composer comes into her life. The father finally lands the lead in King Lear, but will he lose the daughter he never fully appreciated? Monty Woolley, Cornel Wilde, Ida Lupino
 
LOVE IS NEWS 1937 Tyrone Power makes his living writing about the foibles of the idle rich, until he encounters a young heiress who decides to have some fun at the reporters expense. Their battle to embarrass one another spills out into high society in this screwball 1930s comedy. Tyrone Power, Loretta Young, Don Ameche
 
THE MAN I MARRIED 1940 An American girl falls in love and marries a German who is slowly being seduced by the Nazi Party.  She must find a way to escape with their child before it's too late. Joan Bennett, Francis Lederer, Lloyd Nolan
 
MR. SCOUTMASTER 1953 An out-of-touch TV star decides to become a Boy Scout leader to help him get in touch with his target audience to disastrous results. Clifton Webb, Edmund Gwenn, George Winslow
MR. BELVEDERE RINGS THE BELL 1951 Fifty-something "super genius" Mr. Belvedere pretends to be 77-years-old to trick his way into a senior citizens' home where he helps invigorate the current residents.  Mr. Belvedere also finds time to smooth a romantic path for a Reverend Watson and his fiancée. Clifton Webb, Joanne Dru, Hugh Marlowe
 
MY WIFE'S BEST FRIEND 1952 After a man confesses to his wife that he has been unfaithful, she imagines all kinds of ways that historical figures such as Cleopatra and Joan of Arc might handle the situation. Anne Baxter, Macdonald Carey, Cecil Kellaway
 
OUTCASTS OF POKER FLAT 1952 A murderous outlaw, a disgraced gambler and a faded dance hall floozy come to life in this adaptation of Bret Harte's "The Outcasts of Poker Flat."  Trapped in a snowbound mountain cabin, our characters must fight the elements and human nature to survive.   Anne Baxter, Dale Robertson, Miriam Hopkins
 
THE PERFECT SNOB 1941  A kindly veterinarian decides to play matchmaker after his wife turns their daughter into a snobby social climber.  The lush island of Honolulu provides the backdrop for this comedy of errors,  and the hope that a father can help his daughter find true love. Charles Ruggles, Anthony Quinn, Charlotte Greenwood, Lynn Bari
 
THE RAID 1954  A group of confederate prisoners escape to Canada and plan to rob and destroy a small town, until their leader meets an attractive widow and her son.  Van Heflin, Anne Bancroft, Richard Boone, Peter Graves, Lee Marvin

RINGS ON HER FINGERS 1942 A couple of grifters mistake a mark for a millionaire and attempt to have a new accomplice steal his money, only to have her fall in love with him. Henry Fonda, Gene Tierney, Laird Cregar
 
SECRET AGENT OF JAPAN 1942 British Secret Service, American fugitives, extortion, and coded notes are all packed into this high octane drama that begins at the early stages of the attack on Pearl Harbor.Preston Foster, Lynn Bari, Noel Madison
 
SLATTERY'S HURRICANE 1949 An Ex-Navy pilot enjoys the life of a dope smuggler until a beautiful woman, and the storm of the century, make him reflect on his life of looking the other way... will he be too late to redeem himself? Richard Widmark, Linda Darnell, Veronica Lake
 
SLAVE SHIP 1937  The skipper of an early slave trading vessel operating along the African coast attempts to get out of the business by getting rid of his crew and hiring a new one, only to find out that such a corrupt path is not so easily changed.  Mutiny, swashbucklers, and a beautiful bride make this high seas adventure an unforgettable one.  Mickey Rooney joins the cast as Swifty the cabin boy.    Warner Baxter, Wallace Beery, Elizabeth Allan, Mickey Rooney
SUEZ  1938 Tyrone Power stars as an engineer and son of a French nobleman who conceives of a canal connecting the Mediterranean and Red seas with political betrayal, tribal attacks, and the harsh elements  as a backdrop. Tyrone Power, Loretta Young, Annabella
 
SUNDAY DINNER FOR A SOLDIER 1944 A poor family in Florida saves all the money they can for a serviceman they have invited to Sunday dinner, only to have a different soldier show up and fall in love with the patriarch's granddaughter. Anne Baxter, Charles Winninger, John Hodiak
 
SWEET ROSIE O'GRADY 1943 Betty Grable stars as a Gay-Nineties Bowery saloon singer. Ever seeking an opportunity for advancement, Grable heads to London to land a wealth duke, only to have a wrench thrown into the works by a lovesick reporter who exposes her shady background. Betty Grable, Robert Young, Adolphe Menjou
 
THEY CAME TO BLOW UP AMERICA 1943 In this provocative WW II drama, an American agent sneaks into a Nazi spy ring to learn the identities of certain double-agents.  The stakes are raised as he sinks deeper into their ranks, putting a new love interest, his own life, and the fate of America at risk. George Sanders, Anna Sten
 
THREE BRAVE MEN  1957 Consummate actor Ernest Borgnine stars in this tale based on the true story of a Navy employee who was fired as a security risk, who then took the case to court to prove his loyalty to the United States.  Ray Milland, Ernest Borgnine
 
TWELVE HOURS TO KILL 1960 Based on the Saturday Evening Post serial "Set Up For Murder" by Richard Stern, 12 Hours to Kill traces the problems of a young Greek national who, after witnessing a murder, is ushered off into the relative "safety" of suburban obscurity by the police, unaware that he is being double-crossed. Nico Minardos, Barbara Eden, Grant Richards, Gavin MacLeod
 
WAY OF A GAUCHO 1952  A young gaucho deserts his army sentence and becomes a bandit leader in 1870s Argentina, making him an outlaw and enemy number one to a former commanding officer hell bent on bringing him to justice. Rory Calhoun, Gene Tierney, Richard Boone
MOD stands for "Manufacture on Demand" and represents a recent development in the DVD market, where slipping sales have slowed the release of classic, special interest and catalogue releases. These are DVD-R releases, no-frills discs from studio masters, ordered online and "burned" individually with every order. You can read a general introduction to the format and the model on my profile of the Warner Archive Collection on Parallax View here and on the MGM Limited Edition Collection on Videodrone here.