Classic Rediscovery: The Wicked, Wicked Ways of Gainsborough
Three potboiler costume dramas that had great success from bad behavior in wartime Britain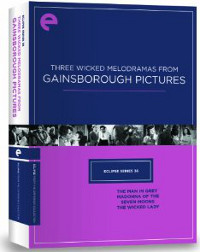 "Three Wicked Melodramas from Gainsborough Pictures" (Eclipse/Criterion) is a perfectly appropriate title for this trio of Gothic-pulp melodramas that became huge popular hits in Britain during World War II. Gainsborough had been around since the twenties but found sudden popularity with the potboiler costume drama "The Man in Grey" (1943), a dime-novel version of a Gothic melodrama set in the cruel culture of the British aristocracy. The four stars that defined the studio in its brief heyday are all in this one, led by James Mason in his breakout role as the title character. Lord Rohan is a brutish, proud aristocrat who marries a sweet, sunny heiress (Phyllis Calvert) simply to secure an heir to the name. Top-billed Margaret Lockwood (of Hitchcock's "The Lady Vanishes") is the dark to Calvert's light, bitter and calculating and ready to sacrifice her best (and only) friend in the world to grasp fortune as Mason's mistress, and Stewart Granger is an itinerate player and carnival barker with no money but far more soul than the cruel aristocrat Mason.
Its success spawned more costume melodramas of plucky heroines, wicked villainesses, and darkly seductive antiheroes, all defined by a surface of elegance on a budget (plenty of painted landscapes and austere sets) and a gleeful plunge into bad behavior that trumps any kind poetic justice. Calvert and Granger return for "Madonna of the Seven Moons" (1945), she as a good Catholic girl so traumatized by a rape (not shown but clearly signaled in the opening scene) that she develops a split personality and joins a gang of thieves, he as the gangleader in love with this wild version of the repressed heroine. Set in Italy, it's got gypsies, tramps, thieves, and a gigolo who targets Calvert's modern but completely honorable daughter (Patricia Roc) as she searches the slums of Florence for the only clue she has for her runaway mother.
Lockwood takes title billing as "The Wicked Lady" (1945), the studio's most famous and most successful film; it was the top grossing film of the year in Britain! Once again the dark-hearted friend to the very model of generosity (played by Patricia Roc), she begins the film by stealing her best friend's betrothed and, bored with her spoils, turns highwayman to steal jewels from travelers and ends up partnering with a real highwayman, played with dark charm and theatrical flamboyance by Mason. Michael Rennie co-stars as the man who just may be her soulmate, or is just her next infatuation. Either way, she ready to betray her friend all over again to find out.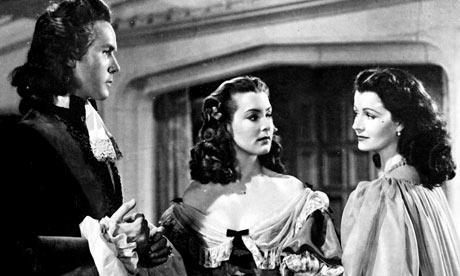 Launched in the midst of World War II, these Gainsborough melodramas offered audiences an escape from patriotic messages and stalwart heroism with wicked schemes and villains who betray friends and lovers out of greed, arrogance, or mere thrill seeking. This bad behavior is more about rebellion against class and manners and social decorum than greed and in a way it elevates the bad guys – or the bad dames, as the case may be – to antiheroes and twists the innocence under assault into wicked tragedies.
All three are disreputable fun and just good enough to both overrate and underrate them. Filled with silly twists and overwrought melodrama, they are not in the least bit credible, but they are defined by a distinctive sensibility, filled with charismatic anti-heroes who invest their roles with personality and energy, and directed with a stylized, unreal flamboyance that keeps them lively.
Like most films on the Eclipse label (the budget imprint of Criterion), the masters are not up to the high standards of a Criterion edition, with minor damage, dirt and grit and periodic audio issues, but they are also solid discs with good clarity and sharp images. Three discs in three thinpak cases with no supplements beyond notes by Michael Koresky. DVD only.
For more releases, see Hot Tips and Top Picks: DVDs, Blu-rays and streaming video for week  of October 9