TV on Disc Channel Guide: The comedy of British bureaucratic muddle in 'Twenty Twelve'
Plus 'The Abolitionists,' the final season of 'Scarecrow and Mrs. King,' and more
By 
SeanAx
 Jan 23, 2013 10:15AM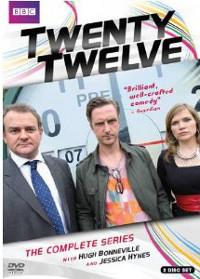 "The Men Who Built America" (History), the eight-part miniseries about the industrialists and moguls who developed the modern industrial nation, frames the history of the original robber barons as movie melodrama. Blu-ray and DVD. Videodrone's review is here.
"Twenty Twelve" (BBC) takes the mockumentary format for a comic look at the team charged with making the Olympics happen in London in 2012. New York Times TV critic Alessandra Stanley writes that the series "is like "The Office," at least the crueler, original British version created by Ricky Gervais, only the setup is Olympic preparation, and the joke is the lunacy of ill-staffed, disorganized bureaucracies." Hugh Bonneville of "Downton Abbey" heads the cast and David Tennant narrates. The series ran for 13 episodes over two seasons and is presented in two discs on DVD.
"The American Experience: The Abolitionists" (PBS) profiles the intertwined stories of Frederick Douglass, William Lloyd Garrison, Angelina Grime, Harriet Beacher Stowe, and John Brown with a mix of traditional documentary storytelling and dramatic recreation.
"Scarecrow and Mrs. King: The Fourth and Final Season" (Warner), the lighthearted seventies spy series with Kate Jackson as a soccer mom sidekick to dashing agent Bruce Boxleitner, comes to an end. At the beginning he's a slick playboy and she's a practical woman, but by this season they are couple, but marriage and a honeymoon are still complicated by missions. 22 episodes on five discs on DVD, with an episode guide.
"Breaking In: The Complete Series" (Sony Pictures Choice Collection), the short-lived sitcom with Christian Slater and Megan Mullally, and the 1970s TV movies "The Boy and the Plastic Bubble" (Sony Pictures Choice Collection) and "Wonder Woman" (Warner Archive) are among the TV shows recently featured in the latest MOD TV round-up.
For more releases, see Hot Tips and Top Picks: DVDs, Blu-rays and streaming video for week of January 22