TV on Disc Channel Guide: Inspector Morse Begins in 'Endeavour'
Plus 'Treasure Island,' the final cases of 'The Untouchables,' more 'Inspector Lewis' and more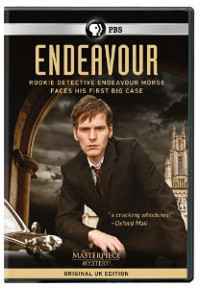 "Boss: Season One" (Lionsgate), the acclaimed Starz original series, stars Kelsey Grammer as the Mayor of Chicago and the reigning king of the political machine, and he sinks his teeth into the role with the ferocity it demands. Videodrone's review is here.
"Star Trek: The Next Generation – Season One" (Paramount) follows the original series into the final frontier of high definition with its Blu-ray debut this week. Videodrone's review is here.
"Endeavour" (PBS) is the "Inspector Morse" prequel, starring Shaun Evans as the young Detective Constable Morse on a case that takes him back to Oxford and changes the course of his career. This production is "written and devised by" Russell Lewis, who takes the character created by Colin Dexter and immortalized on TV by John Thaw and goes his own way with it, imagining the character's beginnings in a culture of corrupt cops and old-boy networks that protect their own. You might recognize this portrait of insular police culture from the original "Prime Suspect" shows or "Life on Mars" (the British series, of course, not the American remake). Apart from Evans as a young Morse, brilliant and dedicated yet soft-spoken and unsure of his commitment to the job in such a culture, Roger Allam stands out as the commanding DI, a man who not only recognizes Morse's intelligence and talent but encourages it. It's as if the discovery of an honest cop in his house has reignited his own passion for the job.
It makes for a very different kind of show than the long-running "Inspector Morse," at once more modern and steeped in period atmosphere of 1965 Oxford. If you don't already know the meaning of the title, you'll have to stick through to the final scene to discover it. It's worth the wait.
Originally shown in the U.S. on "Masterpiece Mystery." The Blu-ray and DVD releases feature the "original UK edition" of the show. No supplements.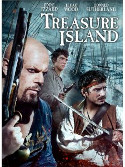 "Treasure Island" (Vivendi), the new mini-series adaptation made for SyFy, stars Eddie Izzard as Long John Silver. The SyFy mini-series (which runs about three hours without commercials) takes plenty of liberties with the story. It "offers more of a "realistic" than a romantic take on the material; that isn't to say it's a more convincing one," advises Los Angeles Time television critic Robert Lloyd. "But, as it must, the film belongs to Long John Silver, who is both its villain and, perversely, its hero — in any case, he's the only character whose future interests us. And Izzard is, indeed, the best reason to watch, one philosopher-comedian​ portraying another." The production, directed by Steve Barron, co-stars Shirley Henderson, Philip Glenister, Donald Sutherland and Elijah Wood. Blu-ray and DVD, with commentary by Steve Barron and actor Eddie Izzard, cast interviews, "The Making of Treasure Island," and other featurettes among the supplements.
"The Untouchables: Season Four, Volumes 1 & 2" (Paramount) brings back Robert Stack as the incorruptible dedicated FBI agent Eliot Ness wage war against the criminal underworld of Chicago with his squad of untouchable agents (Nicholas Georgiade, Abel Fernandez, Paul Picerni and Steve London) during prohibition. It was one of the most violent shows on TV, with characters routinely killed in blasts of machine gun fire or equally brutal means, and the dark tone was matched in lean sets and tough-minded stories. This brings the final season of the series to disc, three years after the release of "Season Three" in 2009. 30 episodes on eight discs split between two volumes (four discs apiece). DVD only.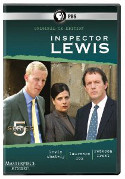 Another season:
"Inspector Lewis: Series 5" (PBS) features four more episodes of the British mystery series (shown stateside on "Masterpiece Mystery") starring Kevin Whately as Inspector Robert Lewis, the former partner to Inspector Morse and now the senior detective to a former divinity student (Laurence Fox). Blu-ray and DVD with the original, uncut British  versions of the show, no supplements.
"Childrens Hospital: Season 3" (Warner), the live-action spoof of medical drama soap operas created, written, directed by and starring Rob Corddry for Cartoon Network, is back for another season of busy 12-minute episodes. Also back are Malin Akerman, Lake Bell, Ken Marino, Megan Mullally, Henry Winkler and others. 14 episodes on one disc, plus web promos, outtakes, and bloopers. DVD only.
"Touched By an Angel: The Fifth Season" (Paramount), starring Roma Downey as the good-hearted apprentice angel caseworker sent to earth to help humans in crisis, is the first release of the series on DVD since 2007. 27 episodes on seven discs. No supplements.
"Hey Arnold! Season 2 Part 2" (Shout! Factory) offers 10 more episodes of the Nickelodeon animated series about a goofy kid with a head shaped like a football. Two discs, DVD only.
For more releases, see Hot Tips and Top Picks: DVDs, Blu-rays and streaming video for the week of July 24