"Huge: The Complete Series"
Nikki Blonsky makes fat camp funny and serious in the ABC Family Channel series
"Huge: The Complete Series" (Shout! Factory)
Developed by Winnie Holzman (creator/producer of "My So-Called Life" and "Once and Again") and her daughter, Savannah Dooley, and starring Nikki Blonsky (of the remake/musical version of "Hairspray"), this original ABC Family Channel series tackles some hefty issues (pun intended) through the stories of a handful of kids at "fat camp," a summer camp designed to help overweight teens lose weight.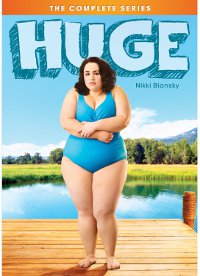 This is a social environment filled with kids who have been bullied, ridiculed and shamed into thinking themselves ugly and awkward outcasts and many of them arrive with a reflexive instinct to avoid confrontation. Not so Blonsky's Will (short for Willamena), an angry teenager who is furious at being forced to attend camp and rebels against authority with a ferocity that makes her a hero of many of the kids. In the opening scenes, as the kids are forced to get down to their swimsuits for initial weighing in and "before" photographs, she flaunts her figure with a pride that impresses her fellow campers and promises to "gain weight" over her stay. Yet while she thrives on conflict and lives her life loud and proud, she also struggles with the feelings of shame her parents have heaped in her.
Hayley Hasselhoff (daughter of David) is big-boned Amber, who paid her own way to camp to slim down to more socially acceptable norms but here is resident beauty, and she bonds with Chloe (Ashley Delgado), the camp's other "slim" heavyweight, as the cool kids at the top of the social strata and the objects of adoration among the boys. Indeed, the cliques and cruelties and social stratification of the outside world are replicated in miniature in this microcosm, complete with the geekiest kids at the bottom of the pecking order, even as they all confront issues of food addiction, self-control and eating as a response to anxiety. And even when they are not around, the parents cast a long shadow over these kids trying to assert their own identities.
Gina Torres plays the sympathetic camp director with issues of her own to deal with, Paul Dooley (who is married to co-creator Holzman and father to co-creator Savannah Dooley) is her estranged father trying to reconnect after having abandoned her decades ago, Zander Eckhouse is the handsome young assistant coach and Tia Texada is the drill sergeant of an exercise leader, whose sessions are the closest thing it gets to boot camp. And keep an eye out for Ashley Fink, who plays Will's cabin-mate Carter; she's now Lauren on "Glee."
The show was canceled after its initial 10 episodes, which play out like the first half of a longer season and leaves many of the stories open ended and unfinished. Which is too bad, for this is a well-made show that intelligently and compassionately tackles issues that most teens struggle with, whether they are overweight or not.
10 episodes on three discs, with commentary on three episodes, a handful of promotional featurettes with the cast, music videos, a blooper reel and all six minutes of the faux film "Phantasma," the show's dead-on parody of "Twilight" as a ghost-story romance.