"The Romantics" - MSN has an exclusive clip
The romantic drama with Katie Holmes, Josh Duhamel and Anna Paquin arrives on DVD today
"The Romantics" (Paramount)
Longtime indie producer and sometime screenwriter ("Prozac Nation") Galt Niederhoffer produces, adapts and directs her novel about seven college friends who come together for a wedding, which brings out unresolved feelings, especially between the maid of honor (Katie Holmes) and the groom (Josh Duhamel), who have a long and complicated history.
Exclusive clip: Katie Holmes talks about the film

There are shenanigans and some emotional fireworks (quite tasteful) over the night between the rehearsal dinner and the wedding, but this isn't so much a romantic comedy as a lightweight indie ensemble drama that never quite gels. Katie Holmes is a co-producer on the film (one of a couple of dozen, or it seems as the credits roll by) and gets top billing as the jilted girl who still hasn't come to terms with her former boyfriend and best friend (Anna Paquin) getting hitched. It's a good role and a fine performance from Holmes, her best since "Pieces of April."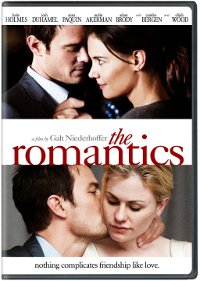 The problem is that there's not much to like in this group, who all seem to have settled for relationships that they have no emotional commitment to. Except for Holmes' character, still churning with feelings betrayal, there's no soul searching, and for that matter very little soul, in this piece. The surface likability of most of them evaporates by the end and we end up wondering not so much how these characters got to place, but why we're supposed to care about it.
Malin Akerman, Adam Brody, Jeremy Strong and Rebecca Lawrence fill out the group, with "Glee" co-star Dianna Agron as Paquin's little sister, Elijah Wood as the drunken jerk of a brother and Candice Bergen as the tightly-wound mother of the bride.
The DVD features the lightweight 11-minute featurette "Behind the Scenes of The Romantics"