TV on Disc Channel Guide: Sex and the Single Life in 'Whitney: Season One'
Plus 'Holliston,' 'Yancy Derringer,' the end of 'The Lucy Show,' and more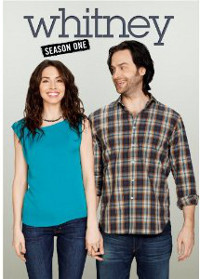 "Bones: The Complete Seventh Season" (Fox) came in at an abbreviated 13 episodes, due to the real-life pregnancy of star Emily Deschanel, an event worked into the series: Bones and Brennan become the happily unmarried parents of a baby girl. Blu-ray and DVD. Videodrone's review is here.
"Whitney: Season One" (Universal) is the sitcom created by and starring comedienne Whitney Cummings as a marriage-shy romantic in a long-term relationship with a supremely nice and loving guy (Chris D'Elia) she's afraid to lose and just as afraid to marry, thanks to the example set by her thrice-married parents (guest stars Jane Kaczmarek and Peter Gallagher). So yes, she's neurotic, but in that cute, playful way – the scripts talk more about her crazy behavior than they actually show us – and she's relatively normal next to her friends: hard-drinking, recently-divorced Rhea Seehorn, romantic Zoe Lister Jones, her metrosexual, very sensitive fiancé Maulik Pancholy, and would-be player Dan O'Brien, who talks a good game but tends to fly solo through the show.
They're actually a playful couple and most of the comedy revolves around her trying to keep the live-in relationship fresh and alive (the flip side of her marriage anxiety is fear of being abandoned) and dropping lots of innuendo-laden remarks. She plays it brash and sexy in a fairly down-to-Earth way within the familiar sitcom format. It's even shot in front of a live studio audience, which seems to help the byplay and energy but otherwise is there to be instant laughtrack. The rest is the same-old sitcom of sexy young urban professionals traipsing through the world of modern love. But it does present a healthy, committed romantic live-in relationship with an unmarried couple, and that's not a bad thing to add to the TV landscape.
22 episodes, plus commentary on select episodes by creator / star Whitney Cummings and co-star Chris D'Elia, deleted scenes, and a gag reel. DVD only.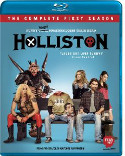 "Holliston: The Complete First Season" (Image) is the first sitcom about making horror movies. Created for FearNet, the horror channel, by Adam Green (of "Hatchet" and "Frozen" fame), it stars Green and Joe Lynch as aspiring filmmakers trying to balance work, love, and horror movies while trying to break out of their Massachusetts small  town. Dee Snyder and Dave Brockie (of GWAR) co-star. Six episodes on Blu-ray and DVD, plus commentary, featurettes, and deleted scenes among the supplements.
"Yancy Derringer: The Complete Series" (Timeless) is the one and only season of the Dixie western with Jock Mahoney as a riverboat dandy, plantation owner, and secret agent. X Brands co-stars as his faithful Indian sidekick, a mute warrior who speaks in sign language and carries a rifle. 34 episodes on four discs. DVD only.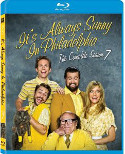 Another season:
"The Lucy Show: The Official Sixth and Final Season" (Paramount) presents the final 24 episodes of Lucille Ball's second sitcom. Co-starring Gale Gordon and Vivian Vance, the final season brings an all-star guest roster, including Joan Crawford, Sid Caesar, Carol Burnett, Jack Benny, Frankie Avalon, and more. Four discs plus supplements. DVD only.
"It's Always Sunny in Philadelphia: The Complete Season 7" (Fox) features 12 episodes of the most aggressively un-PC sitcom on commercial cable (which is saying something). Blu-ray and DVD with commentary on select episodes, bloopers, and a featurette.
"The League: The Complete Season Three" (Fox), the FX sitcom antics of five buddies whose fantasy football league dominates their lives, returns with 13 episodes on two discs (including 10 in extended versions), plus featurettes, deleted scenes, and guest appearances by Seth Rogen, Jeff Goldblum, Sarah Silverman, and Eliza Dushku. DVD  only.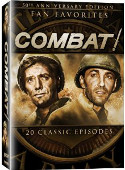 Plus:
- "Combat! 50th Anniversary Edition Fan Favorites" (Image) collects 20 standout episodes of the sixties World War II drama, including the haunting, largely wordless "Survival," with Vic Morrow badly burned and trapped behind enemy lines. Robert Altman directed that one. Five discs in a box set of five thinpak cases, DVD only.
- "The Art: 21 Collection" (PBS) collects six seasons and 24 episodes of the PBS series "Art in thee Twenty-First Century" on six discs. DVD only.
- "Space, Time and the Universe" (PBS) presents two complete science series hosted by author Brian Greene: "The Elegant Universe" and "The Fabric of the Cosmos." Four episodes apiece, four discs. DVD only.
- "Happiness Is… Peanuts: Go Snoopy Go!" (Warner) features the animated TV special "It's Spring Training, Charlie Brown" plus bonus TV episodes.
- "Care Bears: The Original Series Collection" (Lionsgate) presents 64 episodes of the animated series, plus the feature-length "The Nutcracker," on six two-sided discs. DVD only.
- "Webster: 20 Timeless Episodes" (Shout! Factory) – Are there really 20 "timeless" episodes of this sugar-shock sitcom?
For more releases, see Hot Tips and Top Picks: DVDs, Blu-rays and streaming video for week  of October 9