Blu-ray Round-up: Jane Fonda is 'Barbarella' – Space-Age Sex Kitten
Plus 'Born on the Fourth of July,' 'Treasure Planet,' Chesty Morgan and more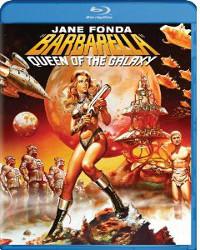 "The Most Dangerous Game / Gow" (Flicker Alley) is the first screen adaptation of the classic story of the big game hunter who stalks human prey, and it's still the best. Videodrone's review is here.
"Barbarella" (Paramount), a campy psychedelic romp produced by Italian Dino de Laurentiis, directed by French eroticist Roger Vadim, adapted from a risqué French comic strip by American satirist Terry Southern, and featuring an international cast, was Buck Rogers reworked as a sex kitten in space for the 1960s culture of free love and pop art. Jane Fonda is the shagadelic space-age heroine, a galaxy-hopping agent and adventuress ready to make love and war with equal fervor, and she opens the film with a teasing zero-gravity strip tease just barely obscured by the credits. The rest of the film, an odyssey to rescue a missing scientist and his newly-developed weapon, mixes Flash Gordon and the Marquis de Sade with director Roger Vadim's love of undressing beautiful women on the screen: psychedelic fantasy posing as science fiction with Fonda (who was married to Vadim at the time) as an innocent who embraces sex without self-consciousness and approaches every situation with a wide-eyed naïveté.
It's pure adolescent fantasy, like a pulp paperback cover populated by Hugh Hefner's stable of playmates, and somehow it still manages to remain PG! Vadim's fantastic imagery is still retro-cool, a triumph of set design and wild color over story and character, but his special effects have all the sophistication of a fifties B-movie in fetish gear and pop-art color. John Phillip Law shows off his physique as a blind, blond angel, Anita Pallenberg (her voice dubbed by the purring Joan Greenwood) is the sadistic Black Queen, and David Hemmings, Milo O'Shea and Marcel Marceau co-star.
It's a great looking disc with bright colors and great detail, but no supplements beyond a trailer, which you can see below after the jump (just click on "More" at the end of the post).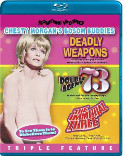 "Chesty Morgan's Bosom Buddies" (Image) is a triple feature from Doris Wishman, including her two cult secret agent spoofs starring Chesty Morgan, a lifeless, thoroughly untalented Polish born stripper famed for the 73-inch bust that she lets hang out every few minutes. "Deadly Weapons" (1973) is a simple revenge story, where she smothers her boyfriend's killers between her boobs. "Double Agent 73" (1974) is even more ridiculous: she plays a master secret agent who has a camera implanted in her left tit, which is activated by squeezing it. Actually, her entire repertoire consists of stroking, squeezing, and fondling her massive assets. "The Immoral Three" (1975), starring Cindy Boudreau, Sandra Kay, and Michele Marie as the daughters of Chesty, out to avenge her death, completes the sexploitation spy trilogy.
The Blu-ray release, mastered from second-rate prints, foregrounds the zero-budget conditions and slapdash execution of her films: bad sound synch (all shot silently and post-dubbed), occasional focus problems, wildly fluctuating color, and terrible acting. More freak shows than erotic adventures, there's something perversely fascinating about the entire tawdry business, but not necessarily engaging. Features Doris Wishman trailers and a gallery of Doris Wishman exploitation art.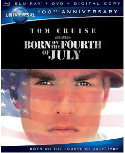 "Born on the Fourth of July" (Universal) stars Tom Cruise plays real life Vietnam Vet Ron Kovic, who enlisted in a fervor of patriotic dreams and returned an embittered vet paralyzed from his chest down, struggling with anger and self pity until he found meaning again as an active part of the anti-war movement. The 1989 film earned Oliver Stone his second Academy Award as Best Director. MSN writer Danny Miller celebrates the film at The Hitlist, calling it "the high-water mark for both him and director Oliver Stone. … Cruise goes from a naïve, idealistic, fresh-scrubbed teen who can't wait to serve his country to a cynical, drug- and alcohol-loving, wheelchair-bound anti-war activist. It is truly a great performance, and one for which he was nominated for an Oscar and won a Best Actor Golden Globe Award in 1989." Kyra Sedgwick, Raymond J. Barry, and Frank Whaley co-star and "Platoon" stars Willem Dafoe and Tom Berenger make memorable appearances. Features commentary by director Oliver Stone and the archival TV special "Back Story: Born on the Fourth of July" (from the DVD special edition) and featurettes celebrating 100 Years of Universal," and bonus DVD.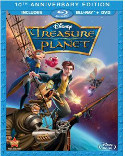 "Treasure Planet: 10th Anniversary Edition" (Disney) is Disney's 2002 space-age animated take on Robert Louis Stevenson's "Treasure Island," as directed by John Musker and Ron Clements (of "The Little Mermaid" fame). "The 18th century makes a splendid 30th century," writes Washington Post critic Stephen Hunter, who describes the film as "fast, playful and rather shallow" which "has at least three mind-blowing sequences combining various forms of animation seamlessly and creating a truly thrilling illusion of danger." The voice cast includes Joseph Gordon-Levitt (as young Jim Hawkins), Brian Murray (as John Silver), Emma Thompson, Martin Short, and Patrick McGoohan. It carries over the supplements from the earlier DVD edition: visual commentary by directors John Musker and Ron Clements, a 3-D interactive tour of the ship, "DisneyPedia: The Life of a Pirate Revealed," deleted scenes (including an alternate ending), the 14-minute featurette "Disney's Animation Magic," and more, plus a bonus DVD edition (also with the supplements).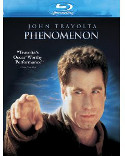 "Phenomenon" (Touchstone) stars John Travolta as an ordinary man whose life is irrevocably changed after an unexplained incident increases his intelligence and gives him strange powers. Travolta's sincerity brings real warmth to his good natured character who only wants to help his friends, even as they begin to pull away in fear. "It's about change, acceptance and love, and it rounds those three bases very nicely, even if it never quite gets to home," writes Chicago Sun-Times film critic Roger Ebert. Kyra Sedgwick, Forest Whitaker, and Robert Duvall costar. No supplements.
"Under the Tuscan Sun" (Touchstone), adapted from the memoir by Frances Mayes, stars Diane Lane is an American divorcee in Italy who impulsively purchases a dilapidated villa in the Tuscan countryside and sets about rebuilding her life and her new home. She has help from a Polish expatriate crew, a witty (and pregnant) best friend (Sandra Oh) for moral support, and a dreamy Italian hunk (Raoul Bova) for romantic rewards. Features commentary by director/screenwrite​r Audrey Wells, the making-of documentary featurette "Tuscany 101," and deleted scenes. Reviews here.
Plus:
Robert Redford directs and stars in "The Horse Whisperer" (Touchstone) as a rugged rancher (inspired by real-life Buck Brannaman) with a gift for helping troubled horses. Scarlett Johansson is the young girl who becomes emotionally and physically scarred after suffering a riding accident and Kristin Scott Thomas and Sam Neill co-star. Adapted from the novel by Nicholas Evans. Includes three featurettes.
"Home on the Range" (Disney) – Roseanne Barr, Judi Dench, and Jennifer Tilly give voice to a trio of cows who set out to capture a cattle rustler (voiced by Randy Quaid) and save their dairy farm home in Disney's 2004 animated comedy. The Blu-ray debut features the bonus animated short "A Dairy Tale: The Three Little Pigs," featurettes, deleted scenes, and a bonus DVD.
For more releases, see Hot Tips and Top Picks: DVDs, Blu-rays and streaming video for the week of July 3