Blu-ray Round-up: The gruesome exploitation of Pete Walker
Plus a rare Italian horror and animated 'Cinderella' sequels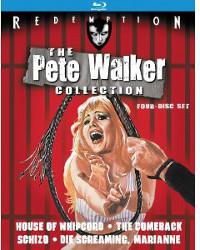 "Tarantino XX: 8-Film Collection" (Lionsgate) celebrates Quentin Tarantino's love of movies and moviemaking with all seven feature films directed by Tarantino -- plus one film written by Tarantino and directed with an appreciation for his sensibility -- in a single box set with two new discs of supplements. Videodrone's review is here.
"The Pete Walker Collection" (Kino) collects four films from the British horror goremeister of the 1970s. In "House of Whipcord" (1974), a judge with an Old Testament approach to justice metes out his own punishments to " loose" women found guilty of "inappropriate behavior." Being a British sexploitation horror, his punishment involves a private dungeon run by a former prison matron who strips, whips and generally abuses her girls in a series humiliations and tortures until their inevitable execution. In other words, a sleazy exercise in cinematic sadism perpetrated on beautiful women for the entertainment of the audience. Penny Irving stars as their latest victim. Features commentary by Pete Walker with director of photography Peter Jessop and moderator Steven Chibnall and a video interview with Walker conducted by Elijah Drenner.
The other films in the set are "Schizo" (1976), "Die Screaming, Marianne" (1971), and "The Comeback" (1978), all remastered from the original negative and featuring interviews with Walker. The latter two also include commentary by Walker with moderator Jonathan Rigby. From the Redemption imprint.

"The Night of the Devils" (Raro Video), a 1972 Italian horror from Giorgio Ferroni, is based on the same story that inspired the finale of Mario Bava's "Black Sabbath." Gianni Garko stars as the survivor who relates his tale of confronting a "wurdulak," essentially an Eastern European vampire, and Agostina Belli is one of the women threatened by the curse. Raro presents the film in its first official American home video release, restored to its complete running time and widescreen aspect ratio. Italian and English with subtitles, with video interviews and a booklet with notes and additional interviews.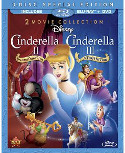 "Cinderella II: Dreams Come True/Cinderella III: A Twist in Time" (Disney) brings the direct-to-disc animated sequels to Disney's animation classic to HD. "Dreams Come True" (2002) is less a feature than a trilogy of three simple stories with a common theme: be yourself and follow your heart. Told as a series of storybook tales by the palace mice, it's a charmingly modest video and the cat-and-mouse skirmishes make for fine comic relief, but the real charm is in its egalitarian embrace of everyone. Who would have thought a wicked stepsister could fall in such sweet love? "A Twist in Time" (2007) rewrites the familiar fairy tale when the Fairy Godmother's magic wand falls into the stepmother's hands and she arranges for her own daughter, the horrible Anastasia, to marry Prince Charming. The three-disc set features bonus DVD copies of each film plus two "Becoming a Princes" featurettes.
"Objectified" (Plexfilm), Gary Hustwit's documentary on the our relationship to manufactured objects and the people who design them, looks at the way we reinvent our environment and our tools. Features an hour of additional interviews.
For more releases, see Hot Tips and Top Picks: DVDs, Blu-rays and streaming video for week of November 20