Blu-ray Round-up: The Complete 'Lone Wolf and Cub'
Plus 'Killer Klowns,' 'Jeepers Creepers,' 'Au Pair Girls,' and more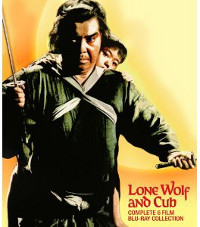 "Bond 50" (Fox) – Five decades, six James Bonds, and 22 films in this deluxe box set: the complete official James Bond series to date, from "Dr. No" (1962) to "Quantum of Solace" (2009). Videodrone's review is here.
"Lone Wolf and Cub: Complete Six Film Blu-ray Collection" (AnimEigo) presents the HD debut of the legendary samurai series, adapted by Kazuo Koike from his own hit manga series. It begins with "Lone Wolf and Cub: Sword of Vengeance" (1972) as rogue samurai Itto Ogami (Tomisaburo Wakayama) who carts his infant son from town to town in a wooden cart with a banner that reads "Child and expertise for rent" and features a spring loaded arsenal of 18th century weapons. Director Kenji Misumi draws his distinctive graphic style from the clean, sharp lines of the artwork in the manga series and adds an inspired cinematic device: when Ogami enters battle the world falls silent, literally, until his sword strikes with a distinctive swipe. The fights are savage -- blades slash, limbs fly, and blood spurts like geysers -- yet his giggling baby son, who coos even as his father slices through opponents, gives film moments of serenity. All have become classics of Japanese action cinema, but his origin stands apart, if only for the iconic moment when Ogami gives his infant son a choice: pick the sword and "travel the road of the assassin with me," or the toy ball and join his mother in the afterlife. He reaches for the sword and history is made.
The series continues with "Baby Cart at the River Styx" (1972), where he battles a female assassin sent by the Yagyu clan and his son joins in the fight for the first time, launching weapons from his cart, and "Baby Cart to Hades" (1972), both also directed by Kenji Misumi; "Baby Cart in Peril" (1972), directed by Buichi Saito; "Baby Cart in the Land of Demons" (1973), which begins with Ogami forced to defeat five retainers, each of whom have 1/5 of his fee and 1/5 of his assignment, before he can even begin; and "White Heaven in Hell" (1974), with Misumi back to guide Ogami back to his final revenge as he takes on the entire Yagyu clan. In Japanese with English subtitles, two discs.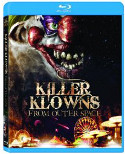 "Killer Klowns From Outer Space" (MGM) – It's all in the title: pasty-faced clowns with maniacal smiles, big red noses, baggy polka dot suits and size 50 shoes are zapping people into candy-floss cocoons and sucking their blood through striped curly straws. Goofy and playful, with a sick sense of humor and the most disturbing clowns ever put on screen, it turns every clown cliché on its head. Alien invasions have never been so much fun. With commentary and featurettes.
"The Texas Chainsaw Massacre 2" (MGM) is Tobe Hooper's weird 1986 follow-up to his groundbreaking horror classic, which re-imagines his transgressive classic of multi-generational cannibalism as a demonic carnivalesque comedy. Dennis Hopper is the obsessive Texas Ranger who walks into their underground lair with his own chainsaws strapped on like six guns and takes Leatherface on in a blazing chainsaw duel. It flopped upon release but has earned its cult stripes since. "The Saw is family!" With two commentary tracks and feature-length documentary among the supplements.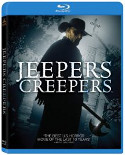 "Jeepers Creepers" (MGM) is genuinely creepy, an eerie return to old fashioned scary movies and ominous imagery with bickering siblings who collide (almost literally) with a shadowy creep on road trip through the back highways of nowhere and wind up in a desperate race from  the devil. The story is hardly original and writer/director Victor Salva has a tendency to explain too much when mere suggestion is much more frightening, but he takes it seriously and leaves the dark, doomed ride with an unsettling sense of loss. With commentary, a featurette, and deleted scenes.
"Arachnophobia" (Hollywood) is creepy crawly family horror with a comic lilt, starring Jeff Daniels as a father who fights his fear of spiders when a deadly tropical spider accidentally brought back to a sleepy rural town mates with a local variety and creates havoc. Harley Jane Kozak and Julian Sands co-star and John Goodman plays the commando exterminator who suits up to take on the invasion. No supplements.

"Au Pair Girls" (Kino) are Astrid Frank, Gabrielle Drake, Me Me Lai, and Nancie Wait: sexy foreign girls who fly in from all parts of the globe to learn English on the job. It's a silly British nudie cutie about drooling, lascivious men and willing young women getting it on in the sack, in the hayloft, in a car, in… you get the idea. British genre veteran Val Guest directs with spirit, giving a sense of fun and a playful quality to an otherwise obvious bit of bird watching.
Tinto Brass directs "Cheeky!" (Cult Epics), a sex comedy of a seductive young foreign woman (Yuliya Mayarchuk) and her erotic romp through London while scouting for an apartment. Newly remastered from an uncut print and featuring original Italian and English dub soundtracks.
"G.I. Joe: Renegades – The Complete First Season" (Shout! Factory) collects all 26 episodes of the 2010 revival of the animated action series of the eighties, previously released on DVD, for their Blu-ray debut. With commentary and a featurette.
Also see the Cool and Classic round-up for the Blu-ray debuts of "Eating Raoul" (Criterion) and David Fincher's "The Game" (Criterion), the combo-pack releases of "This Is Cinerama" (Flicker Alley) and "Windjammer" (Flicker Alley), and the disc original "Batman: The Dark Night Returns, Part 1" (Warner).
For more releases, see Hot Tips and Top Picks: DVDs, Blu-rays and streaming video for the week of September 25