TV on Disc: The 'Angry Boys' of Chris Lilley
And he plays a couple of women too in this Australian comedy series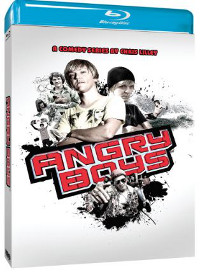 Australian comedian / writer / producer Chris Lilley doesn't just play boys in his original series "Angry Boys" (HBO), an Australian co-production that played on stateside on HBO, and they're not all angry. They are pretty messed up and lacking in self-awareness, however, which seems to be a theme in Lilley's universe.
Lilley is big in Australia, not so much in the U.S., but HBO imported his previous series "Summer Heights High," where the 35-year-old Lilley played three teenage kids. (His boyish face helps him get away with the game.)
He doubles his acting duties here with a half-dozen characters: teenage twin brothers Daniel and Nathan Sims, former surf champ Blake Oakfield, and Juvenile Justice Center for boys Officer Ruth Sims, aka Gran, all settled downunder, plus two characters outside of Australia. He dons modern blackface to play American rapper S.Mouse, a middle class kid playing at urban toughness, and appropriates a schoolboy Asian accent as Jen Okazaki, manipulative mother of a Japanese-American skateboard phenomenon (played by Jordan Dang) who promotes her heterosexual son as a gay icon.
I've never really connected to Lilley's sense of humor but at least his Aussie characters are grounded in a sense of identity, be it the fraternal insults and pranks of the Sims brothers or the mix of thoughtlessness and maternal affection that Gran exhibits with her juvenile charges. The more outsized S.Mouse and Jen Okazaki parodies, however, devolve into broad stereotypes. While Lilley takes some stabs at race and cultural commentary, these caricatures feel unmoored from any lived experience and come off as misinformed parodies.
"Angry Boys" is produced in the mockumentary style that has become a standard sitcom format in such shows as "The Office" and "Modern Family" and makes periodic comments about the "show" being shot. It doesn't offer any reason why these disparate characters are in the same show, but at least it brings them together while bringing a little closure to the stories.
Blu-ray and DVD, 12 episodes on three discs, plus six hours of deleted scenes, bloopers, and mock music videos.
Lilley originally created Daniel and Nathan Sims for the 2005 limited series "We Can Be Heroes" (HBO), playing five characters competing for the "Australian of the Year" award (and one bystander). It's which is also getting a release this week on DVD. 6 episodes plus deleted scenes, a featurette, and extended episodes among the supplement, on two discs.