Blu-ray Round-up: John Wayne is 'Hondo'
Plus the Oscar winning 'The Sting," the outlaw speed comedy 'Smokey and the Bandit,' and more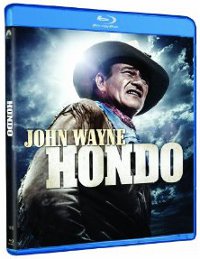 "The Color of Money" (Disney), the Martin Scorsese-directed sequel to "The Hustler," features Paul Newman reprising his role as Fast Eddie Felson and Tom Cruise as his undisciplined protege. Reviewed on Videodrone here.
"Hondo" (Paramount) is one of John Wayne's best westerns of the 1950s, a leathery frontier drama starring Wayne as a Cavalry scout who comes across a lonely homestead where a toughened settler (Geraldine Page) and her son await the return of her brutish husband (Leo Gordon), refusing to leave even as tensions between the Apache nation and the Cavalry heat up into war. Wayne settles into the laconic confidence he brought to his best roles of the 1950s as the wanderer who falls in love with the "plain" frontier wife all but abandoned by her scoundrel of a husband and all but adopts her son, who is eager for a father figure. With his buckskin jacket hugging him like a second skin and his feral dog by his side, Wayne looks like a man of the wilderness as he strides through the desert, a half-Indian scout apart from both the Navajo and the Cavalry who may have found a new life with this married woman.
Directed by John Farrow and adapted from a Louis L'Amour story, it was originally shot in 3-D (that accounts for the preponderance of arrows shot into the camera) but it plays better as a straight, unassuming character-based western adventure. Wayne buddies Ward Bond and James Arness play intolerant Army scouts and Michael Pate, Rodolfo Acosta, and Leo Gordon co-star.
It's newly remastered for Blu-ray and a new DVD edition (though still not available in 3D) with all the supplements from the previous DVD release: commentary by Leonard Maltin, western historian Frank Thompson, and actor Lee Aacker, the featurette "The Making of Hondo," profiles of screenwriter James Edward Grant and actor Ward Bond, and the brief featurettes "From the Batjac Vaults" and "The Apache," plus an introduction by Leonard Maltin.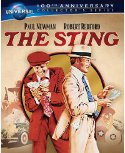 "The Sting" (Universal) stars Paul Newman as the veteran con man and Robert Redford as the ambitious young hustler who team up to con a gangster (Robert Shaw) who has done them both wrong. The lively, lightweight confidence picture has always been an audience pleaser, with great period design and winning chemistry between stars and friends Newman and Redford, but in retrospective it feels awfully slight to win seven Academy Awards, including Best Picture, Best Director (George Roy Hill), and Best Original Screenplay (David S. Ward). Charles Durning, Ray Walston, Eileen Brennan, and Harold Gould co-star, and Marvin Hamlish's Oscar winning score, which featured numerous Scott Joplin rags, sparked a resurgence in Joplin's music. The film has been  remastered for the Blu-ray debut as part of the Universal 100th Anniversary. It features the hour-long retrospective documentary "The Art of the Sting" and a handful of studio featurettes, plus bonus DVD and digital copies in an illustrated Blu-ray Book with notes on the film.

"The Strange Love of Martha Ivers" (HD Cinema Classics), a film noir directed by Lewis Milestone, opens in gothic melodrama mode, in a "Rebecca"-scaled mansion full of soft shadows and the plotting of unhappy children. Only when the film jumps ahead almost 20 years do the shadows turn hard and the dark and the dangerous city takes over. Van Heflin is at his stocky, stand-up best as the professional gambler who takes an unexpected stopover in his small town and steps right into a viper's nest, his two childhood friends (Barbara Stanwyck and Kirk Douglas) now a venomous couple whose distrust of outsiders almost tops their distrust of each other. Milestone's direction is a little too clean and classically handsome for the sleazy subject matter, but his use of actors is superb: Heflin's solid fullback stance and honest mug is quite a contrast to Stanwyck's hard, scheming face and Douglas' cowering carriage. Like previous HD Cinema Classics Blu-ray releases, there is a heavy use of digital noise reduction in the remastering thus it presents a softer picture than the previous Paramount DVD release. On the other hand, it adds commentary by film historian William Hare.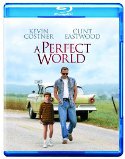 Clint Eastwood directs and stars in "A Perfect World" (Warner), one of his most underrated films. It features what I think is the best performance Kevin Costner has given, playing an escaped convict who winds up playing big brother and then father figure to his little boy hostage, a kid frightened by life but given courage by Costner's presence. Eastwood is the veteran Texas Ranger who snipes at his young liberal criminologist partner (Laura Dern) while tracking the fugitive. The tone is inconsistent, but Eastwood gets it right every time the camera is on Costner. No supplements.
"Blood Work" (Warner) stars Eastwood as a retired FBI profiler brought back to work on an open case. The economical professionalism of Eastwood's direction is admirable, even if he's losing his touch for subtlety. Includes a featurette and an interview (conducted in Spanish) with Eastwood and co-stars Wanda de Jesus and Paul Rodriguez.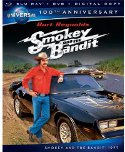 Can you believe that "Smokey and the Bandit" (Universal) was the second highest grossing film of 1977? Right behind "Star Wars," in fact, which isn't bad for a modestly-budgeted outlaw car comedy from Hal Needham, a former stuntman who made his directing debut with the film. Burt Reynolds is the Bandit, a fun-loving speed demon running interference on a crazy long haul beer run with rig-driving partner Jerry Reed and runaway bride Sally Field in the passenger seat, and Jackie Gleason is the exasperated smokey on his trail, Sheriff Buford T. Justice. It debuts on Blu-ray as part of the Universal 100th Anniversary, with a retrospective featurette, a CB tutorial, and a handful of studio featurettes, plus bonus DVD and digital copies.
Plus:
"Erin Brockovich" (Universal) earned Julia Roberts an Oscar for playing the real-life single mother who helped win a major case against a corporate polluter. Also debuting as part of the Universal 100th Anniversary, it features deleted scenes and a couple of featurettes, plus bonus DVD and digital copies.
"U.S. Marshalls" (Warner) stars Tommy Lee Jones, reprising his role from "The Fugitive" in a new fugitive manhunt, this time chasing Wesley Snipes with the help of Robert Downey Jr.. With commentary and featurettes.
"Ransom" (Disney), from director Ron Howard, stars Mel Gibson as a rich father who defies the kidnappers of his son and offers the ransom as a reward to anyone who will find his son, and "Cocktail" (Disney) stars Tom Cruise as a superstar bartender.
For more releases, see Hot Tips and Top Picks: DVDs, Blu-rays and streaming video for June 5