The Cool, the Classic and the Collectible: Early Antonioni, a Lost Musical and a Giallo Rarity
Plus Heston Unbound, Cult landmarks from Dario Argento and Coffin Joe and more
Why oh why do so many interesting releases come flooding in at the end of the month? New releases and TV on DVD aside, this week I've already reviewed the Ultimate Edition of "The Ten Commandments" (right here, with an MSN exclusive clip), Criterion's double-shot of Gilbert and Sullivan in Mike Leigh's "Topsy-Turvy" and the 1939 "The Mikado," Blue Underground's beautiful new DVD and Blu-ray editions of Dario Argento's delirious masterpiece "Inferno" and the end of the Coffin Joe saga in "Embodiment of Evil" from Synapse.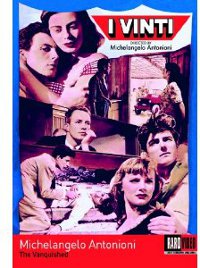 And that's not all, folks. Read on for more classics, cult items and curiosities…
"I vinti" ("The Vanquished") (RaroVideo)
Michelangelo Antonioni's second feature, making its American home video debut, opens with a moralistic lecture on the fears of rising juvenile delinquency of the "burnt out generation," a sensationalistic prologue more in tune with the hysteria of American "youth gone wild" exploitation movies than Antonioni alienation and ennui. In fact, that opening is one of many compromises the young filmmaker made under pressure from governments, censors and the film's producers. The film itself, a triptych of stories of murders committed by young men in three different countries (France, Italy and England) and inspired by real-life events, is much more thoughtful and resonant film, minor Antonioni, perhaps, but interesting stories of alienated youth.
In the Paris story, he's a member of a callous group of students who lure a rich kid to rob and kill him. In Rome, it's a college kid who moonlights with a gang of petty smugglers and goes on the run when he kills a customs officer in a panic. In London, an arrogant narcissist who sneers at working for a living tells a crime reporter that he murdered a prostitute, confessing in the press for the notoriety while convinced that he could never be convicted of "the perfect crime." Even with the changes forced on Antonioni, it's a gracefully directed drama that finds its meaning in the anxieties and alienation of the characters.
One supplement to this disc makes the film (presented in its Italian theatrical version, with the French and English segments in their native languages) even more interesting: the original, uncut version of the Italian episode as it was shown in its premiere showing at the 1953 Venice Film Festival. Antonioni partially reshot and completely rewrote the story, which was originally about a passionate young Communist activist who burns down a local factory as a political protest. This version is more interesting and accomplished, a compassionate and committed portrait of a furiously political young man who acts out of belief and emotion (a stark contrast to the youth of the other chapters) and a compelling portrait of alienated identity suddenly questioning his commitment and his philosophy as he sinks into resignation and disillusionment.
The disc also features the short film "Tenato Suicidio" (Antonioni's contribution to the 1953 anthology film "Love in the City") and video interviews with producer Turi Vasile and actor Franco Interlenghi, who plays Claudio in the Italian segment. The accompanying 8-page booklet features an essay by Stefania Pergi that chronicles the film's troubled history and the changes Antonioni made under pressure from producers, censors and government authorities.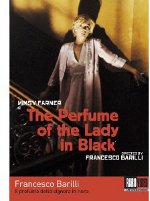 "The Perfume of the Lady in Black" (RaroVideo) is quite the giallo find, a 1975 Italian horror turned psycho-drama starring Mimsy Farmer, the chilly blonde mod icon of giallo who specializes in characters both sexually active and repressed. She does Tippi Hedron/Mia Farrow duty here as a professional chemist who is haunted by visions and flashbacks of past trauma and surrounded by a small chorus of characters—some friends, some suspicious-looking strangers—who keep orbiting around her, most of them for no good reason. Reverberating with echoes of "Rosemary's Baby," "Marnie" and "Alice in Wonderland," this plunge down the rabbit hole of sanity doesn't always add up to logical explanations, but the hall of mirrors reflecting reality and fantasy back on one another is part of the fun and the Satanic reverberations of the conspiratorial climax only adds to the mystery. Director/co-screenwr​iter Francesco Barilli leaves the flashbacks and visions purposefully vague, always pitched on the edge of memory and nightmare, and doesn't draw a straight line between the repressed memories and the current torment of nightmares and paranoia, which leaves her ordeal unexplained, or perhaps inexplicable is a better word. We know what finally happens to her in no uncertain terms, but the mystery as to why hangs over the film as the credits roll.
The American home video debut from Raro Video features the 26-minute Italian language featurette "Portrait in Black" (originally made for the Italian DVD release) and the alternate English dub soundtrack in addition to the original Italian soundtrack with English subtitles.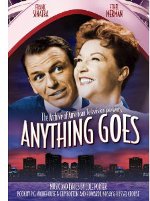 "Anything Goes" (eOne) is an archival rarity: a 1954 production of the Cole Porter musical, scaled down to fit within the "Colgate Comedy Hour" time slot and performed and broadcast live in front of an studio audience. Ethel Merman reprises her stage role and Frank Sinatra, Bert Lahr and Sheree North provide spirited back-up in this lively production. It moves at a sprint, jumping from song to skit and back again as Sinatra stows aboard a luxury liner to woo Merman and Lahr (playing a teddy bear of a wanted gangster) sneaks on disguised as a missionary minister, but Merman is undeniably the star of the show and she uses the opportunity to restore songs that were cut from her appearance in the 1935 film version. Right down to the final curtain call, as she reprises "Anything Goes" with Sinatra and Lahr joining in, the cast is back-up to the grand old lady of Broadway.
Preserved on kinescope (these were the days before videotape), this edition is mastered from a print from Merman's personal collection and looks just fine, considering the primitive quality of the technology. Also includes a new interview with musical director Buddy Bregman and a 20-page booklet with a terrific essay on the origins and history of this production written by musical theater scholar Stephen Cole.
"Mother Lode" (Warner) and the 1972 "Antony and Cleopatra" (Warner) debut in conjunction with "The Ten Commandments" to celebrate the manliness of Charlton Heston, who directs as well as stars in these productions. And that's not all from Moses: "Charlton Heston Presents The Bible" (Warner) is a collection of four productions from 1992, part documentary and part storytelling, with Heston as host and narrator of four stories from the Bible: "Genesis," "The Story of Moses," "Jesus of Nazareth" and "The Passion."
Also new this week:
"Capone" (Shout! Factory), the 1975 Roger Corman-produced gangster film starring Ben Gazzara as Capone and co-starring Harry Guardino, Susan Blakely, John Cassavettes and pre-"Rocky" Sylvester Stallone as Frank Nitti. Features commentary by director Steve Carver (of "Big Bad Mama" fame).
"Movie Music Man: A Portrait of Lalo Schifrin" (Kultur), a 1993 TV documentary on the composer ("Cool Hand Luke," "Bullit," TV's "Mission: Impossible") and jazz pianist.
"Who's the Caboose" (New Video), a 1997 indie comedy starring Sarah Silverman, David Cross, Andy Dick, Kathy Griffin and H. Jon Benjamin.
"Beneath the Dark" (IFC), a horror film starring Josh Stewart and Jamie-Lynn Sigler.
"
Husk
" (Lionsgate) and "
Prowl
" (Lionsgate), two horror films from the "After Dark Originals" line of DVD originals