Cool and Classic: 'The Story of Film' – Cinema history in 15 captivating hours
Plus Christopher Nolan's 'Following,' Mario Bava's 'Baron Blood,' 'Black Like Me,' and more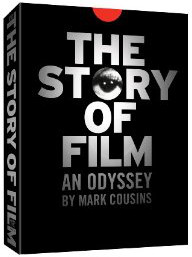 "Miami Connection" (Alamo Drafthouse), a gonzo B-movie from the eighties about synth-rock band of Taekwondo black belts versus a gang of drug-dealing motorcycle Ninjas in Orlando. Videodrone's review is here.
"The Qatsi Trilogy" (Criterion) collects all three meditative visual essays by Godfrey Reggio: "Koyaanisqatsi" (1983), "Powaqqatsi" (1988), and "Naqoyqatsi" (2002). Reviewed on Videodrone here.
In "The Story Of Film: An Odyssey" (Music Box), Mark Cousins takes an unconventional, expansive, and almost exhaustive approach to the history of cinema. I can't imagine that anyone who is not already captivated by cinema would even begin this immersive, ambitious 15-hour documentary series that attempts to encapsulate cinema, from birth to the present, and as practiced all over the world. But Cousins is not just an educator, he's a missionary sharing the beauty and magic of cinema: "A lie to tell the truth."
Cousins, who narrates as well as directs, doesn't choose between business or aesthetics, stars or directors, art or commerce. It's all part of the same story of film, but ultimately the story he tells is about creation: expression, evolution, innovation, the cross-cultural fertilization of ideas on how to tell stories, express character, explore ideas on the screen. It's also about continuity, and not just in terms of storytelling. When he isolates a pioneering moment (say the first moving camera shot or parallel editing) or a new approach that challenges conventions (like the painterly use of light by the early Scandinavian directors), he watches it take root and grow in films across time and filmmaking cultures. There are over 1,000 clips (or so it says in the press notes; I didn't count) and Cousins uses them to connect the past and present. Old is new, new is old.
"The Story of Film" isn't encyclopedic, but it is expansive and inclusive, insisting on the vitalities of and contributions from cinemas from around the world. And it is unexpectedly compelling. I've seen and read my share of movie history. I haven't been as touched by any of them as much as I have by this one. Cousins makes connections between the past and present that makes the story of film immediate and alive. Much like the greatest films do when, in the moment, they transport us into their stories.
15 hour-long episodes on five discs plus a booklet, DVD only.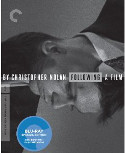 "Following" (Criterion), the first feature by Christopher Nolan, is a B&W mindgame about a young man (Jeremy Theobald) obsessed with following people who is drawn into the world of Cobb (Alex Haw), a break-in artist who likes to peak in to the personal lives of his victims. He becomes a strange companion in the kind of unusual relationship that exists primarily in the movies: part mentor, part confessor and part evil twin. Nolan (who also wrote and photographed the film) creates an offbeat little film noir with one of those too-clever twists at the end, but you can also see the seeds of "Memento" in his fascination with alienation and urban loneliness (nicely encouraged by the muddy looking B&W photography of low budget shooting) and the shuffled story structure. It's as if the troubled hero is still working everything out as he tells all in a kind of confession. Lucy Russell co-stars.
Previously released on DVD, it's remastered in a new high-definition digital transfer of the 16mm production supervised by director Christopher Nolan for this new DVD special edition and Blu-ray debut. New to this edition is a video interview with Nolan, a side-by-side comparison of the shooting script with three scenes from the film, and Nolan's 1997 short film "Doodlebug," with "Following" star Jeremy Theobald. Carried over from the earlier release is Nolan's 2001 commentary track and an option to view the film in chronological order. Also includes trailers and a booklet featuring an essay by film critic and programmer Scott Foundas.

Mario Bava's 1972 "Baron Blood" (Kino) returns the director to his Gothic horror roots with a ghostly thriller: a magnificent castle, an ancient curse, a cruel killer from the past resurrected by his ancestor to continue his reign of terror. It's like a throwback to Roger Corman's Poe films shot through with gory killings and gorgeous imagery a la Bava. "Sadist. Murderer. Merely matters of terminology," smiles a reincarnated Joseph Cotten with an ominous tremble in his voice that belies his seemingly frail, wheelchair-bound body, as he shows off the "fake" bodies that adorn his tower spikes and tape recorded screams fill the soundtrack. Though it's not Bava's best, it swims in his gorgeous imagery and Joseph Cotten puts an ominous quiver in his voice as the deviant back from the dead. Newly remastered for Blu-ray and DVD, it features commentary by Bava historian Tim Lucas, an alternate title sequence, and Bava trailers among its supplements.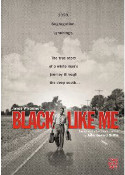 "Black Like Me" (VSC) dramatizes the controversial memoir by John Howard Griffin, the white journalist who medically altered his skin pigment to travel through the pre-Civil Rights Act south of 1959. James Whitmore plays Griffin in this 1964 drama if his often degrading experience at the hands of whites. It features early film appearances by Roscoe Lee Browne and Al Freeman Jr. and co-stars Clifton James, Sorrell Booke and Will Geer, and though it is dated and awkward, it was quite the provocation when it was release. Restored from the film negative, this release deatures a bonus disc with the hour-long documentary "Uncommon Vision: The Life and Times of John Howard Griffin" and an excerpt of the John Howard Griffin biography "Reluctant Activist" by Robert Bonazzi. DVD only. Reviews here.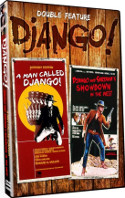 Plus:
It's Django times four in a pair of spaghetti western double features. After the success of the original "Django," his name was stamped on dozens of spaghetti westerns featuring any number of actors, none of them actually having anything to do with the original character. Thus "A Man Called Django / Django and Sartana Showdown in the West" (Timeless) features Anthony Steffen in the former and Franco Borelli in the latter, while "Django Kills Silently / Django's Cut Price Corpses" (Timeless) features George Eastman and Jeff Cameron, respectively. Each double feature includes trailers and a poster gallery.
"The Island" (Shout! Factory), based on Peter Benchley's thriller of modern-day pirates of the Caribbean and directed by Michael Ritchie, stars Michael Caine as an investigative reporter kidnapped by cutthroats who continue to practice their barbaric ways. Blu-ray+DVD combo pack, no supplements.
"Death Valley" (Shout! Factory) stars Paul Le Mat, Catherine Hicks, and Peter Billingsley (before he made "A Christmas Story") as a vacationing family terrorized by a killer (Stephen McHattie). Blu-ray+DVD combo pack, with commentary by director Dick Richards.
For more releases, see Hot Tips and Top Picks: DVDs, Blu-rays and streaming video for the week of December 11