Cult: Three by Mario Bava, Italy's Master of Horror
From 'Black Sunday' to 'Lisa and the Devil,' Bava defined and refined Italian horror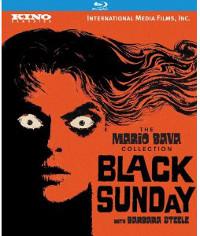 Mario Bava essentially created the genre of baroque horror known as "giallo," a distinctly Italian twist on stalk and kill horror film. Under his direction, grand guignol gore is transformed into lush, visually elegant cinematic spectacle, a waking nightmare with the poetic grace of a musical and a demented edge of sexual perversity. Three of his classics -- "Black Sunday" (1960), "Lisa and the Devil" (1973), and "Hatchet for the Honeymoon" (1968) -- get new DVD releases and make their respective Blu-ray debuts in newly remastered editions from Kino in partnership with International Media and the British genre label Redemption.
After rising through the ranks of the Italian film industry as a cameramen (Bava disdained the term "cinematographer") and special effects artist, contributing to Pietro Francisci's genre-defining muscleman movies "Hercules" and "Hercules Unchained" and completing (uncredited) Riccardo Freda's minor horror classic "I Vampiri," Bava made his official directorial debut at age 46 with an adaptation of Nikolai Gogol's short story "Viy." The film was called "The Mask of Satan," which was renamed "Black Sunday" (Kino) for U.S. release.
From the opening frames, Bava proved that he knew how grab an audience's attention. Barbara Steele, her eyes glaring hate even as her face registers terror, is bound to a stake, spitting curses with hellfire to the robed and masked judges who pronounce her death sentence. A spiked mask is slowly placed over her face and a massive wooden mallet pounds the iron mask with a startling finality as the credits explode in fire (this final shot was excised from the American release). Even as the film eases into an eerie gothic atmosphere of a ghost story, where centuries later the corpse is revived by the innocent descendant (also played by Steele) with a single drop of blood, Bava never eases up on the tension. His vivid style – gliding camerawork, dramatic lighting, striking compositions, and atmospheric sets cobbled together from limited resources – set the standard for Italian gothic horror, and his magnificent photography of the weirdly beautiful Steele made her an icon of the genre. Equally good as the devilishly wicked witch, with eyes blazing and evil smile set off by feral teeth, and the haunted innocent, she plays both in this moody, macabre cult classic of cruelty.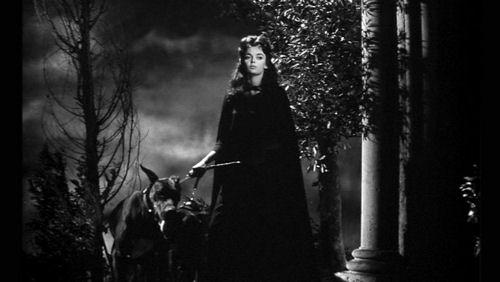 "Black Sunday" established the foundations of the giallo -- sex, sadism, and high style -- and he spent his career turning this distinctly Italian twist on stalk and kill horror genre into an elegant dance of death with a mix of poetic, haunting beauty, grand guignol gore, and a bent of sexual perversity. He also brought it out of the gothic world of black and white and into the modern world of luscious, lurid color.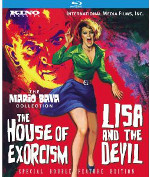 On first glance, the 1973 murder melodrama "Lisa and the Devil" (Kino) looks like a typically lush Bava shocker, but there's something much more sinister under the surface. Sardonic, lollipop sucking butler Telly Savalas manipulates his own behind-the-scenes psychodrama for the benefit of innocent American Elke Sommer, and his motivations – as well as his identity – become part of the game. It was a passion project for Bava and the passion can be seen in every exquisitely composed, deliriously surreal image. Mixing slasher movie and ghost story conventions in a puzzle box of a script full of devilish mindgames, Bava drops the bottom out of genre expectations and creates a genuinely surreal nightmare horror film. When the lovely but uncommercial dream shocker proved unreleasable in the US, new scenes were shot with Robert Alda as a priest exorcising the devil in Miss Sommer and "The House Of Exorcism" was clumsily cobbled together from it, a bizarre mess that nonetheless features a couple of delirious new scenes, thanks to Bava's continued involvement. Both are mastered from the 35mm negatives.

"My name is John Harrington. I am 30 years old. I am a paranoiac," begins Bava's 1968 "Hatchet for the Honeymoon" (Kino). Stephen Forsyth's blue eyed psycho-killer is a bridal fashion designer who gleefully kills young brides as a form of radical therapy. It's a gorgeous film full of strange and surreal imagery -- Stephen kissing and dancing with his bridal mannequins, murder scenes melting into hallucinations -- slight on narrative but truly and beautifully insane. If it never reaches the baroque brilliance of his greatest films, it is still fascinating and fluent. Bava creeps further and further into Harrington's paranoid existence and reality and madness intertwine in a subjective nightmare he may never escape. Mastered from the 35mm negative.
All three films are remastered for DVD and make their respective Blu-ray debuts in this new Kino editions, and they all feature commentary by Bava historian Tim Lucas and collections of Bava trailers. "Lisa and the Devil" features commentary on the recut "The House of Exorcism" version by producer Alfred Leone, which offers a fascinating history of both films, and an interview with the director's son, filmmaker Lamberto Bava.
For more releases, see Hot Tips and Top Picks: DVDs, Blu-rays and streaming video for week  of September 18