Watching with Gary Lockwood, star of Gene Roddenberry's 'The Lieutenant' and Kubrick's '2001'
Talking movies and TV with the astronaut that was killed by HAL 9000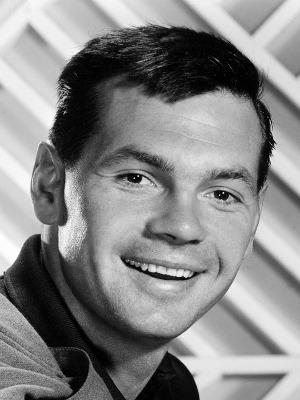 Gary Lockwood isn't a name that your average filmgoer might remember, but to film buffs and genre fans, he is legendary. He was the astronaut "murdered" by HAL 9000 in Stanley Kubrick's "2001: A Space Odyssey" and played Lt. Cmdr. Gary Mitchell, an officer given god-like powers, in "Where No Man Has Gone Before," the second pilot that Gene Roddenberry made for "Star Trek" ("The one that got it sold," as Lockwood puts it). He's been retired for fifteen years now but spoke to Videodrone in support of the home video debut of his 1963 TV series "The Lieutenant," the show that made him a leading man for the first time. It was also the first series created by Gene Roddenberry and Lockwood talks about Roddenberry, Kubrick, how his start acting career sprung from a stunt gig, and his favorite movies (hint: one of them is in the new Sight and Sound poll of the Best Films Ever Made).
What are you watching?
I'm not a person who has a lot of DVDs. I have maybe four or five. I have "Kill Bill 1" and "2," "2001," "Blade Runner," and "The Bridge on the River Kwai." I really enjoyed "No Country for Old Men" a few years back. I grew up on a ranch and going to the movies was salvation.
"The Lieutenant" was not your first TV show.
Yeah, I did a show called "Follow the Sun" where I played a young newspaper reporter, back in the days when you did 40 shows in one year.
How did you get the lead in "The Lieutenant"?
Basically they just invited me to come to the studio. They sought me out. I didn't audition for it. I think it was body type. I always tell people this and it gets boring for them to hear it, but most of the time you're making a movie or television show, you're shooting reactions, and if you have a character that looks like what he should be, then your story moves forward. And I think there's something to typecasting.
How did you  get your start acting?
I went to see about doubling an actor in a movie called "The Tall Story" (1960) starring Jane Fonda and Tony Perkins [as a college basketball player] and my legs were much too big. Tony Perkins had pencil legs and I had powerful legs, so the director [Joshua Logan] turned to the technical director and said "This guy looks like he could be Slavic," and I am Polish and German. So the director turned to me and said, "Have you ever done any acting?" I said "No," but I'd always been a bit of a character. I was a quarterback and I happened to be an art and English major -- there were only two of us on the football team in that department -- and so I had been reading all my life, and acting was really kind of a piece of cake. He asked me if I could use a Russian accent and they gave me some sides [lines] and the next day I came back and read them and I sounded like a Russian. So I started acting.
I ended up on Broadway in a play. I understudied the two leads and I got to the theater that night and the guy I was understudying had got beat up in a bar and I went on -- it was also opposite Jane Fonda -- and Henry Fonda and Elia Kazan were in the audience that night. Kazan approached me backstage and said, "I'd like  to put you in a movie I'm doing this summer called 'Splendor in the Grass'." I had a lot of providence in my career, a lot of unusual happen, but I think that's the way it is with anyone. Sometimes it happens early, sometimes it happens late.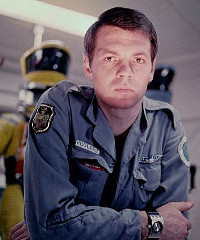 It happened again when Kubrick cast you in "2001."
That was the biggest thing in my life. Kubrick to me was the greatest director who ever lived.
He has a reputation for being a very meticulous director. What was it like working with him?
He's meticulous but it depends on how you go about your job. I'm not a nervous Nellie. It's difficult to say these things, I mean I believe them or I wouldn't be able to say them, but I don't approach my job with any nerves or anything. When they say "Action," I just step into the character and do it. I hadn't had a lot of training and I didn't require a lot of training, I had just read a lot of books in my life. With Kubrick, about one week into the job, I said, "Is there anything you want to fix or change?," and he said "Nope. Stay as you are. You got it." And we never did talk about it after that.
The once-a-decade Sight and Sound film poll just came out and "2001" was voted as one on the top ten films ever made. How does it feel to be in one of the "official" greatest movies ever made?
You know what my answer is? I don't where we came in, but  my answer is, what was  better about those in front of us? (laughs) That is a very subject thing because "2001" and "Blade Runner" are probably my two favorite movies.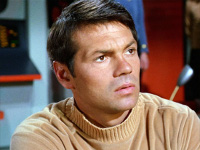 You worked with Gene Roddenberry again, in a major guest-starring role in the second pilot for "Star Trek," "Where No Man Has Gone Before."
The one that sold it and got it on television.
He was under the gun and he turned to you.
I can't really say how these things work, but I just know that Roddenberry said a very funny line. He sent the script out to me and I had already got the Kubrick picture and I was really happy about that. When Roddenberry sent me the script for "Where No Man Has Gone Before," the "Star Trek" pilot, I called him up and said, "Hey Gene, I don't know if I want to do this, I'm going to go back to the movies." In those days it was very hard for actors to [go back and forth between] movies and television. He said, "Read the script," and I said, "I did, it's interesting." And he said, "Well, you play God, and we all know that's who you think you are." (laughs) I had a very good rapport with Roddenberry, he was a character.
There's one other film you made that I'd like to ask you about. I discovered just a couple of years ago a late sixties film called "Model Shop" that I think is very interesting and almost forgotten.
I made that for a French director named Jacques Demy. A lot of people didn't like that movie and now it's in the L.A. County Art Museum. A lot of people didn't like "2001" either and I know that it's in the Smithsonian.
"Model Shop" presents a very different look at late 1960s L.A. culture than any other film of the era I know.
Living in Los Angeles was great. It's not a chic, metropolitan city but, boy, was it a lot of fun. And I'm not sure, but I think I'm the first person to smoke a marijuana cigarette in an American movie.
Perhaps in a movie from a Hollywood studio, yeah.
I'm not sure, but I think so. And all these years later, in some areas it's legal. Wherever it's civilized it's legal.
The Warner Archive release of "The Lieutenant" is reviewed on Videodrone here.
For more releases, see Hot Tips and Top Picks: DVDs, Blu-rays and streaming video for week of August 28