Cool and Classic: Winsor McCay's 'The Flying House' restored
Plus Nigel Wingrove, Dick Tracy, and John Lennon
By 
SeanAx
 Nov 28, 2012 10:03AM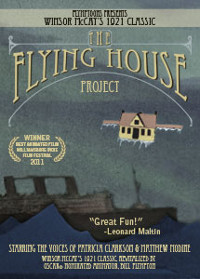 "Black Magic" (Hen's Tooth), a 1949 gothic drama starring Orson Welles as the 18th century hypnotist and charlatan Cagliosto, is directed by Gregory Ratoff but the influence of Welles can be felt beyond his mesmerizing presence in the shadowy style and sensibility of the film. Videodrone's review is here.
"The Flying House Project" (Microcinema/Plympto​ons) is Bill Plympton's labor-of-love restoration of Winsor McCay's 1921 short film, an animated extension of his "Dreams of a Rarebit Fiend" comics. Plympton calls McCay "the greatest animator who ever lived" and "The Flying House" is his final "Rarebit" film and perhaps his greatest, a simple dream movie where a fantasy turns into a weird nightmare: a house outfitted with a propeller that flies to the moon and is shot out of the sky. McCay hand drew every frame himself and his sense of whimsy inflects every graceful panel. It's not hard to see the affection that Plympton, an indie animator who drew every frame of his great animated shorts personally, has for McCay.
The disc features both the original B&W silent version, with McCay using word balloons like a comic strip panel instead of traditional intertitles, and a new presentation, digitally restored to clean up the wear and damage and featuring color, a new score and sound, and the voices of Matthew Modine and Patricia Clarkson. The short runs about six minutes but the disc is filled out with supplements. "Bill Plympton Reimagines Winsor McCay's The Flying House" is a 25-minute featurette that covers the origins of the film and the restoration and adaptation, featuring Plympton and many of the participants. Also features additional interviews, a featurette of Plympton's visit to Winsor McCay's house, the Kickstarter video, and a slideshow. DVD only, available from the Plymptoons Store.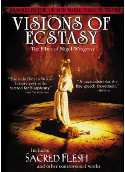 "Visions of Ecstasy: The Films of Nigel Wingrove" (Kino) collects four short films by the British filmmaker, including his experimental 1989 short "Visions of Ecstasy," the only film banned in Britain on grounds of blasphemy (more on the case in this 2012 article from the BBC). It marks the debut of this notorious film in the U.S. Also features the short film "Axel" (1988), "Faustine" (1990), and "Sacred Flesh" (2000), plus outtakes from "Visions of Ecstasy," the 24-minute documentary "Hail Mary! A Brief Peek at Nunsploitation," and a DVD-ROM accessible essay on the censorship of the film. DVD only.
"Dick Tracy: Complete Serial Collection" (VCI) collects all four complete serials produced by Republic between 1937 and 1941, all starring Ralph Byrd as square jawed cop Dick Tracy. The comic strip crime-fighter made his big screen debut in "Dick Tracy" (1937), a 15-episode, nearly five-hour serial that pits him against a mysterious club-footed super-villain known only as "The Lame One." Kay Hughes, Smiley Burnette, and Francis X. Bushman co-star, and Alan James and Ray Taylor direct. William Witney and John English take over for the three subsequent serials: "Dick Tracy Returns" (1938), "Dick Tracy's G-Men" (1939), and "Dick Tracy vs. Crime, Inc." (1941). Features a new video introduction by Max Allan Collins (who wrote the "Dick Tracy" comic strip after creator Chester Gould retired), commentary on episodes one and two of the original "Dick Tracy" serial, an episode from the 1950 TV series, and the armed forces radio program from 1945 "Dick Tracy in B-Flat," featuring Bob Hope, Bing Crosby, Bob Hope, and others. Eight discs, DVD only.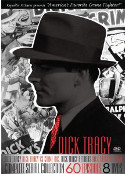 Also available separately is the two-disc "Dick Tracy: 75th Anniversary Edition" (VCI), with all of the above-listed supplements.
"Inside John Lennon" (eOne) is a rerelease of the 2003 direct-to-disc documentary, "an unauthorized biography" consisting largely of archival interviews and clips with a few new interviews, including Lennon's sister, Julia, and the Beatles' first manager Alan Williams. This disc also includes extended interviews with Beatles chauffeur Alf Bicknell and Apple general manager Alistair Taylor. DVD only.
Debuting on the manufacture-on-deman​d format is the sexy 1932 classic "Red Dust" with Clark Gable, Jean Harlow, Mary Astor, and plenty of sizzle. Videodrone's review is here.
For more releases, see Hot Tips and Top Picks: DVDs, Blu-rays and streaming video for week of November 27