It's Foreign Film Week on DVD
Oscar nominee "Dogtooth," "The Girl Who Kicked the Hornet's Nest" and "Enter the Void" are just some of the releases
By 
SeanAx
 Jan 26, 2011 11:15AM
The end of January is an unusually rich week for imports and the prominent of the foreign films released this week is "
The Girl Who Kicked the Hornet's Nest
" (Music Box), the final film in the Stieg Larsson trilogy Millennium Trilogy (
see MSN review here
). But I can't say it's the best of the foreign language films this week.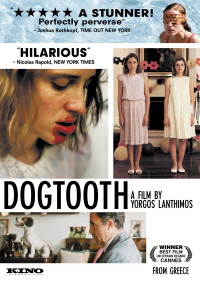 More interesting (and far less commercial) is "
Dogtooth
" (Kino), the social satire and surreal family comedy from Greece and a film that landed on a lot of 2010 Top Ten lists. It's also the sole Academy Award nominee in the Foreign Language Film category available for home video viewing, which is a tough category to catch up on if you don't belong to the Academy or travel to film festivals. There's a lot of celebrating going on for the inclusion of this particular film because, well, it's pretty darn skewed and perverse and, in parts, downright trangressive. Others find it more interesting than I do (see
James Rocchi's appreciation
on MSN's Top Ten of 2010 list) but it's certainly a welcome change from the usual level of feel-good films that generally populate this category.
My foreign picks for the week, however, are "
Inspector Bellamy
" (IFC), the final film by Claude Chabrol, and "
Enter the Void
" (IFC), the third feature from Gaspar Noé (and his first since the grueling, brutally violent and at times tender "Irreversible" in 2002).
The final film by Claude Chabrol, the savvy nouvelle vague director who earned himself the sobriquet "the Gallic Hitchcock" for the psychologically compelling, emotionally jagged mysteries and thrillers that highlight his long (and sometimes rocky) career, may not be one of his great works, but there are major pleasure to be had in the minor production from an old master.


Continue reading on Parallax View here
.
And that's not all this week:
"
White Wedding
" (Image), which was South Africa's submission for the 2010 Academy Awards, and "
Red Hill
" (Sony), an Australian thriller with
True Blood
's Ryan Kwanten (without the Louisiana drawl the Aussie actor acquired for the show). And that's not to mention "
Inhale
" (IFC), the American feature debut of Icelandic director Baltasar Kormákur, or a pair of rock biopics from Britain: "
Nowhere Boy
" (Sony), about the young John Lennon, and "
Sex & Drugs & Rock & Roll
" (New Video), the story of Ian Dury, the music-hall showman of the British punk scene.
I review the latter two films here.