New Release: Disney's 'Brave' new heroine
Pixar's first adventure centered on a female hero and mother/daughter relationship is a delight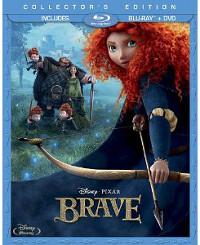 The pleasures of Pixar films are both big and small.
The big picture of "Brave" (Disney) is the generationally-charg​ed relationship between a headstrong young woman and her protective but loving mother. Queen Elinor (voiced with great dignity by Emma Thompson) is a monarch with traditional values trying tame tomboy princess Merida (voice of Kelly Macdonald, with stubborn streak in her lilting accent) with lessons in royal responsibility and roles. It's a story long overdue from the Disney/Pixar animation giant, and its beautifully done, even as it detours into a bizarre fantasy of magic gone wrong and the Queen transformed into a mama bear.
The small pleasures are myriad, from the playfulness of the storytelling and characters to the imaginative details that fill every scene to the wild, curly tangle of red hair that explodes from the head of young Merida, as unruly and untamable as Merida herself.
The character creations are as marvelous as anything Pixar has done, with special kudos to mama bear: the body of a burly, lumbering woodland giant inhabited by the struggling spirit of an elegant queen determined to force grace and regal bearing into the brawny body and meaty paws of this giant beast. At least until her human cub is threatened by the real beast of the forest and she turns fierce den mother to protect her own.
The film was developed, written, and initially directed by Brenda Chapman, the first female director of a Pixar feature, but she was removed and replaced by Pixar with Mark Andrews. (The two share director credit on the film.) Despite the change in vision, the storytelling is fine and the sensibility consistent. It is surely Chapman's heart that drives the poignant struggle between mother and daughter and the devotion that anchors even their most fraught moments.
The boys have a grand time too, from the boisterous King Fergus (Billy Connolly) and his love of a good old throne-room brawl with fellow warrior kings to the mischievous little brothers, a match-set of triplets with an impish sense of play. But this film belongs to the women, and they are among the finest characters Pixar has yet offered.
"It's a rousing adventure and a hilarious comedy, and if its athletic and intelligent leading lady creates a new paradigm for animated features, so much the better," writes The Wrap film critic Alonso Duralde. More reviews here.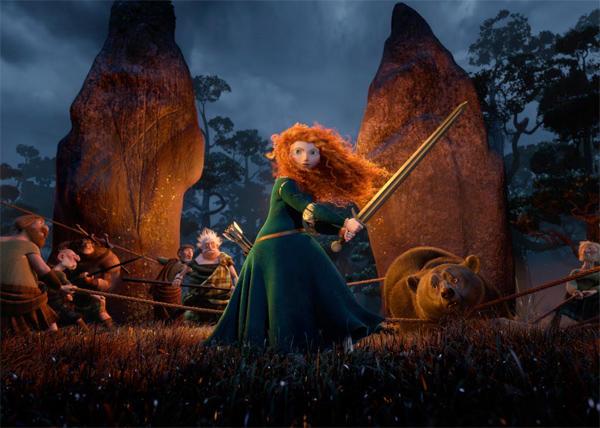 Available on single-disc DVD, three-disc Blu-ray Combo Pack, and five-disc Blu-ray 3D Ultimate Collection's Edition, all featuring commentary by co-director Mark Andrews, co-director Steve Purcell, story supervisor Brian Larson and editor Nick Smith. (Original directed Brenda Chapman is not only missing but barely mentioned.)
Also included on all editions are two animated shorts: "La Luna," the lovely little fantasy about the moon, the stars, and the family that sweeps up the skies that played in front of the film in theaters (I anticipate an Oscar nomination for this one); and "The Legend of Mor'du," an original short that expands upon the story of the monstrous bear of "Brave" in a stripped-down animation style.
The Blu-ray edition also features extended and deleted scenes and an alternate opening (more than usual, due to the change in director), plenty of short production and behind-the-scenes featurettes (Chapman is included in these), art galleries, and more, all of them made for family viewing, plus a bonus DVD edition.
The Blu-ray 3D edition requires a full HD 3D TV, compatible 3D glasses, and a Blu-ray 3D player, but it features all of these supplements in standard definition, plus bonus copies of the film on Blu-ray standard and DVD and a digital copy (that works with iTunes).
For more releases, see Hot Tips and Top Picks: DVDs, Blu-rays and streaming video for the week of November 13