TV on Disc Channel Guide: Meet the pack of the original werewolf TV series 'Wolf Lake'
Plus classic 'Sesame Street,' 'Call the Midwife' from Britain, and more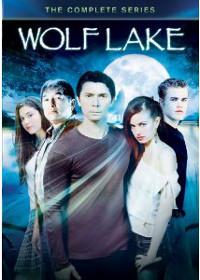 "Entourage: The Complete Series" (HBO) collects all eight seasons of adventures in show business culture with fun-loving Hollywood star Vincent Chase (Adrian Grenier), super-agent Ari Gold (Jeremy Piven), and all the pals around them. On Blu-ray (including the HD debut of seasons 1-5) and DVD. Videodrone's review is here.
"Wolf Lake: The Complete Series" (eOne), a supernatural melodrama of a werewolf pack living as humans in a rural Washington State town, arrived on TV between "Buffy the Vampire Slayer" and the current revival in fantasy / horror TV. Only nine episodes were produced before it was cancelled but the show definitely looks ahead to shows like "The Vampire Diaries" and "Teen Wolf."
Lou Diamond Philips stars as a Seattle cop who tracks his missing girlfriend (Mia Kirshner) to a small town in the middle of Washington State, where there are definitely some strange doings: the women are extremely fertile (in fact, they seem to give birth in litters!), there are inordinate number of wolf sightings and attacks, and everyone is really cagey about their nocturnal activities. Yet cagey sheriff Tim Matheson hires him anyway because, well, he's a pretty good cop and with the pack leader (Bruce McGill) dying of cancer and a young thug (Scott Bairstow) vying for the alpha dog spot, he's got his hands full. Did I mention that Matheson run an AA-styled group for shapeshifters trying to keep the wild wolf at bay? The show also features early appearances by Paul Wesley (now on "The Vampire Diaries") and Mary Elizabeth Winstead, and features Graham Greene as town elder with a droll sense of humor and a little coyote spirit in him and Sharon Lawrence as a den mother with a ferocious streak. I can't say it's a transcendent example of the genre, but it's great fun as a rural supernatural show with noir style and a knowing sense of itself.
The three-disc set also features the documentary "Wolf Lake: The Original Werewolf Saga" and the unaired original pilot episode, which comes at the same basic concept with a radically different approach, with Lou Diamond Philips as a Forest Management agent secretly tracking the shapeshifter community, Graham Greene as his local counterpart, and no Mia Kirshner in the equation. Interesting to see how the show was radically retooled to become more of a gothic melodrama with factions fighting for power in the wolf pack and teens struggling with their legacy. DVD only.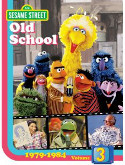 "Sesame Street: Old School Vol. 3, 1979-1984" (Warner) features five complete programs from seasons 11-15, one from each season, plus bonus sketches and "Classic Cuts" from each season, behind the scenes clips, an interview with Caroll Spinney (the Big Bird and Oscar the Grouch puppeteer), commentary on the Season 11 episode in Puerto Rico by Sonia Manzano (who plays Maria), and the landmark "Goodbye Mr. Hooper" segment, when they acknowledged the death of the character after the actor passed away. DVD only, two discs plus a booklet with trivia and episode guide.
Speaking of old school, there's "The Life and Times of Grizzly Adams: Season One" (Timeless), the 1970s family wilderness adventure show with Dan Haggerty as a mountain man living in the American west with an affectionate grizzly bear and periodic visitations from an old trader (Denver Pyle, who also narrates) and a Native American hunter (Don Shanks). 12 episodes on four discs.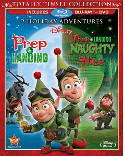 "Prep & Landing: Totally Tinsel Collection" (Disney) pairs up two Emmy-winning animated holiday specials about Santa's little helpers, both about 23 minutes long. The original 2009 "Prep & Landing" won four Emmy awards, the 2011 sequel "Naughty vs. Nice" won another Emmy. On Blu-ray and DVD, with bonus animated shorts, featurettes, and other supplements.
"Aim High: The Complete First Season" (Warner), a teen spy series produced for the web, stars Jackson Rathbone as a high school kids with a double life as a U.S. government agent and Aimee Teegarden as the student he tries to date between assignments. Rebecca Mader, Clancy Brown, Nick Swardson, and Greg Germain co-star, giving the Internet series some TV cred. The six-episode season runs just under an hour. DVD only, with a feature, video yearbook, and music video.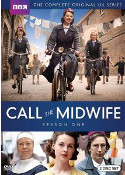 BritTV:
"Call the Midwife: Season One" (BBC), the hit BBC show set in 1950s East London and starring Jessica Raine and Vanessa Redgrave (as the same character at different ages), just finished its successful American run on the PBS showcase "Masterpiece Classic." Review copies were delayed by the storm so I haven't had a chance to look at the show, but the initial season of six episodes arrives on Blu-ray and DVD, each a two-disc set.
"Vera: Set 2" (Acorn) offers four 90-minute episodes of the British detective series starring Brenda Blethyn as the hard-bitten (and sometimes hard to work with) DCI Vera Stanhope, an obsessive cop in Northumberland. Four discs, DVD only.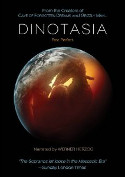 Nonfiction TV:
"Dinotasia" (Flatiron), originally made for Discovery Channel, uses CGI to imagine the creatures of the Mesozoic era in motion. Werner Herzog narrates the feature-length production. Blu-ray and DVD, with deleted and extended scenes.
"Narrow Escapes of World War II" (Athena) is a 13-episode documentary series originally made for British TV and shown stateside on the Military Channel. Box set of four discs plus a study guide. "Cornwall with Caroline Quentin" (Athena) is an eight-episode tour of the Southern England peninsula. Two discs and a viewer's guide. Both DVD only.
"American Restoration: Volume Two" (History) offers 17 episodes from the spin-off of "Pawn Stars," on six discs in a standard case with hinged trays. "Top Shot: Season Four" (History) collects 12 episodes from the marksman competition series on four discs, plus bonus footage. Both DVD only.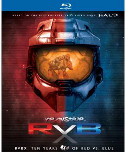 Animation:
"Red vs. Blue: Season 10" (Flatiron) presents the most recent season of the animated web series spoof spun off from the video game Halo (Blu-ray and DVD), but it's not alone. Also arriving this week is "Red vs. Blue: The Best DVD Ever. Of All Time" (Flatiron), a collection of the best (in other words, the funniest, strangest, most ridiculous) moments of the series as voted by the fans compiled on one disc. DVD only. And for completists, there is "RBVX: Ten Years of Red vs. Blue" (Flatiron), with 18 hours of episodes and mini-series spin-offs, plus bonus videos, featurettes, and interviews, in a box set of 14 discs. On Blu-ray and DVD.
"Regular Show: The Best DVD in the World (at this moment in time)" (Warner) features 16 episodes ("the best 16 episodes in the world") from the Cartoon Network series.
"Digimon: Digital Monsters – The Complete First Season" (Flatiron) presents 54 episodes of the 1999 animated series of playful digital monsters and children who train them, in a set of eight discs with an accompanying guide booklet. Also available is a smaller collection: "Digimon: Digital Monsters – Vol. 1" (Flatiron) offers 16 episodes on three discs.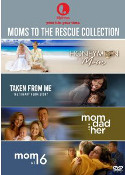 Plus:
Three collections of Lifetime original movies arrive this week. "Moms To The Rescue Collection" (A&E) features four telefilms (the Emmy-winning "Taken From Me: The Tiffany Rubin Story" with Taraji P. Henson, "Honeymoon With Mom" with Shelley Long, "Mom, Dad and Her" with Brittney Wilson, and "Mom at Sixteen" with Jane Krakowski) on two discs. So does the Lifetime "Gold Collection" (A&E) ("Homeless to Harvard: The Liz Murray Story" with Thora Birch, "Why I Wore Lipstick to My Mastectomy" with Sarah Chalke, "We Were The Mulvaneys" with Blythe Danner, and "Ambulance Girl" directed by and starring Kathy Bates).
And then there's the holiday-themed "12 Days of Christmas" (A&E) which collects, yes, 12 Christmas telefilms (including "The Road to Christmas" with Jennifer Grey and "Home By Christmas" with Linda Hamilton) in a box set of 12 discs in two standard cases with hinged trays. Ho ho ho.
For more releases, see Hot Tips and Top Picks: DVDs, Blu-rays and streaming video for week of November 6