MOD Movies: 'The Crowd Roars' for James Cagney and Robert Taylor
Plus Nicol Williamson is 'Hamlet,' Joan Fontaine is 'Born to be Bad,' and more
By 
SeanAx
 Oct 21, 2012 12:23PM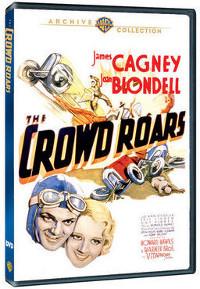 "The Crowd Roars" (1932) (Warner Archive), a car racing drama directed by Howard Hawks (who had raced cars himself) and starring James Cagney as racing champion Joe Greer, is as rip-roaring a speed drama as you get in 1932. Hawks, who also wrote the original story, tells you exactly what the film is about in the opening shots: a spectacular wreck on a dirt track, the animated response of the spectators leaping up to get a better view, and then the title. We know exactly why "The Crowd Roars." The rest turns on sibling bonds broken in rivalry (Eric Linden is his talented kid brother) and romance and a spiral into defeat after the fiery death of a teammate on the track. (The Tom Cruise race picture "Days of Thunder" borrows a lot form this film.)
Cagney is the most extreme version of the Hawks hero, whose callous dismissal of his long-suffering girl (poor, hopelessly obsessed Ann Dvorak) borders on abusive, but he's also more hotheaded and less disciplined than the usual self-contained Hawks man: a hypocrite, a drinker, a risk-taker whose impatience and anger kills his best friend. Joan Blondell gets second billing as Dvorak's best friend, who seduces Linden in revenge and ends up falling in love with the kid, and Hawks puts real-life driving champs in the pits and sidelines. You may not recognize them by face or even name today, but they're easy to spot – they're the ones who can't act. But don't worry, they don't slow down the film.
Hawks fills the film with real racing footage, including some dramatic crashes, interspersed with his staged scenes, and he drives it with an energy to match the onscreen speed. The film was originally released at 85 minutes, then cut for rerelease. The original cut is apparently lost so this is the 70-minute version, which also may contribute to the film's headlong momentum.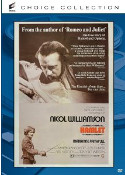 There's another thirties film by the name "The Crowd Roars" (1938) (Warner Archive), this one with Robert Taylor as a boxer who (in the words of the poster tagline) "puts the MAN in romance" as he takes on crooked bookies, fixed fights, and a threat against the woman he loves (Maureen O'Sullivan).
The 1969 "Hamlet" (Sony Pictures Choice Collection) is Tony Richardson's film translation of his Roundhouse Theater stage production of the Shakespeare play, with Nicol Williamson as Hamlet, Anthony Hopkins as Claudius, and Marianne Faithfull as Ophelia. Sony's disc reproduces the original theatrical poster, which almost looks like a parody of today's promotional couture: "From the author of 'Romeo and Juliet'." The disc doesn't list the aspect ratio anywhere on the packaging, but it's widescreen TV standard 16x9.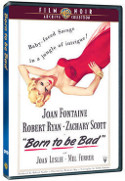 Joan Fontaine is "Born to be Bad" (Warner Archive) in Nicholas Ray's 1950 film, conniving her way into romance for fun and profit without a care for whom she betrays in the process. She marries Zachary Scott for his money while carrying on with handsome young novelist Robert Ryan. The film gets the "Film Noir Archive Collection" brand and she is quite the femme fatale, but she stops short of murder and for all the silky style, it's more wicked melodrama than film noir. Ray was forced to shoot a new ending for the picture (wicked girls aren't allowed to prosper). This disc presents the film as seen in the U.S. but includes the alternate ending (with previously unseen footage) as an extra. Glenn Erickson has a nice review at DVD Savant.
"The Big Shakedown" (Warner Archive) is another the lively pre-code pictures that have become a specialty of the Warner Archive. This one stars Charles Farrell as a chemist with a knack for whipping up pharmaceutical powders and Ricardo Cortez as a gangster who moves into the counterfeit drug market like a medical bootlegger. Bette Davis is the girlfriend dubious of Farrell's involvement with this racket, and her fears prove to be well-founded when Farrell tries to extricate himself from the partnership. This 1934 film barely runs barely an hour, something American movies forget how to do in later years.
"King Richard and the Crusaders" (Warner Archive) is another of the big color-splashed, CinemaScope costume adventures that flourished as the studios tried to combat the threat of TV with spectacle and size. Rex Harrison and George Sanders go head-to-head as (respectively) Saracene Sultan Saladan and King Richard the Lionhearted, with Virginia Mayo capturing Harrison's heart and Laurence Harvey as a rival knight. This 1954 film goes as wide  as widescreen got in the glory days: 2.55:1.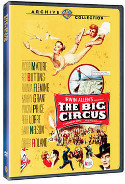 Irwin Allen produces "The Big Circus" (Warner Archive), with Victor Mature as the circus showman with a big top of bargain stars: Red Buttons, Rhonda Fleming, Kathryn Grant, Vincent Price, Peter Lorre, David Nelson, and Gilbert Roland as the heartthrob high wire man whose big stunt is walking over Niagara Falls. The 1959 film is presented in 2.4:1 CinemaScope
Available exclusively from Warner Archive:
"The Crowd Roars" (1932)
"The Crowd Roars" (1938)
"King Richard and the Crusaders"
Available by order only from Sony Pictures Choice Collection, from Amazon, Critics Choice Video, Classic Movies Now, Warner Archive, and other web retailers:
"Hamlet"
More MOD reviews at Videodrone here.
MOD stands for "Manufacture on Demand" and represents a recent development in the DVD market, where slipping sales have slowed the release of classic, special interest and catalogue releases. These are DVD-R releases, no-frills discs from studio masters, ordered online and "burned" individually with every order. You can read a general introduction to the format and the model on my profile of the Warner Archive Collection on Parallax View here and on the MGM Limited Edition Collection on Videodrone here.