"How Do You Know" - James Brooks pitches wide in his latest romantic comedy
MSN has an exclusive clip from the DVD and Blu-ray release
"How Do You Know" (Sony)
"Why isn't this funny?" asks MSN critic Glenn Kenny of the new James L. Brooks romantic comedy. "Because it should be funny."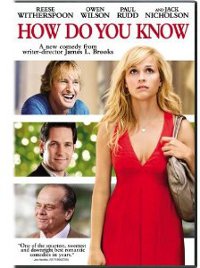 Reese Witherspoon stars as a former star softball player flailing after she's cut from the team, Owen Wilson as a charmingly self-absorbed major league baseball player struggling to carry on an actual monogamous relationship and Paul Rudd as a nice-guy businessman under pressure from his father (Jack Nicholson) and legal scrutiny on questionable company issues. "All these characters have their quirks, and quirky observations, and as they spin their wheels, romantically and otherwise, minor characters on the periphery provide differing perspectives and "wisdom"."
James L. Brooks is a smart director and a talented writer with a terrific track record, from "Terms of Endearment" to "As Good As It Gets," but, in the words of Glenn Kenny, this is a "big, shiny, unreal and rather irritating thing, despite Witherspoon being all perky and Wilson being all goofy and Nicholson being all gruff and Rudd being Rudd."
Brooks being Brooks, he provides an intelligent and interesting commentary track with cinematographer Janusz Kaminski (who is pretty quiet except when Brooks rouses him to comment) and 19 minutes of select scene commentary with Owen Wilson (who is less informative) focused exclusively on Wilson's scenes. The 15-minute "Extra Innings" offers a fairly substantial look behind the scenes in its brief running time (see below for an exclusive clip from this featurette), and there's also four deleted scenes (with optional commentary by Brooks) and a blooper reel.
Exclusive to the Blu-ray is "The George," an illustrated recipe for the drink created by Paul Rudd in the film (with optional commentary by Brooks), "A Conversation with James L. Brooks and Hans Zimmer" interview featurette, 19 additional minutes of deleted scenes (also with optional director commentary) and an interactive script gallery.