TV on DVD Round-Up: Nurse Jackie in the Weeds
Plus eighties Britcom "Fresh Fields" and more Brit mysteries from "Midsomer Murders" and "New Tricks"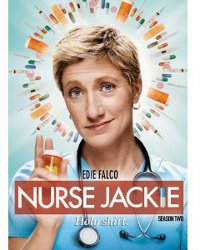 "Nurse Jackie: Season Two" (Lionsgate)
TV thrives on damaged heroes and Jackie Peyton (Edie Falco), the head nurse in New York hospital emergency room, is one of the most damaged. Tough, confrontational, fiercely dedicated to her most vulnerable patients and wickedly vindictive with rude patients, thoughtless visitors and unfeeling bureaucracy, she is a professional so dedicated to her job and her patients—she spends hours talking an insurance adjuster into pushing through a claim for a deaf woman to get "inessential" hand surgery so she can continue to talk with her hands—that she can justify all of her offenses to herself. In particular a major addiction. But things are catching up with her this season. The missing drugs from the hospital pharmacy have caught the attention of the state and the Emergency Room Administrator (Anna Deavere Smith) has put in a computerized pill dispenser that tracks all transactions. Her friends and family start to see trip over her lies, her former lover and pill provider (Paul Schulze) insinuates himself into her family life and her youngest daughter's anxieties snowball into a serious condition. "We cannot have secrets in this house," she concludes without a trace of irony, all the while sabotaging the Pill-O-Matic dispenser, feverishly hiding her drug addiction from the world and ducking a mystery man from whom she stole thousands of dollars worth of pills.
Merritt Wever is the junior nurse coming into her own this season, Eve Best plays the flinty doctor who is Jackie's closest friend and Peter Facinelli is the cocky young doctor cowed by Jackie's constant challenges and fighting his own Tourette's-like condition, while Julia Ormond co-stars as a globe-trotting TV journalist for a three-episode arc. 12 episodes on three discs on DVD and two discs on Blu-ray, with cast and crew commentaries on select episodes and interview featurettes with co-stars Eve Best ("All About Eve") and Peter Facinelli ("Perfecting an Inappropriate Touch").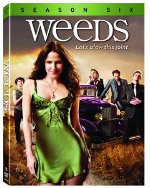 "Weeds: Season Six" (Lionsgate) - Nobody makes epically poor parenting decisions as sexy as Mary-Louise Parker does on this Showtime original series. As recklessly irresponsible widowed mother, suburban pot dealer and (starting this season) wanted woman on the run Nancy Botwin, she drags her two teenage sons and newborn infant on a road trip to outrun a murder rap. The idea is to get off the grid and they flirt with a series of jobs they haven't the resolve or the perseverance to hold on to, but they are incapable of lying low and manage to screw up every situation without fail. While the show has gotten tired over the years, it careens right off the rails this season, shamelessly indulging in Nancy's increasingly poor parenting decisions, the out-of-control antics of her sons and impulsive actions of her erratic brother-in-law (Justin Kirk). It used to be a nominally clever social satire but there's very little substance to the show anymore, unless you count the rampant nudity, sex, reckless parenting and copious amounts of drug use. Kevin Nealon is back as the perpetually-baked tag-along, Mark-Paul Gossilier and Alanis Morissette make brief appearances and Richard Dreyfus co-stars in the final episodes of the season a former teacher with a sordid history with Nancy.
13 episodes on three discs on DVD and two discs on Blu-ray, plus commentary on numerous episodes by members of the cast and crew, the ten-minute "Fandemonium: Weeds Creators Tell All" (creator Jenji Kohan and executive producers Roberto Benabib and Matthew Salsberg answer questions sent in by fans), two additional featurettes and a gag reel.
I review "Huge: The Complete Series" (Shout! Factory) in a separate post here. As for the rest, read on...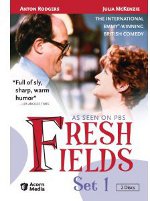 "Fresh Fields: Set 1" (Acorn) is the debut release of the British empty nest sitcom of the eighties, starring Julia McKenzie and Anton Rogers. The show's initial 12 episodes on two discs.
"Midsomer Murders: Set 17" (Acorn) – Four more feature-length murder mysteries from the long-running British series starring John Nettles stars as the unflappable DCI Barnaby, a favorite of fans on both sides of the Atlantic.
"New Tricks: Season Three" (Acorn) – Dennis Waterman, Alun Armstrong and James Bolam are back as the veteran detectives lured out of retirement to help out a Superintendent Pullman (Amanda Redman) clear the unsolved crimes. Eight episode on three discs.
"Have Gun, Will Travel: The Fifth Season, Volume Two" (Paramount) – 19 more episodes of the terrific western series starring Richard Boone as the most cool, tough and cultured gun for hire.
"Clover" (Vivendi) is a 1997 TV movie starring Elizabeth McGovern and Ernie Hudson.
For more TV on DVD, see the weekly DVD listings on MSN.