Blu-ray Round-up: The Brit Noir of 'They Made Me a Fugitive'
Plus two by Whit Stillman
By 
SeanAx
 Jul 26, 2012 11:06AM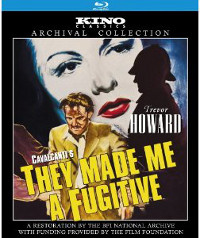 "Star Trek: The Next Generation – Season One" (Paramount) follows the original series in making the leap to Blu-ray, newly mastered from the original film elements and filled with supplements. Videodrone's review is here.
"They Made Me a Fugitive" (Kino), the 1947 crime thriller from director Alberto Cavalcanti, is probably the closest the British cinema ever came to creating a true film noir. Trevor Howard, most famous for much more civilized turns in films like "Brief Encounter" and "The Third Man," delivers one of his most dynamic performances as an ex-serviceman who, bored with civilian life, joins a gang of black marketeers for excitement and money. An edge of desperation and doom sinks into the film as the once jovial heist man is framed for murder and sent up the river, where he becomes bitter and vengeful and breaks prison to take revenge.
Cavalcanti's British underworld is a suitably seedy atmosphere of shadowy alleys, foggy waterfront dives, and claustrophobic underground clubs, and he matches the dark urban underworld setting with taut direction and tight editing. Underneath this stark style bubbles the true psychosis of noir, characters driven by anger, fear, opportunism, and just plain sadism. The hard edged and unexpectedly violent thriller is one of the most impressive and understated British crime films.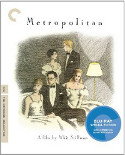 "Metropolitan" (Criterion) was the confident and witty feature debut for director Whit Stillman, and his 1998 "The Last Days of Disco" (Criterion) his third and most popular film, and for more than a decade his final film. Now, in the wake of his new film "Damsels in Distress" released earlier this year, they debut on Blu-ray from Criterion in new high-definition masters.
"Metropolitan" (1990) is a witty comic drama about a group upwardly-mobile, twentysomething college students, all members of New York City's debutante society, gathering for functions, after-parties and philosophical conversations on their Christmas break. Edward Clements stars as Tom Townsend, an outsider (due to recent loss of fortunes) who winds up invited into the circle on a whim and remains part of the group, debating with the entertainingly cynical Nick (Chris Eigeman) and comforting the smitten Audrey Rouget (Carolyn Farina). Shot in a simple but elegant style and smartly performed by the young cast (Eigeman and Taylor Nichols both make their screen debuts), it earned Whitman an Academy Award nomination for Best Original Screenplay.
Features commentary by director Whit Stillman, editor Christopher Tellefsen, and actors Chris Eigeman and Taylor Nichols, outtakes and deleted scenes with alternate casting choices (with optional commentary by Stillman), and a booklet with an essay by author and film scholar Luc Sante, all ported over from the original DVD release.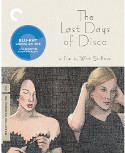 "The Last Days of Disco" (1998) chronicles the lives of young professionals in early eighties Manhattan. Recent college graduates Alice (Chloë Sevigny) and Charlotte (Kate Beckinsale) throw off the shackles of their frustrating jobs as assistants at a publishing house in the lively nightlife of the disco culture, which is neither kitschy backdrop nor  campy punchline under his direction. Stillman directs this world with the respectful elegance of his earlier films, another version of the rarified culture of the New York social aristocracy where the young and affluent romance and banter in philosophical small talk. This version has just a hint of the era of excess.
Features commentary by Stillman and co-stars Sevigny and Beckinsale, four deleted scenes, an audio recording of Stillman reading a chapter from his book "The Last Days of Disco, with Cocktails at Petrossian Afterwards," a behind-the-scenes featurette, and a foldout insert with an essay by novelist David Schickler, again ported over from the original DVD release.
See clips in Criterion's "Three Reasons: The Last Days of Disc" after the jump. Click on "More" below.
For more releases, see Hot Tips and Top Picks: DVDs, Blu-rays and streaming video for the week of July 24