Blu-ray Round-up: Luchino Visconti's 'Conversation Piece'
Plus a trio of romantic comedies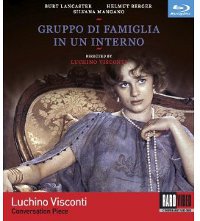 "A Streetcar Named Desire: The Original Restored Version" (Warner), Elia Kazan's big screen version of Tennessee Williams' play, is a Hollywood landmark. It officially ushered in the Stanislavski acting method, made Marlon Brando a star, and won four Oscars (out of twelve nominations). The Blu-ray debut features Kazan's uncensored cut, which was rediscovered in the nineties, plus supplements. Videodrone's review is here.
"Conversation Piece" (Raro), Luchino Visconti's penultimate film, stars Burt Lancaster as a retired American professor who rents an apartment in his palazzo to a vulgar Italian marchesa (Silvana Mangano) and her companions, who throw his sedate existence into turmoil. The  Blu-ray debut follow the stateside DVD debut by a month. In Italian with English subtitles, with an interview with film critic and screenwriter Alessandro Benccivenni and a booklet with a critical essay by film critic Mark Rappaport.
A trio of romantic comedies arrive in the high-def format this week.
"Don Juan DeMarco" (New Line) stars Marlon Brando in one of the last screen roles as a psychiatrist treating a young patient (Johnny Depp) who believes he is Don Juan, the great lover. As he tells his tales, the doc's own love life with wife Faye Dunaway is rekindled. The disc features a music video and an isolated audio track with Michael Kamen's score.
Ben Affleck and Gwyneth Paltrow are opposites tossed together for an unexpected romance in "Bounce" (Lionsgate), directed by Don Roos, and Hugh Jackman travels from the 19th century to fall in love with Meg Ryan in "Kate & Leopold" (Lionsgate), from director James Mangold. Both discs feature commentary, deleted scenes, and featurettes.
"Thou Shalt Not Kill… Except" (Synapse), a low-budget, blood-spattered film about Vietnam Vets who go commando to rescue a girlfriend kidnapped by a murderous cult, was listed a few weeks ago by error. The release was moved up to this week.
For more releases, see Hot Tips and Top Picks: DVDs, Blu-rays and streaming video for April 10