Cool and Classic: Disney's 'Peter Pan' on Blu-ray
Plus the original 'The Ballad of Narayama,' Blu-rays of the 1976 'A Star is Born' and John Ford's 'How Green Was My Valley,' and more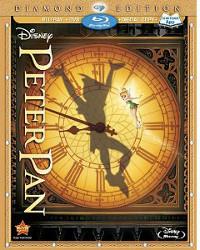 "Cabaret: 40th Anniversary" (Warner) Bob Fosse's superb adaptation of the Broadway musical, won eight Academy Awards, including Best Director for Fosse and Best Actress for Liza Minnelli. It makes it Blu-ray debut in a new restoration, which is also used for the new DVD edition. Videodrone's review is here.
"Peter Pan: Diamond Edition" (Disney) is the Blu-ray debut of the 1953 animated classic from Disney, which invests J.M. Barrie's timeless fantasy with a sense of wonder, a dash of pixie dust, and first rate animation. Bobby Driscoll voices the boy who wouldn't grow up (the first male performers to do so), the star of the stories that proper English girl Wendy (voiced by Kathryn Beaumont) tells her younger brothers John and little Michael, and takes them to Never-Never Land to join the Lost Boys and battle pirates the preening Captain Hook. Hans Conried follows stage tradition and does double duty as the hysterical pirate and the exasperated father of the runaway children. The character animation is top rate, from the cute and cuddly boys to the sassy Tinkerbell, and the fairy tale-meets-boys own adventure imagery is a treat.
Debuts on both a 2-Disc Blu-ray Combo Pack (with a bonus DVD) and a 3-Disc Blu-ray Combo Pack (with bonus DVD and digital copy). Both versions feature new supplements -- the 41-minunte documentary "Growing Up With Nine Old Men" (on the animators), Disney Intermission (which runs random supplements when you pause the disc), an introduction by Diane Disney-Miller -- along with the supplements from the previous DVD release, including commentary hosted by Roy Disney and featuring comments from collaborators and critics, deleted songs and scenes, and featurettes (in the "Backstage Disney" section).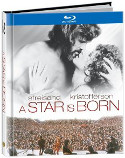 Barbra Streisand produces and headlines the 1976 "A Star Is Born" (Warner), the third version of the Hollywood classic about a rising talent in love with a star self-destructing on his way down. This version is relocated from Hollywood to the world of rock and roll and co-stars Kris Kristofferson as the veteran burn-out who discovers struggling young singer Esther Hoffman (Streisand) in a nightclub and puts her on stage. John Gregory Dunne and Joan Didion collaborated on the script with director Frank Pierson and Gary Busey co-stars. Streisand won an Oscar for the song "Evergreen," which she wrote with Paul Williams. It debuts on Blu-ray in a Blu-ray book package with 40 pages of photos and film notes. The supplements are carried over from the previous DVD: Commentary by Barbra Streisand, deleted scenes and alternate takes with optional Streisand commentary, and wardrobe tests (also with optional Streisand commentary).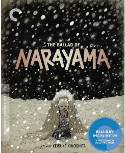 "The Ballad of Narayama" (Criterion) is the original 1958 adaptation of the stories of Shichirô Fukazawa, directed by Keisuke Kinoshita. Blu-ray and DVD, mastered from a 2011 restoration and featuring a booklet with an essay by Philip Kemp. You can read Kemp's essay at the Criterion website: "[S]urely Kinoshita's most uncompromisingly experimental film is 1958's "The Ballad of Narayama," an affecting meditation on age and mortality lent the dignity of a ritual by the elegant artifice of its staging and presentation." Reviews here.
Fox started rolling out Blu-ray editions of some of the most acclaimed classics in their library in January. I just received the initial three releases, including two Best Picture Oscar winners. John Ford's multiple Oscar-winning classic "How Green Was My Valley" (Fox) is one of his most beautiful films, a sentimental but rich tale of a Welsh mining family with Roddy McDowall as a young boy who comes of age under the watchful eye of his protective but stern Father (Donald Crisp) and the encouragement of University educated village preacher (Walter Pidgeon), whose love for the boy's older sister (Maureen O'Hara) is forbidden because of a clash with Father's unbending demands. Features commentary by star Anna Lee Nathan and film historian Joseph McBride and a featurette.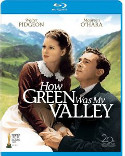 "Gentleman's Agreement" (Fox), winner of the 1947 Oscars for Best Picture, Best Director (Elia Kazan), and Best Supporting Actress (Celeste Holm), is an earnest (and sorely dated) drama with Gregory Peck as a dedicated journalist who poses as a Jew to write a series of articles about anti-Semitism and is appalled at the treatment starts to receive. Adapted from Laura Z. Hobson's bestseller by playwright turned screenwriter Moss Hart and directed by Elia Kazan, it co-stars Dorothy McGuire as Peck's frustrated high society girlfriend, John Garfield, Celeste Holm, June Havok, and young Dean Stockwell. With commentary by stars Celeste Holm and June Havoc with film critic Richard Schickel, a featurette, and two archival newsreels.
"Wild River" (Fox), Elia Kazan's unconventional drama built around the construction of the WPA damns in the south (and the subsequent destruction of the communities), debuted on disc exclusively in a substantial box set in 2010. It's now available individually on DVD and debuts on Blu-ray, both with commentary by film critic and historian Richard Schickel.
On the manufacture-on-deman​d side of Fox Home Video, I review a batch of discs released over the past few months on 20th Century Fox Cinema Archives here.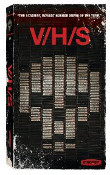 "A History of Israeli Cinema" (Kino Lorber) is an epic look at 70 years of Israeli filmmaking from Raphael Nadjar: a three-and-a-half hours overview with film clips and interviews with filmmakers and scholars. Two discs on DVD.
"The Blue Lightning" (Timeless) is a crime thriller with Sam Elliott and Robert Culp on the Australian outback. DVD.
And for all you who like to kick it old school, the anthology horror movie "V/H/S" (Magnolia) is now available on VHS tape. The case is helpfully pre-worn, so it looks like you picked it up at a garage sale.
For more releases, see Hot Tips and Top Picks: DVDs, Blu-rays and streaming video for week of February 5