Blu-ray Round-Up: Almost Alice and Eve
"Alice in Wonderland," "All About Eve," "Almost Famous" and "10" are among the BD debuts this week
"Alice in Wonderland: 60th Anniversary" (Blu-ray+DVD Combo) (Disney) debuts on Blu-ray this week and you can check in on the debate over the bright, crisp new master at the "Expert Witness" posting here.
Here are some of the other high-definition highlights this week…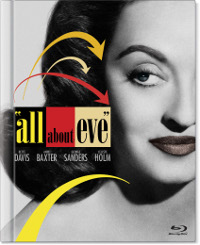 "Fasten your seat belts, it's going to be a bumpy night." "All About Eve" (Fox), Joseph L. Mankeiwicz's acerbic view askance at the Great White Way, is the writer/director's "Citizen Kane," a little less complex (both visually and narratively) perhaps, but masterful in its own way in its cynical portrait of ambition on the boards. The barbed dialogue is witty and wonderful, delivered with tart insolence by Bette Davis as an aging Broadway lioness who watches ruthless cub Anne Baxter pull out her claws as she charms and insinuates herself into stardom. Even more seductively sinister is George Sanders, marvelously acerbic as a cultured but conniving critic whose every word oozes arsenic. Nominated for a record 14 Academy Awards, it went home with six, including Best Picture, Best Director and Best Screenplay (Mankeiwicz), and Best Supporting Actor (George Sanders). The 1950 classic bows on BD in Fox's version of the Blu-ray book that Warner has been using for its upscale classics, with 24 pages of stills and notes and a pocket for the disc to slip into on the inside back cover. A nice alternative and gentle yet snug disc protection.
The film has been released in two DVD special editions and the Blu-ray includes the supplements from the most recent two-disc release, including two commentary tracks (one by star Celeste Holm, director's son Christopher Mankiewicz, and Mankiewicz biographer Kenneth Geist, the other by Sam Stagg, the author of the book "All About "All About Eve""), five featurettes (the 24 minute "AMC Backstory: All About Eve," the traditional interview-based "Directed by Joseph Mankiewicz" and "Joseph L. Mankiewicz: A Personal Journey," "The Secret of Sarah Siddons," about the theatrical society inspired by the film, and "The Real Eve," which reveals the real-life inspiration for the short story and the film with gossipy details), archival promotional shorts, newsreel and TV footage and an isolated music track.
"Almost Famous: The Bootleg Cut" (aka "Almost Famous: Untitled") (Paramount), the extended version of Cameron's Crowe's thinly fictionalized autobiography, arrives as a Best Buy Exclusive for the time being. Revisiting the mid-seventies rock scene, the story of 15 year old William (Crowe's stand-in played by Patrick Fugit) sent by "Rolling Stone" to tour with an up and coming band (Stillwater, a fiction stand-in for the real-life groups that Crowe profiled) has the sensory immediacy of a treasured memory, from the crackle of vinyl on a bedroom turntable to the view of an arena concert from the stage. Crowe exposes the sex, drugs, infighting, and indiscretions of the music scene (perhaps with more discretion than necessary despite the R rating) without ever losing its faith in the power of music. Billy Crudup and Jason Lee co-star as the clashing "Stillwater" bandleaders, Frances McDormand is William's mother, but Kate Hudson literally glows as the giving, impulsive, always surprising Penny Lane, the young (in fact, underage) groupie (or should I say Band-Aid) in love with Stillwater guitarist Crudup. Fairuza Balk and Anna Paquin play fellow Band-Aids and Philip Seymour Hoffman is marvelous as William's (and Crowe's real life) mentor Lester Bangs. The film is deftly poised between rosy affection, thoughtful remembrance, and giddy adolescent awe. As perhaps it should be.
This extended version, originally created by Crowe for DVD in 2002, includes over 30 minutes of additional footage in snippets and extended scenes. None of the additions are essential and many of them, for all their personality and character moments, end up reiterating points already made in the film, but a couple are touching  nd beautiful, especially Penny Lane's birthday party and Band-Aid Anna Paquin's farewell to William. But while they slow the story down, they also fill out William's experience offer a different kind of richness, one perhaps better suited to home viewing. The Blu-ray features the extended cut only (the DVD release includes the original, more focused, theatrical cut as well), along with commentary by Crowe and others (including his mom!), "The Making of Almost Famous," a significant deleted scene (which, due to music rights problems, is best viewed with a copy of Zepplin IV close at hand), some text reprints of Crowe's articles and other supplements from the DVD release.
"An Affair to Remember" (Fox), the godmother of glossy Hollywood three-hankie weepies, stars Cary Grant as a smooth playboy and Deborah Kerr as a cynical ex-chanteuse whose shipboard romance that blossoms into love, to their great surprise. Just to complicate things, they separate for six months to test their devotion with a promise to meet up again at the top of the Empire State Building. Some romances are simply beyond the abilities of mere men to grasp. This glossy, mannered 1957 melodrama, defined by the hokiest of tragic twists and carved in CinemaScope and Technicolor by director Leo McCaey, is loved by a nation of women. Just for the record, this is a remake of McCarey's own 1939 "Love Affair" (with Irene Dunne and Charles Boyer), and it was remade again under that title in 1994. It's also a booklet-styled case and features commentary by Marni Nixon (who dubbed all of Kerr's singing) and film historian Joseph McBride, 24-minute "AMC Backstory: An Affair to Remember," featurettes on the stars and creators, and newsreel coverage of the premiere among the supplements.
Blake Edwards' "10" (Warner) stars Dudley Moore and Julie Andrews and introduced Bo Derek as an international sex symbol, but it is best remembered as one of the best of the late Blake Edwards films, a mid-life crisis sex comedy for grown-ups that is funny and sexy.
Also new to Blu-ray this week: "Ray " (Universal) with Jamie Foxx as the R&B legend, "You've Got Mail" (Warner) with Tom Hanks and Meg Ryan (just in time for Valentines Day!), "Pleasantville" (New Line) with Tobey Maguire and Reese Witherspoon, "Bad Boys" (Lionsgate), the 1983 juvenile delinquent drama with Sean Penn, and the "Highlander / Highlander 2: 2-Film Set" (Lionsgate), just in case you didn't pick up the BD editions the first time they came around separately.