TV on Disc: 'Warehouse 13: Season Three'
Mining historical trivia for make-believe weapons and magic villains
By 
SeanAx
 Jul 10, 2012 11:33AM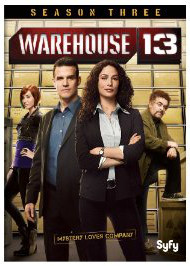 "Warehouse 13: Season Three" (Universal) may not be the most ambitious show on SyFy, a cable network that has settled on colorful genre play with familiar elements, but its mix of fantastic situations, character chemistry, oddball trivia, and a comic attitude to even the most dramatic situations has made it the channel's most popular scripted show.
Eddie McClintock and Joanne Kelly take the lead as Pete and Myka, oil-and-water secret service agents turned special agents to what you could call the super secret Bureau of Supernatural Objects, Metaphysical Inventions, and Ancient Technology. This season opens with Myka dropping out of the agency and a new member of the team, Steve Jinks (Aaron Ashmore, who played Jimmy Olson on "Smallville"), assigned to the warehouse (which, yes, is actually a giant warehouse in the middle of the Dakota Badlands).
But fear not: Myka comes back to the team (which is headed by Saul Rubinek's Artie and includes Allison Scagliotti as junior agent Claudia and Genelle Williams as Leena), as does one-time Warehouse agent turned madwoman turned prisoner H.G. Wells (Jaime Murray), and there's a new villain in Anthony Michael Hall, who is behind a whole new conspiracy designed to bring about the Warehouspocalypse.
The show follows the new cable paradigm of building stand-alone episodes on an over-arching story, but its operating philosophy is nicely summed up in a line from this season: "Artie's law of artifacts is that the worst thing that could happen with an artifact will happen." 
So yes, it's a lot of fun to see what kind of historical trivia they will bend into some supernatural object (Jimi Hendrix's guitar, Marilyn Monroe's hairbrush, Richard Nixon's shoes, Cecil B. DeMille's riding crop), but the show is still built on the camaraderie between Pete and Myka, oddball opposites who are a great team and devoted friends, more like family than partners. The show even pokes fun at the expectation of sexual tension in the episode "Love Sick," where they wake up in bed together with no memory and no clothes. The solution to the mystery revolves around the strangest (and yet perfectly valid in this fictional universe) self-engineered conspiracy to land them there. Equally compelling is the paternal affection that grows between Artie and Claudia, a genius orphan who finds her new family in the Warehouse crew.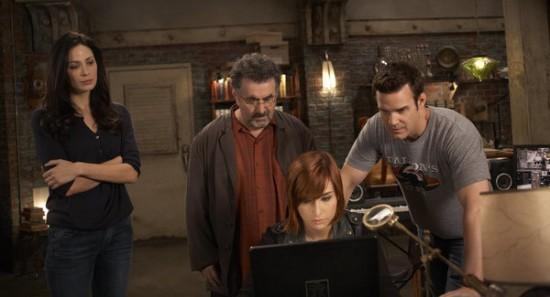 The steampunk aesthetic, and the mix of science and supernatural, makes it a companion piece to SyFy's other lighthearted science adventure series, "Eureka," and sure enough the show even features some "Eureka" crossovers (this season it involves a video game and, I kid you not, Beatrix Potter's tea set).
All 12 official episodes of the season plus the 2010 Christmas special (with guest stars Judd Hirsch and Paul Blackthorne). Features commentary on four episodes, guest star interviews, the animated web series "Of Monster and Men" (including a disc-exclusive bonus episode), and deleted scenes.
See a clip from the season three premiere episode below, after the jump.
The fourth season begins at the end of July on SyFy.
For more releases, see Hot Tips and Top Picks: DVDs, Blu-rays and streaming video for the week of July 10