New Release: 'John Carter' – The Original Interplanetary Warrior
Early 20th century pulp meets early 21st century moviemaking technology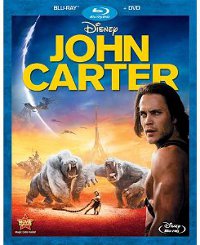 Poor "John Carter" (Disney). The mega-budget labor of love from Andrew Stanton, the Pixar director ("Wall-E") who chose this huge production as his live-action debut, was branded the flop of the year by the press before it even opened. It became a symbol of runaway budgets, a case of disastrous marketing decisions, and Exhibit A in the case for a failure of studio oversight at Disney's, where the fallout ousted the studio head. In fact, almost everything was discussed except the film itself.
Edgar Rice Burroughs' "John Carter" novels were a major part of the wellspring of inspiration for George Lucas' "Star Wars" and Stanton's film is an old-fashioned fantasy adventure of a Civil War veteran battling alien tribes and giant monsters on the desert planet of Mars. Taylor Kitsch is the American soldier who, hunting for his fortune, is transported to Mars, known to its natives as Barsoom, and discovers that he is essentially a superman on this planet, a prisoner turned hero who battles evil and falls in love with a Princess.
It's not Staunton's fault that "Star Wars" visualized it for the screen first but it's on him that some scenes are so reminiscent of Lucas' space fantasies that his vision feels second hand, and that the enormous amount of CGI characters and creatures makes the film at times feel like an animated feature. But it is lovingly envisioned by Stanton and far more fun than Lucas' most recent efforts.
"If you are among the millions of filmgoers who was bitterly disappointed by "The Phantom Menace," you owe it to yourself, to your wounded psyche, and to your pleasure centers to check out "John Carter"," offers MSN film critic Glenn Kenny.
"To say that this film does epic not-quite-pulp sci-fi adventure "right" is to imply ethical questions that this review has neither the space nor the inclination to go into. So let's instead say that "John Carter" does it properly. And, more importantly, entertainingly."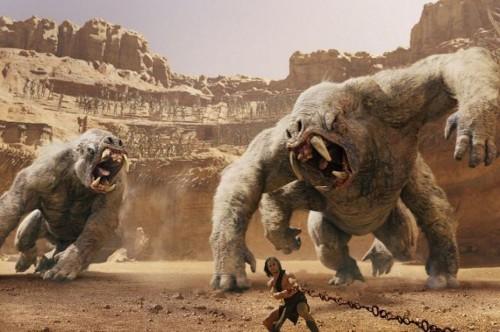 The DVD special edition features commentary by director Andrew Stanton with producers Jim Morris and Lindsey Collins and the 10-minute featurette "100 Years in the Making" on author Edgar Rice Burroughs and the long road to bringing the "John Carter" books to the screen.
The Blu-ray+DVD Combo Pack adds the 35-minute production featurette "360 Degrees of John Carter," which takes the viewer through one day on the set, and ten deleted scenes (in various stages of completion) with an introduction and optional commentary by the director, plus the obligatory blooper reel and the interactive "Disney Second Screen," which requires either a laptop or a Tablet to play supplementary material in synch with the film, and a bonus DVD.
The 4-Disc Combo Pack includes a Blu-ray 3D and digital copy in addition to the standard Blu-ray and DVD editions.
If you really want to get a taste of what the film has to offer, forget the official studio trailer and check out the fan-produced piece, which celebrates all the things the Disney marketing team tried to obscure. It's below, after the jump, along with other clips from the disc.
For more releases, see Hot Tips and Top Picks: DVDs, Blu-rays and streaming video for June 5

I actually loved the movie John Carter.  Never once did I ever feel like I was watching a remake of Star Wars.  I can't even begin to think where a comparison between the two could take place.  Perhaps it is just me, but I thought the movie stood on its own, and I've watched it several times, enjoying it each time.   

Are you sure you want to delete this comment?