Cool and Classic: The agony and the ecstasy of 'Sansho the Bailiff'
Plus 'Best in Show' on Blu-ray, Peckinpah's debut feature, and
By 
SeanAx
 Feb 28, 2013 11:21AM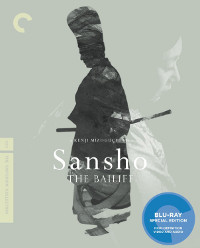 "Oasis of the Zombies" (Kino), directed by Jesus Franco, and "Zombie Lake" (Kino), directed in part by Jean Rollin, debut on Blu-ray and newly remastered DVD and the 1970 horror anthology film "The House That Dripped Blood" (Hen's Tooth) from Britain's Amicus Films on DVD. Videodrone's review is here.
"Sansho the Bailiff" (Criterion), Kenji Mizoguchi's masterful 1954 film, follows the ordeals of the wife and children of a provincial governor after they are sold into slavery by a vindictive feudal lord. Mizoguchi is the poet laureate of Japanese cinema, gracefully exploring the battered but resilient souls in the cruel worlds of Japan's feudal past and present. His worlds are hard and unforgiving, the societies brutal, and within them he creates characters of tremendous grace. This is one of his greatest films, and it won the Silver Lion at the Venice Film Festival, his third win in three years.
Sansho is not the hero of "Sansho the Bailiff," he's a pitiless slave owner who metes out swift, unequivocal punishment to all slaves captured in escape attempts. The brother, Zushio (Yoshiaki Hanayagi) hardens over time, becoming tough and unfeeling as he obeys the hard commands of Sansho, but sister Anju (Kyôko Kagawa) remains kind and generous and sacrifices her freedom to save Zushio, which rekindles his knotty heart and soul and resolve. Kinuyo Tanaka, who plays the mother separated from her children and degraded by a life of prostitution. Mizoguchi was famed for his portraits of women. It's not just about finding the saints among the sinners, but the rich lives of these concubines and wives and actresses and prostitutes, who are supposed to find their identity in the men of their lives and wind up forging their own rich interior lives, even as they wind up discarded by their own society.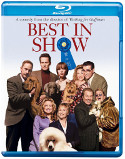 Previously released on DVD by Criterion, it debuts on Blu-ray with the same supplements: commentary by Japanese-literature professor Jeffrey Angles, video interviews with critic Tadao Sato, assistant director Tokuzo Tanaka, and legendary actress Kyoko Kagawa, and a booklet with an essay by film writer Mark Le Fanu and two versions of the story on which the film was based: Ogai Mori's 1915 "Sansho Dayu" and a written form of an earlier oral variation.
Also debuting on Blu-ray is "Best in Show" (Warner), Christopher Guest's mockumentary on the personalities around a national Kennel Club dog show. His usual conspirators are on hand for this 2000 comedy: Parker Posey, Michael Hitchcock, Eugene Levy, Catherine O'Hara, John Michael Higgins, Michael McKean, Jennifer Coolidge, Jane Lynch, Bob Balaban, and Fred Willard. They are, of course, more neurotic than the animals they baby. Features commentary by director / co-writer Christopher guest and co-writer Eugene Levy and deleted scenes.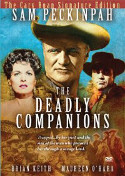 "The Deadly Companions" (VCI), the debut feature from Sam Peckinpah, finally arrives on home video in a well-mastered edition that preserves its color and widescreen image. Peckinpah had little creative freedom on his first feature film, independently-produc​ed 1960 western featuring Brian Keith (the star of his acclaimed TV series "The Westerner") and Maureen O'Hara (Keith's co-star on "The Parent Trap" and sister of producer Charles B. Fitzsimons), and the film itself fell through the cracks, relegated to public domain releases on VHS and DVD. This release, carrying the imprint "The Cary Roan Signature Edition," is far and away the best version released to date. DVD only.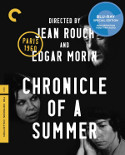 "Chronicle of a Summer" (Criterion), the 1961 collaboration between filmmaker-anthropolo​gist Jean Rouch and sociologist Edgar Morin, is a pioneering work of cinéma verité that documents the culture of Paris in the summer of 1960. The Blu-ray and DVD is mastered from a new restoration by the Cineteca di Bologna and features the new documentary "Un été + 50" featuring outtakes and new interviews with co-director Edgar Morin and some of the film's subjects, new and archival interviews with co-director Jean Rouch and more of the film's subjects (among others), and a booklet with an essay by scholar Sam Di Iorio.
"Will Hay Double Feature Vol. 2: Windbag the Sailor / Good Morning, Boys" (VCI) and "Will Hay Double Feature Vol. 3: Oh, Mr. Porter! / Convict 99" (VCI) presents four more British comedies from the thirties featuring the music hall star turned screen comedian playing variations on his stage characters. American director William Beaudine directs the 1936 "Windbag the Sailor" and Marcel Varnel directs the rest. Each double feature on a single DVD, with a still gallery.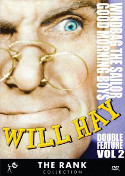 "Norman Wisdom Double Feature Vol. 2: Man of the Moment / Up in the World" (VCI) and "Norman Wisdom Double Feature Vol. 3: Just My Luck / The Square Peg" (VCI) continue the releases of the West End funnyman turned screen comedy superstar in 1950s Britain. Each double feature on a single DVD, with a still gallery.
For more releases, see Hot Tips and Top Picks: DVDs, Blu-rays and streaming video for week of February 26