Blu-ray Round-up: Under the Influence with "Fear and Loathing" and "El Topo"
Plus the very different arthouse delights of "The Lickerish Quartet" and "The Scent of Green Papaya"
"Don't Look Back" (New Video) and "The Other Side Of The Mirror - Bob Dylan Live At The Newport Folk Festival 1963-1965" (Columbia/Legacy), both debuting on Blu-ray in advance of Dylan's 70th birthday, are featured on Videodrone here, and Criterion releases the Blu-ray debut of Brian De Palma's "Blow Out," which I review on Videodrone here.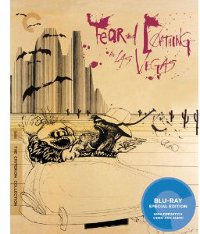 "Fear and Loathing in Las Vegas" (Criterion) - Terry Gilliam's hallucinatory 1998 adaptation of Hunter S. Thompson's classic of gonzo journalism stars Johnny Depp as Thompson's alter ego Raoul Duke and Benicio De Toro (thrillingly and terrifying unencumbered by any behavioral boundaries) as Dr. Gonzo in the drug-fueled carnival atmosphere of Las Vegas, circa 1971. It was a flop at the time, too dark and weird and unhinged for mainstream cinema, and like many Gilliam films it's entrancing on a moment-to-moment level, losing itself in the swirls and eddies of the narrative. Sort of like Thompson in Vegas. "The closest sensory approximation of an acid trip ever achieved by a mainstream movie," wrote Stephen Holden in the New York Times.
Criterion released the film on a deluxe two-disc edition eight years ago. The Blu-ray debut features all the supplements of that release: three commentary tracks (one by director Terry Gilliam, one by stars Johnny Depp and Benicio Del Toro, and one by producer Laila Nabulsi and author Hunter S. Thompson), deleted scenes with commentary by Gilliam, the 1978 BBC "Omnibus" documentary "Fear and Loathing on the Road to Hollywood" (with Hunter S. Thompson and artist Ralph Steadman), the ten-minute featurette "Hunter Goes to Hollywood," an audio documentary on the controversy over the screenplay credit, a survey of the marketing campaign, selections from the correspondence between Johnny Depp and Hunter S. Thompson (read on camera by Depp), an excerpt from the 1996 audio CD "Fear and Loathing" starring Maury Chaykin, Jim Jarmusch, Harry Dean Stanton, and Glenne Headly, background notes on Oscar Zeta Acosta (the real life activist and attorney who inspired the character of Dr. Gonzo), and galleries of storyboards, stills, and Ralph Steadman art. The accompanying booklet features a short appreciation by J. Hoberman and reprints of two Thompson pieces (from "The Great Shark Hunt" and "Fear and Loathing in America").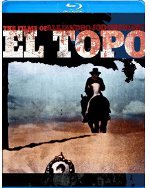 "El Topo" and "The Holy Mountain" (ABKCO/Anchor Bay) - Alejandro Jodorowsky didn't invent the midnight movie or the "head" film, but his allegorical head-trip of a western "El Topo" (1970) defined the spirit of both so perfectly we might as well hand him the credit for both. The metaphysical odyssey of a mystic gunfighter (played by Jodorowsky) is a counter-culture spiritual trip by way of a spaghetti western on acid, a tale of revenge and redemption painted in blood and flesh and mud and sex. It's surreal and grotesque and obscure and you love it or you don't. It was a mainstream flop but a midnight movie success and Jodorowski was handed a big budget for his next production, the even more metaphysical mix of the sacred and the profane, "The Holy Mountain" (1973).
Each disc is newly mastered from original negative under the supervision of Alejandro Jodorowsky and features commentary by Jodorowsky. "El Topo" also features a video interview with Jodorowsky and the original Spanish soundtrack (with optional subtitles) and an alternate English dub track. "The Holy Mountain," presented in its original English language version, features deleted scenes with commentary by Jodorowsky and a featurette on the restoration process. Read more about the films and the Blu-ray editions from Glenn Erickson at DVD Savant here.
"The Lickerish Quartet" (Cult Epics) – Radley Metzger's delirious erotic fantasy  is like a stag film directed by Alain Resnais: a lush, sleek, heady hall of mirrors in a sensuous landscape. An aristocratic man (Frank Wolff), his wife (Erika Remberg), and her son (Paolo Turco), fresh from a private showing of a beat-up stage reel, spy a shapely blonde daredevil cyclist (Silvana Venturilli) at a local carnival and, convinced she is the erotic star from the film, invite her to their villa. The mysterious young woman unlocks each character's fantasy in a blend of Psych 101 and sexual healing as she fulfills the libidinous desires of a bickering trio and the succession of seductive romps becomes a series of surreal set pieces. But Metzger has the last word as he pushes the bounds between fantasy and reality into a game of illusionist hide and seek. This is erotic romp as European art movie: playful, smart, ripe and sensuous.
Newly restored for Blu-ray, it features the R-rated cut of the film with commentary by Metzger and film historian Michael Bowen, a 32-minute reel of alternate "cool" versions of the sex scenes and two featurettes: "The Making of The Lickerish Quartet" (11 minutes) and "Giving Voice to the Quartet" (13 minutes, on the location sound).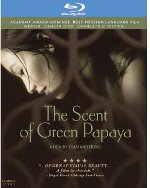 "The Scent of Green Papaya" (Kino) – The gorgeous 1993 debut of Vietnamese filmmaker Trun Ahn Huang is an interesting cross-cultural production: written and directed by and starring Vietnamese artists, the film was shot completely in a Paris studio with a French crew. Huang's delicately told story of a young servant girl touched by all the life around her is introspective, delicate, quietly observed, a study of her fascination at the wonder of the minutia under her feet and at her fingertips, while the melodrama of family life buzzes around the oblivious girl. A unique marriage of European style and Asian sensibility and a rich, vivid film, it won the Camera d'or at Cannes 1993 and was nominated for a Foreign Language Film Oscar. The newly remastered Blu-ray debut includes a vintage behind-the-scenes featurette (full screen and standard definition). In Vietnamese with English subtitles.