The New Release Rack: The hothouse swamp noir 'The Paperboy'
Plus the comedies 'For a Good Time, Call' and 'Fat Kid Rules the World,' 'Hara-Kiri' from Japan, and more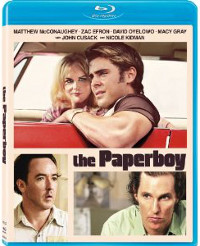 "End of Watch" (Universal), the gritty cop drama starring Jake Gyllenhaal and Michael Peña as patrol officers and best friends on the mean streets of Los Angeles, debuts on Blu-ray, DVD, and On Demand. Videodrone's review is here.
The Oscar-nominated documentary "Searching For Sugar Man" (Sony), the stranger-than-fictio​​n story of a forgotten folk singer, headlines the non-fiction releases, a list that also includes Wim Wenders' dance documentary "Pina" (Criterion) and the acclaimed "The Imposter" (Vivendi). These and more in the True Stories wrap here.
"The Paperboy" (Millennium), Lee Daniels' overheated crime thriller follow-up to "Precious," earned some measure of notoriety for a scene of Nicole Kidman urinating on jellyfish-stung Zac Efron, and it's a well-earned notoriety. Adapted from the novel by Pete Dexter, this sixties-set swamp noir courts an aggressively disreputable atmosphere of sordid sexuality and hothouse obsession. Zac Efron is ostensibly the title character, a college kid back in his hick town after a college humiliation, though it's his brother (Matthew McConaughey), a Miami newspaper reporter, who gets that nickname from a death-row inmate (John Cusack, who does his best to embody moral and physical rot). Kidman plays the convict's jailhouse bride, a trailer park dreamer with confused dreams, and Efron is head over heels in lust for this creature described as ""his mother, his high school sweetheart, and an oversexed Barbie doll all rolled into one." Kidman gives her self over to the role without a trace of restraint, camp, or embarrassment.
"I'll give this to "The Paperboy": It's never boring," admits MSN film critic Glenn Kenny, who writes that "the movie not infrequently hits a frequency that evokes Tennessee Williams out of John Waters."
Blu-ray and DVD, with a featurette, interviews, and behind-the-scenes footage. The DVD also features a digital copy, and there is a Blu-ray+DVD Combo Pack with a bonus digital copy. Also available On Demand.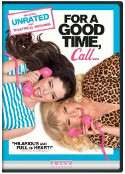 "For a Good Time, Call" (Universal) is a female buddy comedy starring Ari Graynor and Lauren Anne Miller as opposites who find common cause in a phone-sex business. "Made for a well-spent shoestring budget, director Jamie Travis' feature debut, "For a Good Time, Call ...," is not just smart and sexy -- which, to be honest, is rare enough in filmmaking these days -- it's also got a great deal of humanity and humor," reports MSN film critic James Rocchi. "Its ideas and execution make it both rare and well-done, and if the end result is more medium-cool than sizzling, better that than frigid at the center or charred at the edges." Blu-ray and DVD includes both R-rated and unrated versions, plus commentary, featurettes, and deleted scenes. The Blu-ray also includes a digital copy of the film for portable media players and an UltraViolet digital copy for download and instant streaming.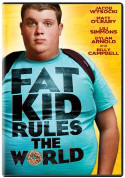 "Fat Kid Rules the World" (Arc), the directorial debut of Matthew Lillard, adapts the young adult novel about a misfit kid (Jacob Wysocki) who finds an identity when he forms a punk band. "It's not a smarmy feel-good movie, and it's not another dumb teenage comedy," writes Chicago Sun-Times film critic Roger Ebert. "It's smart and observant, and when its laughs come, they're of the dark humor variety." The DVD also includes a featurette.
"Keep the Lights On" (Music Box) from director Ira Sachs, is a drama of friends and lovers struggling through a relationship troubled by addiction. Entertainment Weekly film critic Owen Gleiberman writes that "what's remarkable is that everything in the movie — how the New York apartments look, the inside glimpses at the life of a filmmaker, the way enabling becomes a form of romance — is as raw and real as the most live-wire memoir." Blu-ray and DVD, with director commentary, featurettes, deleted scenes, and audition tapes.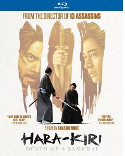 Foreign Affairs:
"Hara-Kiri: Death of a Samurai" (New Video) is Takashi Miike's remake of the classic drama about a samurai who asks a feudal lord for the honor of a ritual suicide but first has a story to tell. Miike is famed as Japan's wild man of genre cinema but this is a subdued, restrained drama for the director, with a formal elegance, even with the flashing swords and fury of vengeance at its core. The film was originally made in 3D, which was a poor match for the somber mood and often dim, shadowy photography. It works much better in standard format shown here on disc. Blu-ray and DVD, in Japanese with English subtitles. Reviews here.
Also from Japan comes "Hard Romanticker" (Artsploitation), a violent gang drama based on director Gu Su-yeon's semi-autobiographica​​l drama about growing up in a Korean slum in Tokyo. DVD, Japanese with English subtitles, with an 8-page booklet with two essays. Reviews here.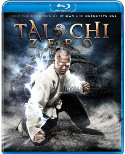 "Tai Chi Zero" (Well Go), from "House of Fury director Stephen Fung and choreographer Sammo Hung, is a martial arts thriller in a steampunk world where a villain with a monstrous railroad threatens a village with a secret fighting style. It's the first film in a proposed trilogy. The sequel is already released in Asia. Blu-ray and DVD, in Mandarin with optional English dub soundtrack and English and Chinese subtitles, with a featurette and music video. Reviews here.
"Breathing" (Kino Lorber), the directorial debut Austrian actor Karl Markovics, is the drama of an orphan teen in a juvenile detention center. DVD, German with English subtitles. Reviews here.
Plus:
"Noboyd Walks" (Magnolia), a romantic drama starring John Krasinski, Olivia Thirlby, and Rosemarie DeWitt. Blu-ray and DVD, with a featurette. Reviewed by MSN film critic Glenn Kenny here.
- "Nature Calls" (Magnolia), a comedy starring Patton Oswalt and Johnny Knoxville. Blu-ray and DVD, with commentary and a promotional featurette. Reviews here.
- "Stone of Destiny" (Green Apple), a 2008 drama from Britain, starring Charlie Cox, Kate Mara, Billy Boyd, and Robert Carlyle. DVD. Reviews here.
For more releases, see Hot Tips and Top Picks: DVDs, Blu-rays and streaming video for week of January 22