Cool, Classic and Collectible: Three by Lina Wertmuller
Plus Steven Soderbergh on Spalding Gray, 'The Colossus of New York,' and more
By 
SeanAx
 Jun 20, 2012 11:03PM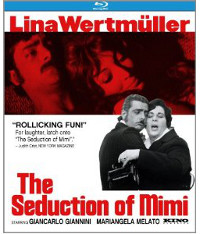 "The Space Children" (Olive), Jack Arnold's unique cold war / alien invasion film, makes its long-awaited home video debut on Blu-ray and DVD. Videodrone's review is here.
"Lina Wertmuller Collection" (Kino) presents new DVD editions and the Blu-ray debuts of three films by the German director from the early seventies (in a box set on DVD and individually on Blu-ray). The seduction in "The Seduction of Mimi" (Kino), starring Giancarlo Giannini as a Sicilian peasant whose leftist politics collides with the mob-dominated feudalism of the culture, is only partly sexual. As Mimi (the nickname of Giannini's earthy worker) heads north for new opportunities, he finds himself compromising his principles time and again to protect his newfound happiness: a mistress (which he keeps a secret from his wife back home), a son (ditto), a series of promotions, and an affluence he never dreamed of before. But there's more to it; he has the bad luck of stumbling into mob dealings at the wrong time, and his future is constantly renegotiated with each new promotion. Wertmuller has a raucous style, laden with slapstick and sex comedy and clownish stereotypes pushed to satirical extremes. It hasn't aged particularly well as political satire, but the energy keeps it lively.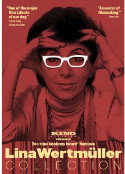 Giancarlo Giannini also stars in the 1973 "Love and Anarchy" (Kino) and won the Best Actor award at Cannes for his portrayal of a naïve farmer from the sticks who becomes an accidental anarchist in Fascist Italy and is sent to Rome to assassinate Mussolini. "All Screwed Up" (Kino), from 1974, revisits the themes of "Mimi" in a contemporary context with the story of two southern boys who travel to Milan for work and get involved in all sorts of slapstick antics. In Italian with English subtitles, no supplements beyond galleries of low-quality stills.
"Gray's Anatomy" (Criterion) and "And Everything Is Going Fine" (Criterion) – Steven Soderbergh pays tribute to monologist Spalding Gray with these two films, made over ten years apart. "Gray's Anatomy" (1997) is Soderbergh's film of Gray's 1993 monologue, which recounts his odyssey through the diagnosis and treatment of a rare ocular disorder. It was the third of his monologues to get a cinematic treatment and Austin Chronicle film critic Marc Savlov writes that "Soderbergh's skewed, unsettling, and often hilarious direction in "Gray's Anatomy" makes this time out the most entertaining by far. The Blu-ray and DVD feature interviews with Soderbergh and co-writer Renée Shafransky, footage of Gray's eye surgery, and "A Personal History of the American Theater," a monologue by Spalding Gray filmed in 1982, plus a booklet with an essay by Amy Taubin.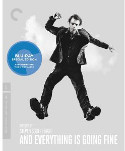 Gray died in 2004, of apparent suicide, and Soderbergh made "And Everything Is Going Fine" (2010) as a remembrance to the artist, a portrait created entirely out of footage of Gray taken from interviews and one-man shows from throughout his career. It's a posthumous autobiography, of sorts, and a fitting tribute to an artist who spent his career mining his life for art and transforming his experiences into spoken word performances. "Seen as his final monologue, the film is both an invaluable portfolio of his talent, and a tribute rendered in the style of its subject," writes Karina Longworth for The Village Voice. The Blu-ray and DVD feature the 21-minute "The Making of And Everything Is Going Fine," with director Steven Soderbergh, producer Kathie Russo, and editor Susan Littenberg, and "Sex and Death to the Age 14," Spalding Gray's first monologue, created in 1979 and videotaped in 1982, plus a booklet with an essay by Nell Casey.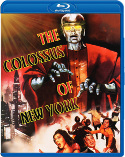 "The Colossus of New York" (Olive) is a modern day (circa 1958) "Frankenstein" tale, with Otto Kruger as a brain surgeon who tries to keep his son's intellect alive after he's killed in an accident by transplanting his brain into giant mechanical body, created by his other son (John Baragrey), a reluctant partner in the experiment. There's all sorts of family conflicts and jealousies under the surface of this very low budget production, which takes place mostly in an anonymous mansion and its crowded basement laboratory, and an unconvincing spiritual "lesson" that has far less weight than the father's struggle to protect his son from his own megalomania. Most of the atmosphere comes from the voice of Ross Martin as the tormented figure gone tyrannical monster, a human mind gone mad trapped in the metal body, and by Van Cleave's score, heavy on grand piano stings and ominous tinklings. Blu-ray and DVD, no supplements.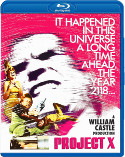 "Project X" (Olive) is the other film available this week with the enigmatic name, this one a 1968 science fiction thriller from William Castle, starring Christopher George as a secret agent brought out of cryogenic suspension in the future and filled with false memories to set him on new case. Blu-ray and DVD, no supplements.
"Mary Pickford: The Muse of the Movies" (Cinema Libre) is a documentary on the original "America's Sweetheart," silent movie superstar Mary Pickford. Michael York narrates. DVD only, with filmmaker Q&A and audio interview.
"Mutantes: Punk Porn Feminism" (Alive Mind), a documentary by Virginie Despentes, looks at the wave of pro-sex feminism through the works of artists from Lydia Lunch to Annie Sprinkle to Catherine Breillat. DVD only.
For more releases, see Hot Tips and Top Picks: DVDs, Blu-rays and streaming video for June 19