TV on Disc Channel Guide: The first and only season of HBO's 'Luck'
Plus more 'Hot in Cleveland' and classic 'Perry Mason'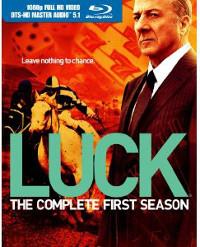 "Luck: The Complete First Season" (HBO), the magnificent HBO original series about the culture around a California horse track, is created and written by David Milch (of "Deadwood") fame, the first episode is directed by Michael Mann, and the two co-produced the series in a curious division of labor, with Milch in charge of the writing and development of the story and Mann in charge of the dramatization. It could have been a recipe for chaos and conflict. Perhaps behind the scenes it was, but on screen we get a marvel of character and storytelling, with a chemistry and a rhythm and sensibility unlike anything else on TV, network or cable.
Dustin Hoffman (also a co-producer) is the ostensible lead here as Ace, a mobster fresh out of prison and determined to make his mark in gambling, and he uses the California race track at the center of the show as his base. The rest of the show spreads out amongst the denizens of the track: horse owners (Nick Nolte) and trainers (John Ortiz) and riders (Kerry Condon), an odd quartet of gamblers (Jason Gedrick, Kevin Dunn, Ian Hart, and Richie Coster), a veterinarian (Jill Hennessy), Ace's driver (a marvelously loose and easy Dennis Farina), and many, many more. The stories don't follow expected arcs and the match-up of two star horses heading into the season finale is going to leave someone disappointed, of course. Matt Zoller Seitz reviewed the show in a brief piece for New York Magazine's Vulture, then poured himself into weekly episode reviews and explorations (the first episode is covered here). If you love the show, his writing will open up even more avenues of exploration.
Unfortunately there will never be a second season – Milch and Mann shut the show down after the death of three horses in the course of production. The problem wasn't abuse, merely the constant strain of a show where races are part of the drama and the reality of horses on a busy TV set, and for that reason they stopped production, realizing they could not protect the horses. It was a responsible call, but I can't help feeling the loss of the best new series of the last few years.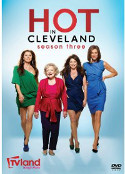 HBO is not promoting this show, as they told me, and did not send any review copies out, so I can't speak to the supplements. The press release promises three commentary tracks and three featurettes, but all I can verify is that all nine episodes of the first and only season will be available Blu-ray and DVD.
"Hot in Cleveland: Season Three" (Paramount) TV Land's first and still most popular original sitcom, brings the trio of Valerie Bertinelli, Jane Leeves and Wendie Malick back for more adventures in romance after 40, but arguably it's Betty White and her smiling snark that made the show a hit. White opens the season fleeing her husband (Don Rickles) and her two suitors (Carl Reiner and Buck Henry) and joining the girls on a trip to New York and Malick's comeback interview on a TV talk show, where she reveals her marriage to Jane Leeves (it's a long, complicated story, and it gets even more complicated this season). 22 episodes on three discs, plus the made-for-cable special "Some Like It Hot."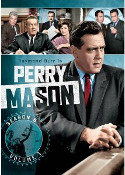 "Perry Mason: Season 8, Volume 1" (Paramount) presents 15 more episodes of courtroom brilliance from Raymond Burr's definitive TV lawyer and his crack team (Barbara Hale and William Hopper) on four discs. As always, Mason never has a guilty client and D.A. Hamilton Burger (William Talman) never has a chance. DVD only.
"Transformers Prime: Season Two" (Shout! Factory), the new CGI reboot of the classic giant robot animated series, arrived on DVD last week and bows in Blu-ray this week. 26 episodes plus new interviews with the creative team and the "Transformers" panel from Comic-Con 2012, on four discs.
For more releases, see Hot Tips and Top Picks: DVDs, Blu-rays and streaming video for week of November 27