New on Netflix Instant: Sing-Along with 'Dr. Horrible'
Plus 'Sarah's Key,' 'The Music Never Stopped,' and more movies and documentaries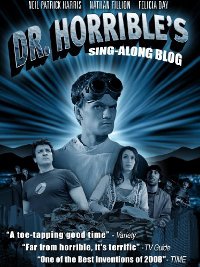 Joss Whedon's "Dr. Horrible's Sing-Along Blog" (2008), the hilarious 40-minute musical superhero comedy starring Neil Patrick Harris as an aspiring supervillain with the heart of a romantic and Nathan Fillion as the musclebound, muscleheaded hero who basks in adoration as he repeatedly pummels Dr. Horrible like a high school bully picking on the skinny kid., was launched as an online exclusive and made its way to DVD and Blu-ray. Now you can stream it on Netflix and if you like superheroes, musicals, Joss Whedon, Neil Patrick Harris, or Nathan Fillion, or simply have 40 minutes to try something different, I recommend investing your time into this clever, tongue-in-cheek piece.
Kristin Scott Thomas stars in "Sarah's Key" (Anchor Bay), a World War II mystery wrapped around the Holocaust, the occupation of France and the collaboration, based on the novel by Tatiana de Rosnay. "The film rather resourcefully depicts the way history, so often seen as an abstraction or a collection of facts that has been safely stored away and has lost the power to effect a rebuilt state of things, still resonates and does damage,' observes MSN film critic Glenn Kenny.
From 1990 comes "Internal Affairs" (1990), directed by Mike Figgis and starring Richard Gere at his best as a corrupt cop under investigation from Andy Garcia.
"The Music Never Stopped" (2010), based on the book by Oliver Sacks, stars J.K. Simmons as a father who, after a twenty-year estrangement from his son (Lou Taylor Pucci), reaches out to him when the young man is diagnosed with a brain tumor that affects his memories. It takes sixties rock and roll (cue soundtrack filled with Bob Dylan, The Beatles and The Stones) to bridge the gap.
"Killing Bono" (2011) does indeed refer to the U2 singer, but this is a comedy inspired by the true story of musician brothers in Dublin who watch a rival band become international superstars while they toil away in obscurity. Ben Barns, Robert Sheehan, Krysten Ritter and Pete Postlethwaite star in the film co-written by Dick Clement and Ian La Frenais (of "The Commitments" fame).
"This Is Not a Movie" (2011), a schizophrenic end-of-the-world movie with Edward Furlong and Peter Coyote, arrives a week after debuting on DVD  and Blu-ray.
Also arriving on the heels of DVD releases are a trio of documentaries: "!Women Art Revolution" (2010), filmmaker Lynn Hershman-Leeson's exploration of the often overlooked history and legacy of feminist art; "In the Garden of Sounds" (2010), about music therapy to help disabled children; and "Queen of the Sun: What Are Bees Telling Us?" (2010) takes a look at the collapse of bee populations all over the world.
And you can go pro- or con-Sarah Palin, with Nick Broomfield's satirical documentary portrait "Sarah Palin: You Betcha!" or her 2010 TV series for the Discover Channel "Sarah Palin's Alaska."
For more releases, see Hot Tips and Top Picks: DVDs, Blu-rays and streaming video for March 27