Due Date: When the Oscar Winners Come Home
Videodrone's Calendar of home video releases for Academy Award Winner's Circle
By 
SeanAx
 Feb 28, 2011 12:53PM
The winners have been anointed by Oscar. Now how long before you can take them home? Here's our calendar of releases, plus a list of those already available for your home viewing pleasure.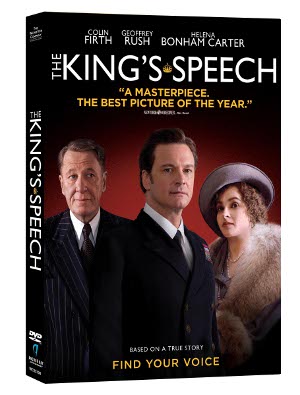 "The King's Speech" (Anchor Bay) – The big winner of the night (Best Picture, Best Director, Best Actor Colin Firth, Best Original Screenplay) comes to DVD and Blu-ray next month, on April 19, giving it plenty of time for an extended victory lap around the theaters. Details and art on Videodrone here.
"Black Swan" (Fox) – Just today, Fox gave the film that won Natalie Portman her Best Actress statuette a March 29 release date for DVD and Blu-ray. Details and art on Videodrone here.
"The Fighter" (Paramount), winner for Best Supporting Actress (Melissa Leo, whose colorful acceptance speech may be as memorable as performance) and Best Supporting Actor (Christian Bale, much more modest and earnest than anyone expected on the dais), steps out of the theatrical ring and onto DVD and Blu-ray on March 15. Details and art on Videodrone here.
"Inside Job" (Sony), this year's Best Documentary, arrives on DVD and Blu-ray next week on March 8.
"In a Better World," winner of the Best Foreign Language Film, has no home video release date but this win should give a little momentum and maybe even a limited theatrical run.
Already on home video:
"The Social Network" (Sony) took home Oscars for Best Adapted Screenplay, Best Editing and (a pleasant and deserving surprise) Best Original Score for the inventive and evocative music by Trent Reznor and Atticus Ross.

"Inception" (Warner) earned four Academy Awards, for Cinematography, Sound Mixing,  Sound Editing and its ingenious Visual Effects.
"Toy Story 3" (Disney), the sure thing for Best Animated Feature, also brought Randy Newman his second Oscar for Best Original Song.
"Alice in Wonderland" (Disney), Tim Burton's crazy storybook reimagining of the Lewis Carroll classic, took home the gold for Best Art Direction and Best Costume Design.
"The Wolfman" (Universal) won for Best Achievement in Makeup (Rick Baker's seventh award in the category), and seriously, the makeup is the only engaging element of the film.