Coming Up: "Little Fockers" and "Somewhere"
Both arriving in April
By 
SeanAx
 Feb 21, 2011 12:45PM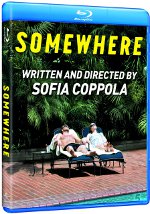 Universal announces the release of "
Little Fockers
," the third film in the comedy series starring Ben Stiller and Robert DeNiro, and "
Somewhere
," the new film by Sofia Coppola, in April.
"
Somewhere
," starring Stephen Dorff as an untethered movie star and divorced father and Elle Fanning as his daughter who unexpectedly drops into his free-floating life, won the Golden Lion at the Venice Film Festival. It's set for an April 19 release on DVD and Blu-ray. No supplements have been announced for the release.
"
Little Fockers
," which co-stars Dustin Hoffman, Barbra Streisand, Blythe Danner, Teri Polo and Owen Wilson and introduces Jessica Alba, Laura Dern and Harvey Keitel to the series, arrives on DVD and Blu-ray on April 5 and is loaded with supplements.
Details from the press release after the jump.
BONUS FEATURES EXCLUSIVE TO BLU-RAYTM: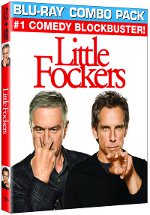 ·        BLU-RAY™ EXCLUSIVE FEATURETTES:
o      Bob and Ben: Cast members Ben Stiller and Robert De Niro reflect on their history and their characters' evolution throughout the Meet the Parents trilogy.
o      Ben and Owen:  On average, every 1.3 years Owen Wilson and Ben Stiller share the silver screen.  Little Fockers marks their 10th movie together. In this dual interview, Ben and Owen reveal the secrets of their shared success.
·       BD-LIVE™ - Access the BD-Live™ Center through your Internet-connected player to access the latest trailers and more!
·       pocket BLU™:   The groundbreaking pocket BLU™ app uses iPhone®, iPod® touch, BlackBerry®, Nokia® Smartphone, Android™, PC and Mac® to work seamlessly with a network-connected Blu-ray™ player.  Also available on the iPad®, owners can enjoy a new, enhanced edition of pocket BLU™ made especially to take advantage of the tablet's larger screen and high resolution display.  Consumers will be able to browse through a library of Blu-ray™ content and watch entertaining extras on-the-go in a way that's bigger and better than ever before.  pocket BLU™ offers advanced features such as:
o       ADVANCED REMOTE CONTROL: A sleek, elegant new way to operate your Blu-ray™ player. Users can navigate through menus, playback and BD-Live™ functions with ease.
o       VIDEO TIMELINE:  Users can easily bring up the video timeline, allowing them to instantly access any point in the film.
o       MOBILE-TO-GO:  Users can unlock a selection of bonus content with their Blu-ray™ discs to save to their device or to stream from anywhere there is a Wi-Fi network, enabling them to enjoy content on the go, anytime, anywhere.
o      BROWSE TITLES:  Users will have access to a complete list of pocket BLU™-enabled titles available and coming to Blu-ray™ Hi-Def.  They can view free previews and see what additional content is available to unlock on their device.
o      KEYBOARD:  Entering data is fast and easy with your device's intuitive keyboard.
·       MY MOVIES™:  Consumers can instantly stream a free bonus movie of their choice or choose to rent a variety of Universal favorites including Meet the Parents, Fast and Furious, Mamma Mia! and Coraline.
·       MY SCENES:  Bookmark your favorite scenes from the film.
·       uHEAR™:  Never miss another line of dialogue with this innovative feature that instantly skips back a few seconds on your Blu-ray™ disc and turns on the subtitles to highlight what you missed.
·       DIGITAL COPY:  Viewers can watch Little Fockers for a limited of time on an array of electronic and portable devices.
BLU-RAYTM and DVD BONUS FEATURES:
·       GAG REEL
·       DELETED SCENES
·       NEVER-BEFORE-SEEN ALTERNATE OPENING AND ENDING
·       BEHIND THE SCENES:
o      MAKING OF A GODFOCKER: A behind-the-scenes look at Little Fockers.  Everyone's back in this knock down, drag out third installment of the Meet the Parents Trilogy and this piece brings it all together.  Featuring the return of cast members, Ben Stiller, Robert De Niro, Owen Wilson, Dustin Hoffman, Barbara Streisand, Blythe Danner and Terri Polo and newcomers, Harvey Keitel, Jessica Alba and Laura Dern.    
o      BOUT TIME:  A fun behind-the-scenes look at the climatic fight scene where Greg and Jack finally throw down the gloves.
·       THE FOCKER FOOT LOCKER:  A string of clips from the film of every time someone utters a version of "Focker."
·       THEATRICAL TRAILERS AND MORE!