TV on Disc Channel Guide: Dark ages and plague times in 'World Without End'
Plus another 'Titanic' mini-series, further seasons of 'Eastbound and Down' and 'The Simpsons,' and more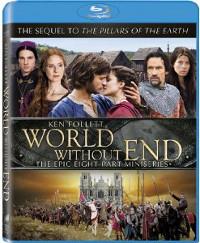 "Angry Boys" (HBO) is the latest creation from Australian comedian / writer / producer Chris Lilley. He plays six characters, not just play boys and not all angry, but they are pretty messed up and lacking in self-awareness, which seems to be a theme in Lilley's universe. Also new this week is his 2007 series "We Can Be Heroes" (HBO). Videodrone's review is here.
"World Without End" (Sony), a sort-of sequel to Ken Follet's "The Pillars of the Earth," takes place in the same town of Kingsbridge 100 years later to find a similar play of power and corruption in the time of the Black Death. Cynthia Nixon gets top billing here, as the ferociously ambitious mother of a sanctimonious, sexually-repressed friar (Rupert Evans) who has no qualms about murder as a tool to further her son's ascent to power, and Ben Chaplin is a soldier with a past shrouded in mystery who trades his sword for a life of service in the church, but this is really an ensemble piece with surprising (pleasantly so) number of strong women.
The first among equals is Charlotte Riley as Caris, a healer framed for murder and tried as a witch who escapes hanging by joining the cloister and continuing to champion modern medicine over medieval superstition with the blessing of the Abbess (Miranda Richardson) who challenges the greed of the local church. Equally defiant is Nora von Waldstätten as a peasant woman who challenges the right of her abusive father to sell her in marriage.
There's plenty going on here, from corruption and hypocrisy and power-mongering in the priory to a near-revolution by peasants standing up for their rights, and it's a handsome production with some impressive set pieces, notably the disastrous collapse of the town's bridge early in the series and a small war in the final episode, and a beautiful village set built for the show. Michael Caton-Jones directs the entire production on location in Hungary, Austria, and Czechoslovakia.
The eight-part, eight-hour mini-series is on Blu-ray and DVD, with the featurette "The Making of Ken Follet's World Without End" featuring most of the stars and creators, including executive producer Ridley Scott and author Ken Follet.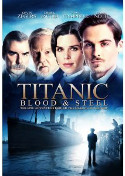 "Titanic: Blood and Steel" (Lionsgate) as the second mini-series about the fateful voyage of the unsinkable ship for the 2012 anniversary of its sinking. This 12-part made-for-cable production focuses on the three-year construction of the ship in a Belfast shipyard. Los Angeles Times TV critic Robert Lloyd finds it perfectly diverting: "though it is flat and obvious at times, and some might call it ill-paced — I think of it as leisurely — it is only a little sanctimonious and not at all stuffed." Kevin Zegers is the voice of caution as a young metallurgist, Neve Campbell is an American journalist, Derek Jacobi the shipyard chairman, and Chris Noth is financier J.P. Morgan. Blu-ray and DVD, with the featurettes "The Making of Blood and Steel" and "The Visual Effects of Titanic: Blood and Steel."
"The Legend of Neil: The Complete Series" (Flatiron) is a comic fantasy created for the web by Sandeep Parikh (Zaboo on the cult web comedy "The Guild"), about a slacker who gets sucked into the video game "The Legend of Zelda" and forced to play the game to get out alive. All three seasons of the show (which add up to just over 2 ½ hours) are collected on this single-disc DVD release, along with commentary, mini-sodes, featurettes, and other supplements.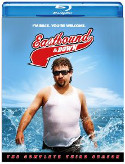 Another season:
"Eastbound & Down: The Complete Third Season" (HBO) offers the third coming of Kenny Powers (Danny McBride), the biggest jerk (and the most unjustified ego) in professional baseball, in the rude HBO comedy series. This season of the finds Kenny working his way back in the minor leagues and suddenly facing fatherhood with he's left with his out-of-wedlock infant son by his overwhelmed ex-girlfriend (Katy Moxon), a task he is singularly unsuited for. Will Ferrell, Matthew McConaughey, Craig Robinson, Seth Rogen, Jason Sudeikis, and Lily Tomlin are among the guest stars and Jody Hill ("Observe and Report") and David Gordon Green ("Pineapple Express") direct the eight episodes of this season. Two discs on Blu-ray and DVD, with commentary on every episode, deleted scenes, and outtakes.
"The Simpsons: The Fifteenth Season" (Fox) rewinds back to the 2003-2004 season, which includes "Treehouse of Horror XIV" and guest voices Glenn Close, Ian McKellen, Sarah Michelle Gellar, Nichelle Nichols, Thomas Pynchon, and J.K. Rowling (among others). 22 episodes on four discs in an accordion digipack of paperboard slipsleeves, plus commentary on every episode, deleted scenes, featurettes, and other supplements.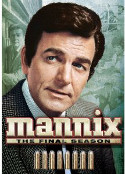 "Mannix: The Final Season" (Paramount) presents all 22 episodes of the eighth and final season of the hit Mike Connors private eye series on six discs, all efficiently packed into a standard case with hinged trays. Gail Fisher co-stars as his loyal assistant, Peggy Fair.
"Power Rangers Super Samurai: The Complete Season" (Lionsgate) collects all 20 episodes of the 2012 incarnation of the juvenile live-action series of teenagers with super samurai powers. Blu-ray and DVD, three discs.
"The Game: The Fifth Season" (Paramount), the BET original sitcom about the wives of pro football players, presents 22 episodes on three discs.
Plus:
"Shaka Zulu" (A&E), the controversial 1985 mini-series starring Henry Cele as a young Zulu warrior who seizes the throne, uses his army to consolidate the tribes of Southern Africa under his ruthless rule, and takes on the British emissaries who plan to put Africa under their colonial rule, gets restored for this new release. 10 episodes on four discs, with interviews. DVD.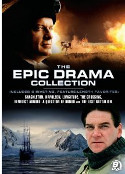 "The Epic Drama Collection" (A&E) boxes up six historical mini-series and telefilms originally shown on the A&E cable channel when it was more focused on arts than reality shows: "Shackelton" with Kenneth Branagh, "Napoleon" with Christian Clavier and Gerard Depardieu, "Longitude" with Jeremy Irons and Michael Gambon, "The Crossing" with Jeff Daniels as General George Washington, "Benedict Arnold" with Aidan Quinn and Kelsey Grammer, and "The Lost Battalion" with Rich Schroeder. Nine discs in a box set of five thinpak cases. DVD.
"Ancient Aliens: Collector's Edition" (History) boxes up the first four seasons of the series about UFO archeology. 41 episodes on 13 discs. DVD.
For more releases, see Hot Tips and Top Picks: DVDs, Blu-rays and streaming video for week of December 4, 2012