Hail Gilbert and Sullivan
Criterion celebrate's their greatest work with Mike Leigh's "Topsy-Turvy" and the 1939 "The Mikado"
By 
SeanAx
 Mar 31, 2011 10:34AM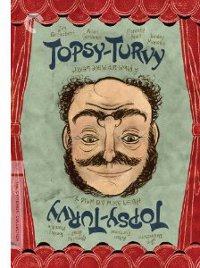 "Topsy-Turvy" (Criterion) is not the kind of film people expected from Mike Leigh, Britain's auteur of loose-limbed social dramas and comedies, films developed through an improvisational collaboration with his actors and honed into a final script. This is, at least on the surface, an historical biopic based on the lives of collaborators W.S. Gilbert and Arthur Sullivan and the creation of their famous operetta "The Mikado." And it is a bright, densely-detailed delight of creative inspiration, backstage theatrical soap opera and 19th century British culture, and Altman-esque canvas painted in the shades of Leigh's own sensibility.

"By the end of its two hours and 40 minutes, "Topsy-Turvy" has evolved into something extraordinary: a monument to process--to the minutiae of making art," wrote David Edelstein on Slate in 2000. "And to something more: the fundamental sadness of people who labor to make beautiful things--who soar--and then come down to a not-so-beautiful earth."
Criterion's two-disc DVD and single-disc Blu-ray release, in a director-approved digital transfer supervised by cinematographer Dick Pope, features commentary by director Mike Leigh (originally recorded in 1999 for the film's initial DVD release), a new video conversation between Leigh and Gary Yershon (the film's musical director), Leigh's 1992 short film "A Sense of History" (written by and starring actor Jim Broadbent), an archival featurette from 1999 that includes interviews with Leigh and his stars, and four deleted scenes, plus a booklet with an essay by Amy Taubin. You can read Taubin's essay at the Criterion Current here.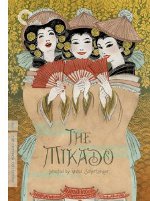 "The Mikado" (Criterion), the 1939 Technicolor screen version of the operetta, is also released on DVD and Blu-ray as a companion release to "Topsy-Turvy." A collaboration between Hollywood (which provided director Victor Schertzinger and singer/star Kenny Baker) and Britain's D'Oyly Carte Opera Company and shot in London, is a stagebound production but a riot of color and DVD Savant Glenn Kenny gives it a terrific review: "Beginning as a satire of Oriental romance fantasies, the show soon becomes a wicked lampoon of pompous, cowardly and conniving politicians."

Criterion supplements the film with new video interviews with "Topsy-Turvy" director Mike Leigh (who talks about the operetta and its adaptation for the screen) and Mikado scholars Josephine Lee and Ralph MacPhail Jr. and an archival silent short promoting the D'Oyly Carte Opera Company's 1926 stage performance of "The Mikado," plus a booklet featuring an essay by critic Geoffrey O'Brien (which you can also read on the Criterion website here).