The Cool, the Classic and the Collectible: Susan Sontag's "Promised Lands"
plus "William S. Burroughs: A Man Within" and the Pang Brothers' "The Storm Warriors"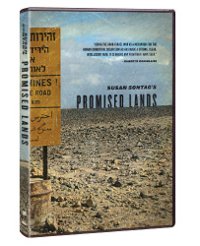 "Promised Lands" (Zeitgeist), the sole documentary from writer, critic and filmmaker Susan Sontag, is a portrait of Israel shot in the final days and immediate aftermath of the 1973 Yom Kippur War. Banned by Israeli authorities upon its initial release, it was unavailable in any form until its 2010 limited theatrical re-release and makes its home video debut. Read a review of the disc from Glenn Erickson at DVD Savant: "Its as if Sontag were trying to take a snapshot of an entire country at a particular place and time."
"William S. Burroughs: A Man Within" (Oscilloscope) profiles the legendary beat writer and icon with rare archival footage and interviews with colleagues and friends. Entertainment Weekly. Boston Globe film critic Ty Burr calls it a "breezily stylized, very enjoyable trot through the writer's life, theme by theme, era by era." The DVD features deleted scenes, additional home movie footage and other supplements.
"The Storm Warriors" (Lionsgate) – The Pang Brothers (Danny and Oxide), directors of the original "Bangkok Dangerous" (as well as the ill-fated American remake) and the original "The Eye," have apparently given up on Hollywood and are back in Hong Kong for this CGI-heavy adventure fantasy (based on a comic book) about ancient warriors with super powers and perfectly-coiffed hair who battle an invading warlord. The DVD includes interviews, a featurette on the special effects and an alternate English dub track in addition to the original Cantonese soundtrack and optional English and Spanish subtitles.
"The Last Lovecraft: Relic of Cthulhu" (Dark Sky) is a Lovecraft spoof about a group of geeks entrusted to protect a relic from Cthulu's killer cult. This goofy, underbaked low-budget production is for genre fans only. Features commentary by director Henry Saine and his stars, a pencil test with director commentary and an extended scene.
"Mystery Science Theater 3000: The Incredibly Strange Creatures Who Stopped Living And Became Mixed-Up Zombie" (Shout! Factory) and "Mystery Science Theater 3000: Beginning of the End" (Shout! Factory), two fan favorites from cult comedy series featuring worst movies ever made with an audience more entertaining than the films they heckle, have both been available on DVD previously but have since gone out of print. Now they are back exclusively from the Shout! Factory website.
"Death Tube 2" (Cinema Epoch) is another in a long line of Japanese horror sequels, this one a mix of "Ringu," "Death Note" and various other horrors with live, streaming murder.

"Felicity: An American Girl Adventure - Deluxe Edition" (Warner) is a rerelease of the 2005 feature with a couple of added supplements.