DVDs of the Week at Parallax View
More on Army of Crime, Sam Fuller's Shock Corridor and The Naked Kiss and a Corman Triple Feature
The new DVD column is up at MSN
with capsule reviews of more than a dozen releases.
I delve deeper into a few of them at Parallax View
, beginning with...
Army of Crime (Kino Lorber)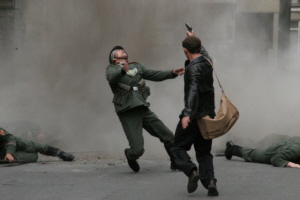 Don't let the title throw you. The heroes of Robert Guédiguian's based-on-a-true-stor​y French war drama are not The Dirty Dozen unleashed on the Nazis but a remarkably effective resistance cell formed of French Jews, communists and immigrants—the very "undesirables" targeted by the Nazis for the camps. Guédiguian's previous films—at least ones I've had the good fortune to see—have been small dramas about communities of immigrants, underemployed and outcasts that pull together and to maintain their identities. Army of Crime offers a much bigger canvas—and a setting with profound resonance—for that theme to play out, and Guédiguian invites members of his stock company to fill out major roles.
Continue reading at Parallax View.